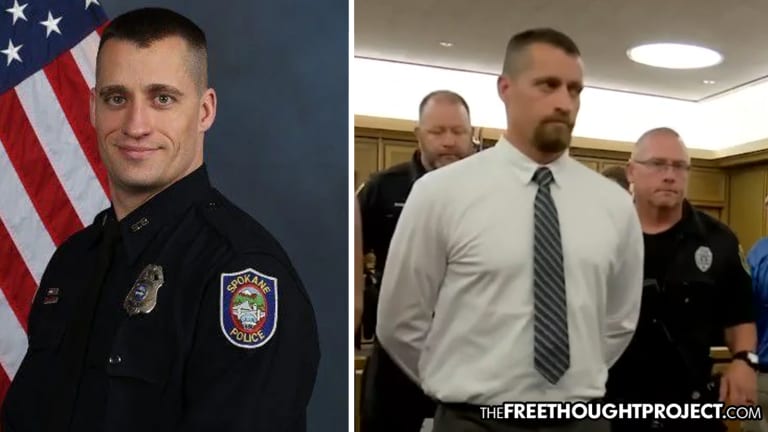 Serial Rapist Cop Gets Life Sentence for Showing Up to 911 Calls, Raping Victims
After being granted special privileges for years, Nash was found guilty in August and sentenced this week to 14 years to life.
Spokane, WA — The now-former Spokane police officer Nathan Nash, 39, had been out on bail for years for the rape of a woman who called police for help after she had been the victim of domestic violence. While awaiting his trial, Nash was arrested again on new charges of raping another woman on duty, who also called police for help.
After being granted special privileges for years, Nash was found guilty in August and this week he was sentenced to 14 years to life in prison. This sentence means that Nash will spend at least 14 years in prison but could spend the rest of his life.
KHQ reports that Nash also faces official misconduct charges and will face trial later this month.
According to police, Nash was first arrested in 2019 for the first instance and then fired by the department shortly after. Shortly after his arrest, as the Spokesman-Review pointed out, more women came forward accusing Nash of acting inappropriately on duty, including by having a "common practice" of giving out his personal cellphone number to victims, according to investigators.
According to the arrest reports, the victims told investigators that Nash was the officer who showed up to their calls for police assistance. Though nothing happened on the first visit because he was accompanied by a partner, Nash allegedly followed up later on, alone.
According to police, it was during these "follow-up" visits that Nash raped his victims. The Spokesman-Review reported that Julie Humphreys, a spokesperson for the Spokane Police Department, said it's not uncommon for officers to follow up on an investigation alone, but corporals would typically be the ones to take pictures for evidence.
After his arrest, the department issued a statement similar to the one they released in 2019 after his first arrest.
"I (we) would like to thank those who showed great courage by coming forward and bringing these allegations to light," Chief Craig Meidl wrote.
In the first instance, Nash responded to a 911 call in October 2019 from a woman who told dispatchers that her boyfriend beat and choked her during an argument and subsequently stole her car. After initially responding to the woman's home with other officers, Nash showed back up at the victim's home eight days later.
While he claimed to be investigating her injuries, Nash physically penetrated the woman's vagina with his fingers. For these alleged actions, he was charged with second-degree rape and two counts of official misconduct. He waited for his trial for over three years.
The second instance undoubtedly hindered the officer's plea of not guilty.
The second instance which led to the arrest in August 2021, reportedly unfolded four months before the first one. In a similar situation, Nash and his partner showed up at the home of a domestic violence victim. After taking statements that day, Nash came back the next day, this time he was alone.
According to court records, Nash called the woman and told her to put on a dress before he arrived so he could "photograph her injuries." Nash arrived alone wearing his black Spokane Police Department uniform jumpsuit along with his duty belt that held his gun, the victim told investigators, according to the Review.
Nash then asked the victim if he could take off his radio. Nash bent and looked at the victim's leg, which she told police she thought was to look for injuries.

Then Nash pulled the victim's dress up and reached into her underwear, the victim said. Nash asked the victim if that hurt and she said no, according to the victim.

The victim told investigators she was shocked and didn't know what to do, saying, "He had a gun and everything … he had his uniform on," according to court documents.

The victim told investigators she thought Nash might shoot her if she resisted. Nash pushed the victim onto the couch, took her clothes off, and raped her, the victim told police.
"I was afraid to fight … he had his uniform and gun on and everything," the victim told investigators. "I got in a paralyzed state and didn't want to fight him."
After he raped her, Nash reportedly forced his victim into the bathroom where he physically attacked her, wiped himself off with a tissue that he took with him, and left.
None of this should have been allowed to happen as Nash had already violated his oath of office the year prior. What's more, he had been reported years before that for allegedly beating his own wife — but after his brothers in blue looked into the situation, they found his wife's claims baseless.