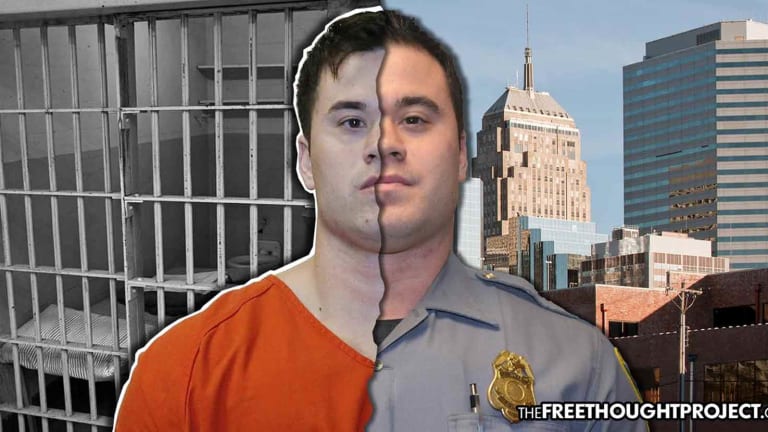 Serial Rapist Cop, Sentenced to 263 Years, Up for Parole After Doing Just 6 Years
Convicted on more than a dozen rape charges, and sentenced to 263 years, disgraced officer Daniel Holtzclaw was up for parole after just six years.
Oklahoma City, OK — A disgraced former Oklahoma City police officer, Daniel Holtzclaw, 29, was sentenced to 263 years in prison in 2016, after being convicted of numerous rapes and sexual assaults while on duty. Holtzclaw was convicted on 18 felony counts — including four counts of first-degree rape in December, 2015.
After serving a portion of this sentence, Holtzclaw appealed, maintaining his innocent since the beginning. In 2019, Holtzclaw tried to appeal the case, however, the evidence against him is so overwhelming, a judge refused to overturn his conviction.
The Oklahoma Court of Criminal Appeals in August 2019 upheld the convictions of Holtzclaw. On Monday, however, Holtzclaw once again tried to get out of jail, getting yet another chance before Oklahoma Pardon and Parole Board. Luckily for his victims, once again, he was denied in a 5-0 vote.
Holtzclaw and his family have maintained his innocence since day one and claim that because the judge in his case, Oklahoma County District Judge Tim Henderson, was accused of sexual misconduct himself, that Holtzclaw must have been railroaded.
"I hope and pray more people finally see I truly was railroaded and wrongfully convicted," he said in a statement. "I upheld my oath of office by protecting and serving my community, while Judge Henderson was allegedly abusing women and violating his oath. It's time to reopen every one of Henderson's cases, including mine, that was impacted by his sexual misconduct."
Clearly his family is ignoring all the evidence in the case which is what led to the unprecedented sentence against this serial rapist cop.
In most cases, police departments and unions rush to the defense of criminal cops, but in this case, they actually didn't.

"Your offenses committed against women in our community constitute the greatest abuse of police authority I have witnessed in my 37 years as a member of this agency," Oklahoma City Police Chief Bill Citty said in a letter when he fired Holtzclaw.
The evidence in the case showed that Holtzclaw actually went through the police database to find the vulnerable women that he could attack.
As we reported at the time, after accessing the list of names that Holtzclaw had run through the department's databases, the Sex Crimes Unit interviewed the women on that list and discovered six more women who accused Holtzclaw of sexually assaulting them. The women had been afraid to report the crimes because most of them had a history of drug abuse or prostitution. According to the Sex Crimes Unit, Holtzclaw used one database to check for existing warrants and the other database to see if any of his victims had reported him.
"He didn't choose CEOs or soccer moms; he chose women he could count on not telling what he was doing," District Attorney Lori McConnell said during the trial's closing arguments, according to Reuters. "He counted on the fact no one would believe them and no one would care."
Around 2 a.m. on June 18, 2014, Officer Daniel Holtzclaw pulled over a 57-year-old middle class grandmother with no criminal history and forced her into the back of his patrol car because she could not roll down her broken driver's side window.
Instead of requesting a female officer, Holtzclaw forced her to expose her breasts and pull down her pants. As Holtzclaw exposed his penis with his gun in plain view, she pleaded, "Please don't do this. You're not supposed to do this!"
After Holtzclaw ordered her to perform oral sex, he dropped her off at her daughter's house. She immediately reported the assault and was taken to the hospital to receive a medical forensic exam. In the hospital, she met Det. Kim Davis of the Oklahoma City Police Sex Crimes Unit who connected her report to a similar unsolved assault report involving the same officer in May 2014.
That grandmother who reported her assault to the law enforcement authorities — an action that triggered the investigation that led to Holtzclaw's eventual prosecution and conviction -- spoke at the sentencing hearing according to the Oklahoman.
The rogue officer was convicted of various sexual offenses involving eight women, although he was accused of committing sex crimes against 13 African American women.
The former officer used his position and power to prey on women in low-income neighborhoods, according to investigators, knowing that as an officer his word would be believed over that of a former prostitute or addict.
Holtzclaw must have expected that the legal protection he had as a police officer would absolve him of the crimes that he carried out behind the badge. Luckily in this case, his badge did not protect him from conviction, but sadly there are many more officers out there just like him, using their position of power as shield from legal consequences.
After seeing so many cops walk free after victimizing the public they are tasked to protect, the 263-year sentence imposed upon Daniel Holtzclaw was a welcome modicum of justice and his denial of parole this week, an acceptable supplement.