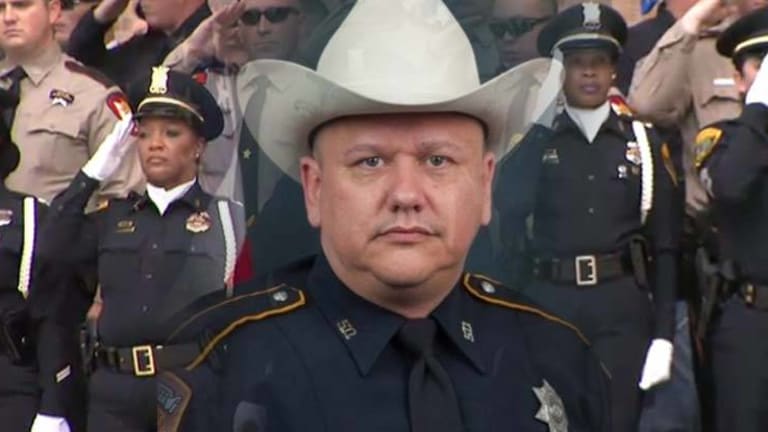 Sheriff Admits Deputy's Murder was Not Part of a "War on Cops," Refuses to Apologize to Activists
After a Texas sheriff wrongfully blamed police accountability activists for the murder of a Deputy, he refuses to apologize.
After Harris County, Texas Sheriff's Deputy Darren Goforth was murdered at a gas station last August 28, he was praised as a family man and honored as a martyr in the mythical "war on cops." Within a few days, hundreds of law enforcement officers and supporters in Texas had made a pilgrimage to the murder scene, turning it into a "Blue Lives Matter" shrine. Governor Greg Abbott urged all Texans to wear blue as a ritual of solidarity with supposedly embattled police officers. The murdered deputy was buried amid the familiar Soviet-grade trappings of state-mandated mourning, and he was praised as a hero on Capitol Hill.
Without knowing any of the critical facts of the case, Harris County Sheriff Ron Hickman imputed the blame for this shocking crime to police accountability activists and other critics of law enforcement abuses: "This rhetoric has gotten out of control, to the point where calculated, cold-blooded assassination of police officers happens."
Shannon Miles, the 31-year-old African-American man accused of murdering Goforth, has been repeatedly hospitalized for severe bipolar disorder and "episodic psychosis," which makes it profoundly doubtful that the killing was a calculated act. The oft-repeated claim that Goforth was targeted for a lethal ambush because he was wearing the uniform of a law enforcement officer was never formally retracted, but it has become impossible to sustain after it became clear that on the evening he was murdered, the deputy wasn't protecting the public but rather headed to a date with his mistress. Under Texas law, the fatal shooting would be considered capital murder if the deputy had been killed in the discharge of an official duty.
The mistress, who was seen weeping over the body of the slain deputy at the murder scene, has been described as what police officers call a "Badge Bunny" or a "Holster Sniffer" – a law enforcement groupie sometimes treated as a pass-around toy by our supposed protectors in blue. Last October, Sheriff Hickman fired Sgt. Craig Clopton, the lead investigator into Goforth's murder following disclosure of a sexual affair between the detective and the mistress.
At the time, Hickman described this development as an "anomaly" that didn't represent the "core values" of his department. Earlier this month Hickman fired Deputy Marc DeLeon, who was also sexually involved with the witness, and a third deputy, Jason Goodrich, was fired on February 12 after it was learned that he had propositioned the woman via email.
Those developments would suggest the possibility that the true outliers in Hickman's department are deputies who refrain from exploitative behavior of this kind. In an interview with Houston's ABC affiliate, Goforth's ex-mistress described how Harris County deputies and staffers would actively seek her out, and that using the pretext of official business is "how they get dates."
Sheriff Hickman has grudgingly admitted that because "some of these people were from a variety of different places in the department, certainly you have to wonder if that's the end" -- a concession suggesting that the behavior is commonplace in his agency. (Although Hickman now admits his accusation that critics of law enforcement were somehow implicated in Goforth's death was made in the "absence of any other information," he refuses to apologize, insisting that the problem was not his statement but the way it was "interpreted.")
Goforth's misconduct does not reflect in any way on his grieving family. A beloved husband and father was stolen from them in what appears to be an entirely random act of irrational violence – and that loss has been compounded by the revelation that Goforth betrayed his wife and children through his own conscious, deliberate choices. Perhaps the most acutely tragic aspect of this story is the fact that Goforth's son Ryan, who was five at the time of the shooting, is now denied even the consolation of seeing his father as a fallen hero.
Kenny Nguyen, the Houston resident who created an "End of Watch" video as a tribute to Goforth, had been detained and investigated by the deputy on several occasions but considered him a decent and friendly man.
"I was doing things I shouldn't have been doing," Nguyen explained when asked about his relationship with Goforth, who was killed for exactly the same reason.