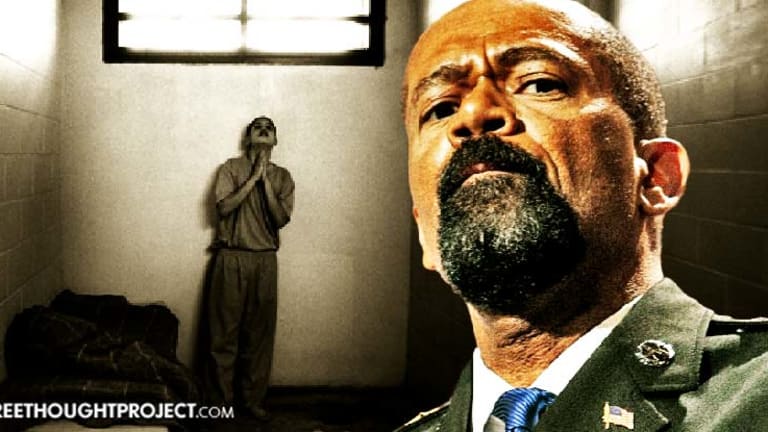 'Hero' Sheriff Clarke Sued for Dehydrating Man to Death as He Begged for Water
Incendiary Sheriff David Clarke is being sued by the children of a man who died of dehydration in jail — an act of torture — after guards intentionally shut off water to his cell.
Milwaukee, WI — Terrill Thomas' life gradually slipped away as he languished behind the bars of a solitary confinement cell begging guards for water after they shut it off — a request repeated vociferously by fellow inmates nearby — but for at least six days, at least ten jailers ignored his cries for the most basic human need.
"Prisoners confined near Terrill Thomas's cell overheard his cries for water for days," court documents state, "yet correctional, medical and psychological personnel ignored those cries and never gave Terrill Thomas water, presumably as some misguided form of punishment or retribution for the alleged crimes that brought him to the justice facility."
Thomas eventually succumbed to dehydration — he died because guards in the Milwaukee County jail never bothered to turn the water that had stopped flowing to the 38-year-old's cell back on.
Now, Thomas' children — Terrill Barnes, Curtis Piggee, and Amari Thomas-Acosta, a minor, and his mother Michelle Thomas-Acosta — have filed a lawsuit against Milwaukee County Sheriff David Clarke, Jr., saying their beloved family member endured appalling torture by dying of thirst.
In fact, guards systematically shut off water to Thomas and other inmates, the lawsuit contends, meaning his death was not only preventable, but cruel.
According to the complaint, Sheriff Clarke "was deliberately indifferent to the serious medical needs and Constitutional rights" of Thomas, and "ignored the Justice Facility's staff's lack of sufficient training in policies and procedures, both written and unwritten, to adequately address" Thomas and "other inmates in need of medical care."
Clarke, who did not comment publicly on the lawsuit, has been particularly indurate in discussing the death of Terrill Thomas — despite contention and negative publicity surrounding the case, the sheriff has claimed to the media he doesn't even know the name of the man who perished in the jail he oversees under horrific, inhumane conditions.
Instead of offering condolences to the family, Clarke arrogantly scolded the press — and suggested the crime Thomas committed was befitting the death penalty.
"I have nearly 1000 inmates. I don't know all their names but is this the guy who was in custody for shooting up the Potawatomi Casino causing one man to be hit by gunfire while in possession of a firearm by a career convicted felon?" Clarke reportedly stated in an email to the Associated Press, according toCourthouse News Service. "The media never reports that in stories about him. If that is him, then at least I know who you are talking about."
Milwaukee County, the Milwaukee County Behavioral Health Division, Armor Correctional Health Services Inc., Richard E. Schmidt, inspector for the sheriff's office, and two corrections officers are also named in the wrongful death lawsuit.
Milwaukee police arrested Terrill Thomas after responding to calls of shots being fired at the Potawatomi Casino on April 14, 2016. Once charged, Thomas was transported to the Milwaukee County jail, where corrections officers immediately placed him in the special housing unit — comprised of one-man cells locked down 24 hours per day — due to both his charges and alleged behavior.
Because inmates in the unit never leave their cells, corrections staff must diligently monitor their welfare and ensure no physical, psychiatric, or other issues go unanswered.
But, in the case of Thomas, that didn't happen.
In fact, as the lawsuit explains, the water to the man's cell was turned off at some point — leaving him without a drinking source or even water to flush the toilet. Fellow inmate Marcus Berry also yelled for corrections staff to procure water for Thomas — particularly throughout the day before the man died.
"Mr. Berry was in a cell across from Terrill Thomas the last six days of Terrill Thomas's life. Mr. Berry's urging and pleas were repeatedly ignored by the defendants," the 25-page court document states.
A guard discovered Thomas "lying naked on the floor of his cell" — a detail characterized as "normal behavior" by the Milwaukee County Sheriff's Office — during a routine check on April 24, ten days after his arrest.
"They found Mr. Thomas at 1:37 in the morning," said the family's attorney during a recent press conference, as quoted by the Daily News. "He was in full rigor. That means for at least for to eight hours, this man was dead in that cell."
Corrections officers observed"dried blood around [Thomas'] groin and trailing down his right leg, which was clearly visible upon inspection of his naked body."
The Milwaukee County Medical Examiner ruled Thomas' death by dehydration a homicide — but his children go further, saying in the lawsuit he had been "subjected to a form of torture by being intentionally and/or recklessly denied hydration."
Notably, the lawsuit contends that — because Thomas had an extensive record, including multiple occasions incarcerated by the Milwaukee County Sheriff's Office — authorities "had a well-documented history of medical and psychological issues or disorders," and thus should have been familiar with the man and prepared to handle him appropriately.
Clarke, in particular, has faced a string of lawsuits related to inexcusable and inexplicable deaths in custody — including that of a newborn baby.
"[I]nmate Shadé Swayzer, who was eight months pregnant, gave birth alone in her maximum-security cell and her baby died hours later as a result of correctional staff's alleged refusal to provide care,"Courthouse News reports.
Known for unabashed ambivalence to protesters, hatred of criminals, and authoritarianism paralleled only by Arizona's notorious Sheriff Joe Arpaio, Sheriff David Clarke is an ardent supporter of President Donald Trump and was recently passed over to head the Department of Homeland Security.
But the radical authoritarian naturally finds himself embroiled in controversy time and again, with such incendiary statements as what he toldFOX News host, Jeanine Pirro, in 2015, on the subject of protesters:
"This slime needs to be eradicated from American society and American culture."
Thomas' family seeks compensatory and punitive damages — and emphasize people experience difficulties, but they still have human, civil, and constitutional rights.
"In life you encounter times where you might not be yourself," Terrill Thomas, Jr., noted during a press conference Friday. "People might judge you; they might think that you're something that you're not. This is the case where the people thought that my dad was something that he wasn't."