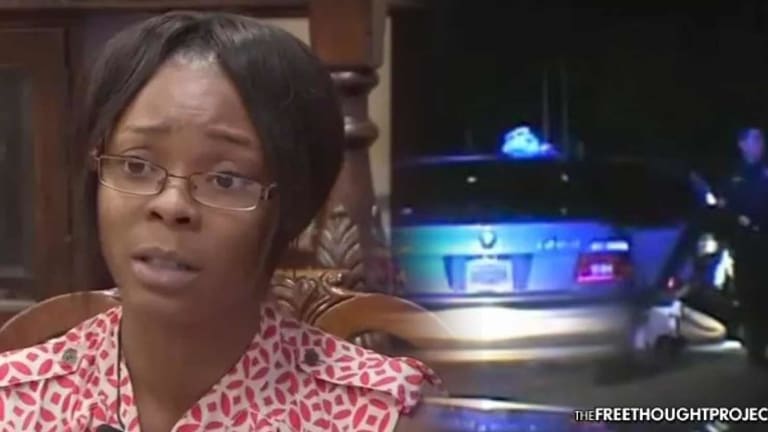 Sheriff Dept. Shamelessly Defends Horrific Roadside Rape by Cop Caught on Dash Cam
While the sheriff admitted that raping a woman on the side of the road is not standard protocol, he defended the two officers who got away with it.
Houston – The account of a woman who was raped by police on the side of the road after a traffic stop turned into a horrific public "cavity search," because officers claimed they "smelled marijuana" in 2015, has finally gained enough attention for the local sheriff to issue a response.
Harris County Sheriff Ed Gonzalez released a statement on Facebook, which reminded the public of the department's perspective on the incident when it referred to the victim of the horrendous treatment as "a female suspect" in the first sentence.
However, it should be noted that when Charnesia Corley, a 21-year-old African American college student with no criminal history, was first stopped, the only thing she was suspected of doing was allegedly running a stop sign.
"I understand and respect the community's concerns regarding the parking lot search of a female suspect during a June 2015 traffic stop. I want to be emphatically clear that today's Harris County Sheriff's Office is fully committed to ensuring that every resident of our community is treated with dignity and respect, even if they are suspected of committing a crime. We hold the public's trust as sacred, and we will always strive to be worth of that trust."
Within minutes after the traffic stop began in June 2015, Harris County Deputies William Strong and Ronaldine Pierre claimed that they "smelled marijuana" on Corley, which somehow served as justification for their decision to strip off her clothes in public, force her to lay on the side of the road with her ankles in the air, and to spend over 10 minutes raping her—or as they called it, performing a "vaginal cavity search"—all because they claimed that they smelled a hint of an illegal plant. They found nothing.
The statement from Sheriff Gonzalez did not directly acknowledge that the actions of Strong and Pierre were wrong and vile, but he did say that the department's policy requires officers to obtain a warrant before conducting a strip search, and when that warrant is obtained, the search must be conducted in a designated facility.
"Harris County Sheriff's Office policy prohibits deputies from conducting strip searches without a warrant. In cases in which a warrant is obtained, strip searches may be conducted in a private, sanitary and appropriate facility."
Despite the fact that none of the standard procedures listed by Gonzalez were followed by either one of the deputies on the scene, neither of those officers were charged, or even fired for their illegal actions.
As The Free Thought Project reported, while Strong and Pierre were initially charged with official oppression and indicted by a grand jury, their charges mysteriously disappeared before they had the chance to go to trial, after the District Attorney's office took their charges to a second grand jury where they were dismissed earlier this month.
"They were already indicted and set for trial under the old administration and the new administration no bills them, finds a grand jury that will no bill them and they claim it's based on new evidence," Sam Cammack, Corley's attorney said regarding the sudden change.
The statement from Sheriff Gonzalez confirmed that not only are Strong and Pierre not facing criminal charges, they have both returned to work in some capacity for the Harris County Sheriff's Department, and their salaries are still being paid by the taxpayers.
"Criminal charges are no longer pending against two of the deputies involved in this case. Deputy W. Strong, who did not actively participate in the search of the subject in this case will be allowed to return to patrol duties. Deputy R. Pierre, who initiated the search, will remain in her current assignment within the Communications and Technology Bureau."
Over 200 individuals commented on the Facebook post, the majority of which were quick to call out the Harris County Sherriff's Department for its inability to hold its officers accountable. Several noted that while the department refers to the officers' actions as simply a "cavity search," they should start calling it what it is: sexual assault.
"Someone should lose their job at a minimum and criminal charges should be pressed against all of the officers involved. This was a crime against someone's child," one woman commented.
"You and your department screwed up. These types of actions are never permissible in public. Your oath swearing community servants did something that would cause any reasonable person to go completely berserk and this statement is the best you can do?" one man wrote.
Gonzalez also confirmed that "this incident is the subject of an ongoing civil lawsuit," which means that while there is a chance Charnesia Corley could receive financial compensation for the horrific treatment she endured, it will come at the hands of the taxpayers, and it is not guaranteed that William Strong or Ronaldine Pierre will be held accountable for their actions.
*The following dash cam footage of the incident contains graphic content*