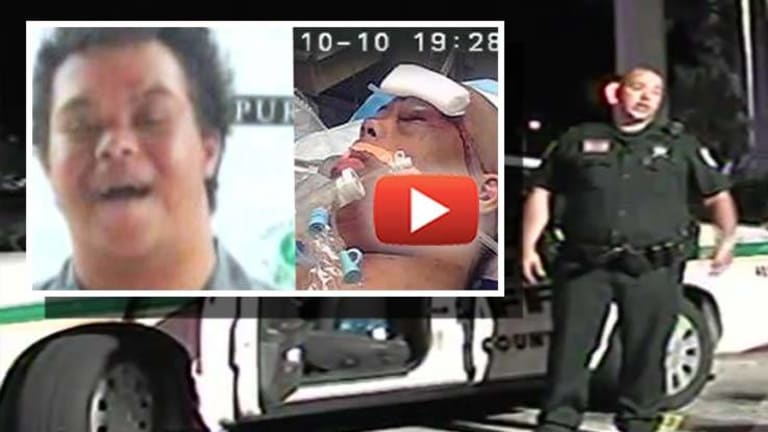 Sheriff Exposed as Liar by Fellow Cop in the Shooting of an Unarmed Down Syndrome Child
The entire shooting was caught on video, however, not one cop was held accountable.
Palm Beach County, FL -- A Florida sheriff has been exposed in a recent lawsuit for lying about one of his deputies who shot six times at an unarmed teenager. The victim, Jeremy Hutton is a 17-year-old boy with Down Syndrome, who nearly lost his life after he was hit with three of those six rounds.
According to a report by West Palm Beach's, Jose Lambiet,
Last year, Palm Beach County Sheriff Ric Bradshaw signed two sworn, notarized affidavits saying he knows nothing about the case, wasn't briefed about the case and didn't supervise investigators assigned to the case when PBSO deemed "justified" yet another questionable deputy shooting.

Contradicting Bradshaw's sworn statements, however, PBSO Internal Affairs Major Robert Van Reethtold Hutton's lawyers in his deposition that Bradshaw had personal knowledge of the incident and was briefed fully about the controversial shooting.
The incident happened in October of 2010, and the subsequent internal "investigation" cleared Palm Beach County Sheriff's Deputy, Jason Franqui, the officer who shot Hutton.
Hutton, who was a somewhat troubled teen, had taken his mother's minivan for a joyride that fateful night.
Deputy Franqui was the officer who responded to the mother's call for help. When Franqui caught up to Hutton, he stopped at a red light. Franqui then pulled in front of the van in an attempt to stop Hutton.
According to the report and the results of the investigation, Franqui feared for his life because he said Hutton drove directly at him, so he was forced to shoot.
"I watched the driver, he turned the wheel and started coming right at me," Deputy Franqui told investigators. "I was in fear he was going to hit me."
Dashcam video of the incident did not refute the deputy's claims as it only showed a portion of the perspective. The shooting was ruled justified.
However, the incident was also caught on traffic camera video and despite the "investigation" mentioning the existence of the video, its detail was conveniently not mentioned.
The traffic cam video refuted the entire deputy's description. It showed that Hutton made an overt attempt tosteer away from deputy Franqui. After the van passed Franqui, is when he opened fire. Hutton was struck in the head, shoulder and arm. Thankfully he lived.
"I don't think anybody knew or anticipated that they were going to get caught by a traffic camera," said Stuart Kaplan, the Hutton's civil attorney.
"This case is one of the most egregious, one of the most disturbing cases that I have pending in my office," he said.
"The traffic camera clearly shows that Jeremy Hutton apparently was driving away from the deputy but actually turned his vehicle as far to the left as possible to completely try and avoid hitting this deputy so it's completely inconsistent to what was told by the deputy, it's appalling," said Kaplan.
"The deputy was not in any danger," he said.
Using his blue privilege, Bradshaw, who is also up for reelection, has successfully been able to avoid all requests for deposition by Kaplan. Instead of taking the stand, Bradshaw has squandered hundreds of thousands of taxpayer dollars paying law firms to help him avoid accountability.
Last month Kaplan filed a motion for the judge to reconsider her first refusal to force the sheriff to a deposition.
"The circumstances indicate a strong likelihood that Sheriff Bradshaw has personal knowledge of the incident," Kaplan's motion read. "Contrary to his affidavit filed with this court . . . Sheriff Bradshaw does have personal knowledge of the incident. He did speak to officers regarding the incident . . . He did participate in the investigation and the . . . review process."
According to Lambiet,
Bradshaw's own I.A. leader Van Reeth was pretty clear about it when he was deposed in September. Van Reeth said he signed off on the investigation that found Franqui did nothing wrong when he shot Hutton.

"I can't sign off on nothing unless I have his (Bradshaw's) direction and authority," Van Reeth said. "Anything that I would see, that I would be signing off in his stay [sic], he would have knowledge of.

"It so happened when this case came to its conclusion and was being presented, he was out of town. I knew the sheriff had been informed."
Watch the video below of Franqui shooting this unarmed teen, who posed no threat to the officer's safety. After watching, it becomes clear as to why Bradshaw would deny having any information on the case -- his deputy is a trigger-happy maniac, and he refuses to accept it.
Below is the original news story once the traffic cam was finally released -- long after the deputy had been cleared.
Matt Agorist is an honorably discharged veteran of the USMC and former intelligence operator directly tasked by the NSA. This prior experience gives him unique insight into the world of government corruption and the American police state. Agorist has been an independent journalist for over a decade and has been featured on mainstream networks around the world.