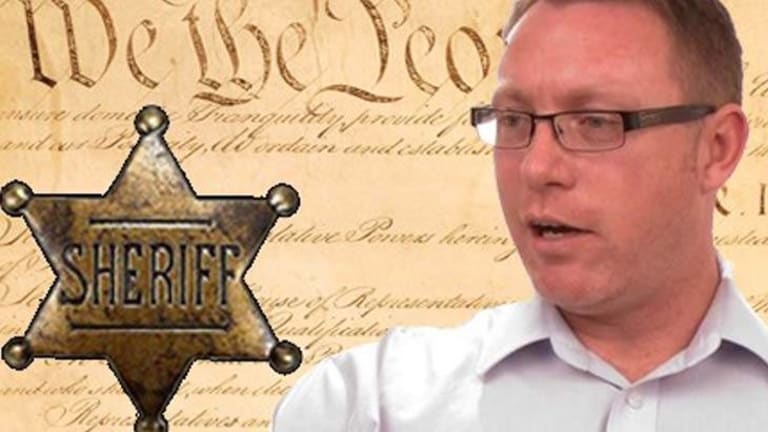 Sheriff Honors his Oath, Stands Down IRS & U.S. Marshals from Seizing Citizen's Property
Carlsbad, New Mexico – Wilsan Baughman is a law-abiding citizen who on Dec. 16, 2014, was alarmed to find her home surrounded by heavily armed federal agents.
According to Baughman, around 9:30 a.m. while home alone with her infant son, U.S. Marshal's broke into her home with guns drawn, demanding her and her 1-year-old son vacate the premises.
"He told me, 'Get out and get your stuff and do it today, or we're going to lock it up here,'" Baughman said, according the Albuquerque Journal. "I'm just a simple tenant and they treated me like a drug lord."
Baughman was surprised to discover that the federal agents were there to seize her home for her landlords alleged failure to pay a tax bill in an ongoing and convoluted dispute with the Internal Revenue Service (IRS).
The family had been occupying the home since September, with her husband having lived in it independently since May. She said she was told of Carter's tax issues when moving in, but said the IRS and the U.S. Marshals' actions came as a complete surprise.
"I never got a call, they never came and talked to me, just this paper stapled to my door," Baughman said.
Around the first week of October, they found a letter to Carter, from the IRS, stapled to their door informing them of the intent to foreclose on the property. She told both Carter and London, who at that point informed her that until the appeals were exhausted there would be no danger of losing the home.
Baughman was frightened and unsure of what to do because of the armed men telling her she needs to vacate her residence. Because she was home alone with an infant, Baughman called the Eddy County Sheriff Scott London to intervene in the unnerving situation.
London showed up at the residence to help Baughman.
Upon arrival, U.S. Marshals threatened Sheriff London with arrest while at Baughman's home. They stated that U.S. Marshals Service was tasked to "take any and all necessary actions, including but not limited to the use of reasonable force to enter and remain on the premises." They told the sheriff that they had orders to arrest anyone interrupting the proceedings.
London was not intimidated by the threats from the federal agents and stood his ground until the U.S. Marshals finally relented and vacated the premises.
The legal drama began in October 2014 when Kent Carter, former owner of Kent Carter Building, a contracting business, appealed a ruling by U.S. District Judge Robert Brack. The ruling upheld a previous judgment allowing the seizure and sale of three properties in payment for taxes owed from 1995-2001, according to the Albuquerque Journal.
Carter challenged the IRS's claim on his property as a pro se litigant, which is someone that represents themselves without legal counsel.
According to BenSwann.com,
"Carter has battled the IRS for decades over taxes on the earnings of his modest construction business. One court document listed his debt at $145,000, a figure Carter says an assessing agent 'pulled out of thin air.' Every time he challenged them, his bill would shoot up a few hundred thousand dollars. His legal complaints state that the IRS failed to adhere to its own tax code, did not use proper accounting methods, and that the collection activity was unlawful because no notices of deficiency were given. Carter says the IRS is currently claiming he owes $890,000, a figure that 'doubled with the stroke of a pen.'"
U.S. District Judge Robert Brack decided the original case in favor of the IRS. According to constitutional legal expert KrisAnne Hall,
"Mr. Carter, then filed for appeal of Brack's decision in both the US District Court in Las Cruses, NM and in the US Appellate Court in Denver, CO. Judge Brack is refusing to recognize that Mr. Carter has filed these appeals and is aiding the IRS in denying Mr. Carter his right to due process. Brack and the IRS are relying on a technicality to steal Mr. Carter's land. Mr. Carter filed his appeal in a timely manner. However, as a pro-se litigant he was not aware that he had to file a document to 'stay' Judge's order to prevent the taking of his land prior to the conclusion of his appeal. Legally speaking this 'Motion to Stay the Judgment' is a formality and is practically guaranteed to be granted pending an appeal. Judge Brack knows Mr. Carter is a pro-se litigant, knows that Mr. Carter has filed an appeal and also knows that a 'Motion to Stay the Judgment' pending the appeal would be granted. But Judge Brack and the IRS do not care and are going to steal Mr. Carter's land in spite of the fact that Mr. Carter is still engaged in his right to due process. These government agents are using a 'form over function' approach to legalize theft."
Thankfully Sheriff London has chosen to honor his oath to the U.S. Constitution by standing up to the IRS and demanding due process.
Scott notified the IRS on February 4 via a certified cease and desist letter. The letter stated that the sale of the properties in question are canceled until Carter receives due process under the law and his appeal is heard.
Carter has since filed the Motion to Stay, but it was denied without explanation. Hall states that her professional guess as to why the court denied the motion was "because he filed the motion outside of the 'allowed' time frame."
To avoid any confrontation, all tree properties were vacated voluntarily. "I chose to leave to keep it from escalating to something ugly—like Ruby Ridge, Idaho," said Carter.
The auction of the property is scheduled on the U.S. Treasury website at 11 a.m. Feb. 19, if the IRS decides to proceed before the appeal proceedings are resolved. London claims that he will not allow the sale to take place prior to the appeal being heard.
London is a member of the Constitution Sheriff's and Peace Officers Association. It's an organization whose mission is to train and vet police, sheriffs and other officials to "keep their word to uphold, defend, protect, preserve, and obey the Constitution of the United States of America."
"Many officers have stood up over the years for the rights of citizens being victimized by the federal government," said Sheriff Richard Mack, founder of the Constitutional Sheriffs and Peace Officers Association. "But Sheriff London is the first one to stand up to the IRS since the early 1990s. His actions show courage and humility. London is setting a good example for the rest of our sheriffs."
When government operates strictly upon the letter of the law, without any regard for the intent, it does a severe disservice to its citizens and the law itself by depriving itself of legitimacy.
The Founding Fathers held the right to own property as a natural right, an inherent right of man and not something conferred by government. The system of due process was established to protect that right from an overreaching government and to ensure the safeguarding of citizen's rights.
If citizens' property can be taken and due process effectively stripped because of a technicality of the legal process, we may be on the brink of despotic tyranny.
Sheriff London has taken a firm stand for constitutional policing and liberty. To stand with him and respectfully demand due process contact:
Judge Robert Brack, US District Court, District of New Mexico, 100 North Church Street, Las Cruces, NM 88001, Phone: 575-528-1450, Fax 575-528-1455
Darlene Jones, IRS, 4041 North Central Avenue, Phoenix, AZ 85012, Phone: (602) 501-2146
Jay Syrmopoulos is an investigative journalist, freethinker, researcher, and ardent opponent of authoritarianism. He is currently a graduate student at University of Denver pursuing a masters in Global Affairs. Jay's work has previously been published on BenSwann.com and WeAreChange.org. You can follow him on Twitter @sirmetropolis, on Facebook at Sir Metropolis and now on tsu.