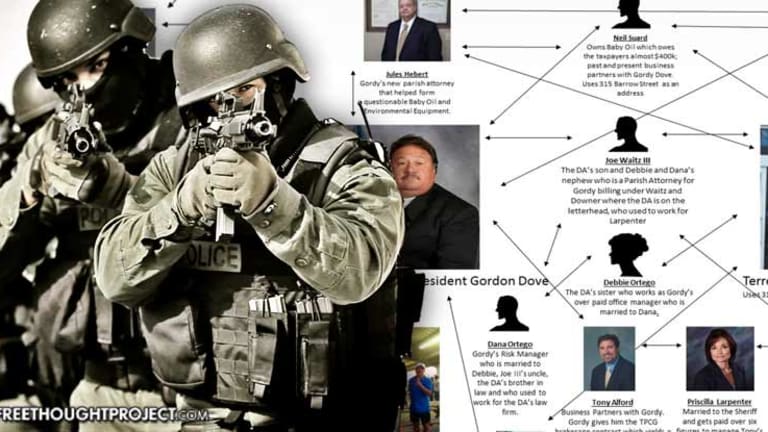 Sheriff Forced to Pay Own Money for Sending SWAT Team After Cop Who Criticized Him
A Louisiana Sheriff, who sent a SWAT team after a fellow officer who exposed his corruption, is now being held accountable with a civil lawsuit.
Houma, LA – In Terrebonne Parish, if you want to expose the corruption of local politicians, don't be surprised when cops invade your home and seize your property. That's exactly what happened to the owner of a Facebook page called "ExposeDat" (similar to the New Orleans Saints' motto WhoDat) who was apparently getting too close to the truth. Sheriff Jerry Larpenter – one of the targets of the anti-corruption blog – executed search warrants to try and stop the exposure, and now, it is going to cost him.
Wayne Anderson, a veteran who previously served as a Terrebonne Parish deputy and a New Orleans Police officer, and his wife Jennifer, were the subjects of the raid which took place in 2016.
As WWL-TV reports, a "compromise" has been reached in the civil lawsuit against Terrebonne Parish Sheriff Jerry Larpenter over the illegal raid of a Houma couple's home aimed at unmasking a blogger critical of Larpenter and Terrebonne Parish leaders.
The Andersons said they could not disclose the details of the settlement, however, they did declare it a victory.
"We're ready to put this behind us and we're going to move on with our lives," Wayne Anderson, a Houma police officer, told WWL-TV in an interview. "I think the sheriff's finally learned that he can't bully people and violate people's constitutional rights. In our case, he stepped on the wrong people's constitutional rights because we knew our rights. Hopefully, he thinks twice the next time he gets his feelings hurt."
The Andersons' attorney, Jerry Smitko, also weighed in on the outcome with a positive note.
"Today is a victory for citizens' right to be critical of their elected officials without fear of retribution," Smitko said in a statement. "It is reassuring to see that the Sheriff has decided to take responsibility for what he did to the Anderson's, and compensate them for the harm they suffered due to his actions."
During the 2016 raid, deputies seized two laptops from Anderson's home, one belonging to his children, and five cell phones. A warrant was also issued for Facebook account information, showing it to be operated under the pseudonym, John Turner.
ExposeDat has detailed several disturbing events and questionable connections among Larpenter, Parish President Gordon Dove, District Attorney Joseph Waltz, Jr., parish insurance agent Tony Alford and others.
The posts include details on a civil rights lawsuit filed against Dove's company and the use of illegal aliens, giving high-paying "consultant" jobs to friends for duties already performed by public employees, giving luxurious contracts to business partners, refusing to collect hundreds of thousands in taxes from family friends, and dumping radioactive waste in eastern Montana.
In securing the warrants, Sheriff Larpenter alleged that Anderson violated Louisiana's "criminal defamation statute" in posts concerning Tony Alford, the parish insurance agent.
However, legal experts say that ExposeDat is protected speech under the First Amendment. The U.S. Supreme Court has previously found Louisiana's statute unconstitutional when it is used "…to punish public expression and publication concerning public officials, public figures and private individuals who are engaged in public affairs."
"When we're talking about speech directed at matters of public interest questioning the activities of a public official, that is constitutionally protected speech of the highest order, and prosecutions for that sort of public comment are extraordinary," said Loyola Law Professor Dane Ciolino.
After the raid, the thin blue line quickly rallied behind the sheriff and Anderson was suspended. The department alleged Anderson "didn't uphold the law and committed conduct unbecoming an officer." He did not return to work until last week.
What's more, the warrant used to search Anderson's home was signed by Judge Randall Bethancourt – who was off-duty that day.
For this mistreatment and railroading, the Andersons previously settled with Terrebonne parish president Gordon Dove for his role in this case. Taxpayers shelled out $50,000 to compensate the Anderson's for the raid and subsequent abuse.
For now, it appears that Sheriff Larpenter has changed his tone. At the time of the scandal, though, he didn't seem concerned about any legitimacy issues, telling 4WWL, "If you're gonna lie about me and make it under a fictitious name, I'm gonna come after you."
Now, however, it appears that the former Sheriff is eating his words. And, as the Andersons' attorney notes, this case should serve as a warning to other law enforcement officials and politicians who'd dare use their power to silence those speaking truth to it.
"These proceedings should serve as a preeminent caution to any government official who even thinks about using his position to punish those who exercise their constitutional rights," Smitko said, "The Andersons are eager to move on with their lives, and hope to return to some semblance of normalcy."
Sadly, however, despite the agreement between the two parties, Sheriff Larpenter has received no formal discipline for the unlawful raid.