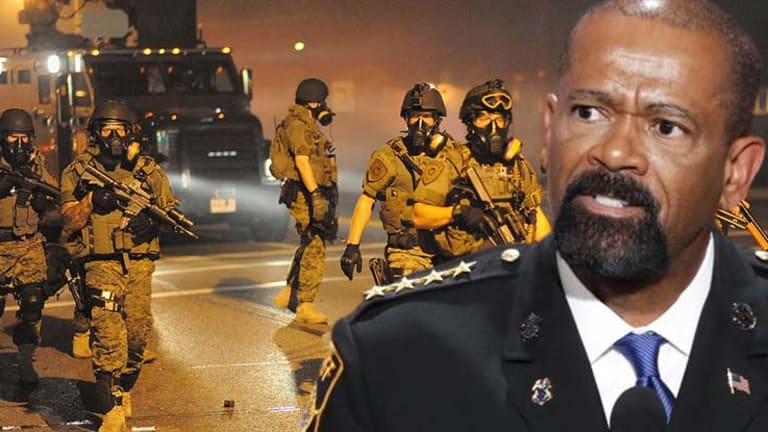 Sheriff Who Wanted to "Eradicate" Anti-Brutality Protesters, Calls in National Guard Amid Riots
Sheriff David Clarke, known for his hatred of the police accountability movement just mobilized a special police segment of the national guard.
Milwaukee, WI -- David Clarke, who acts as the elected sheriff of Wisconsin's Milwaukee County in whatever spare time is left over from his cable TV and talk radio appearances, demanded Governor Scott Walker dispatch the National Guard on Sunday after a riot Saturday night.
Walker issued the following statement Sunday:
"Following a request from Milwaukee County Sheriff David Clarke, and after discussions with Milwaukee Mayor Tom Barrett and Adjutant General Donald Dunbar, I have activated the Wisconsin National Guard to be in a position to aid local law enforcement upon request.
The soldiers called in are members of a special rapid response team, who have at least some background in law enforcement.
"Specifically, what this means initially is that 125 members of a Rapid Response Team — there's a component of that rapid response that's 125 members that are of the 32nd Military Police Company. Those individuals are trained for not only a military standpoint, but they also have a law enforcement background. They were activated Sunday. They're being called up to one central site. That'll take awhile and then they'll receive several hours of training that includes rules of engagement, what their specific assignments will be if called upon and then our intention is late (Sunday night), early into the morning, they'll be stationed at an armory here within the Milwaukee area. They would be available upon request from either or the Milwaukee Police Department or the Milwaukee County Sheriff's Office. Again, our intention is that they're not immediately coming over to be on the ground or on the streets, but they would be available at this site if a request was made," Walker said in Glendale Sunday.
Clarke is no stranger to those in the police brutality movement as he is known for his vitriol and utter hatred of those who'd dare try to hold police accountable.
Clarke's chief target is the "Black Lives Matter" movement, to which he assigns the responsibility for a nationwide outpouring of criticism over police misconduct.
"This slime needs to be eradicatedfrom American society and American culture,"Clark insisted during an August 29 interview with Fox News host Jeanne Pirro last year. While professing to "love the First Amendment" and "freedom of speech," Clarke maintained that the right is "not absolute."
This call for military aid to suppress the possibility of rioting spawned from protests comes on the heels of a police involved shooting which left a 23-year-old man dead.
On Saturday, a traffic stop turned deadly when an unnamed Milwaukee police officer shot and killed a 23-year-old suspect after he fled from the vehicle. When residents got word of the shooting, they reacted in anger, and a protest turned into a riot.
According to police, an officer pulled over a car with two men inside, who then left the vehicle and attempted to run away.
After a short foot chase, police fired shots at one of the men, fatally wounding him. The 23-year-old, whose name has not been released, was allegedly in possession of a stolen handgun, police spokesman Capt. Mark Stanmeyer told the media.
Immediately following the shooting residents gathered and began to ask police for answers. As the video below shows, however, they were met with silence and riot gear.
After several hours of angry but peaceful protests, at around 10:00 p.m. things took a turn for the worse.
According to Milwaukee Mayor Tom Barrett, fires were started at businesses — including a BMO Harris Bank branch, a beauty supply company and O'Reilly Auto Parts stores. Also, the gas station where the original confrontation began was set ablaze. And, according to police, firefighters were unable to put out the fire because of gunshots.

According to a report in the Journal Sentinel, the mayor said some involved in the disturbances took to social media early in the evening to encourage others to come out and participate in trouble-making. He said many of them were young people, and he urged parents to keep tight reins on their children to avoid a repeat of Saturday night. "Our police officers are doing everything they can to restore order," he said. But he said everyone needed to help restore calm. "If you love your son, if you love your daughter, text them, call them, pull them by their ears, get them home." The mayor said police had "shown an amazing amount of restraint" Saturday evening.

Amazingly enough, no one was hurt, and only three arrests were made throughout the night and into the morning. However, Clarke is pulling no punches and has called out the big guns -- in a likely effort to act on his desire to "eradicate" his opposition.
[author title="" image="https://tftpstagingstg.wpengine.com/wp-content/uploads/2016/03/magorist-e1456948757204.jpg"]Matt Agorist is an honorably discharged veteran of the USMC and former intelligence operator directly tasked by the NSA. This prior experience gives him unique insight into the world of government corruption and the American police state. Agorist has been an independent journalist for over a decade and has been featured on mainstream networks around the world. Follow @MattAgorist on Twitter and now on Steemit[/author]