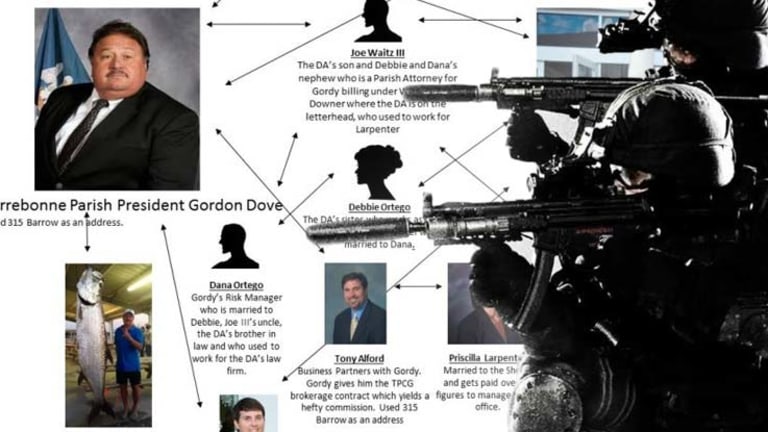 Sheriff Raids Good Cop's Home, for Alleged 'Crime' of Exposing Political Corruption on Facebook
The sheriff doesn't like the town's political corruption making it to social media, so he raided a cop's home who he thought was responsible.
Houma, LA – In Terrebonne Parish, if you want to expose corruption of local politicians, don't be surprised when cops invade your home and seize your property.
The owner of a Facebook page called "ExposeDat" (similar to the New Orleans Saints' motto WhoDat) was apparently getting too close to the truth, so Sheriff Jerry Larpenter – one of the targets of the anti-corruption blog – executed search warrants to try and stop the exposure.
Local news channel 4WWL reports that the subject of the raid was Houma Police Officer Wayne Anderson, a veteran who previously served as a Terrebonne Parish deputy and a New Orleans Police officer. Anderson denies being involved in ExposeDat.
Deputies seized two laptops from Anderson's home, one belonging to his children, and five cell phones. A warrant was also issued for Facebook account information, showing it to be operated under the pseudonym, John Turner.
ExposeDat has detailed several disturbing events and questionable connections among Larpenter, Parish President Gordon Dove, District Attorney Joseph Waltz, Jr., parish insurance agent Tony Alford and others.
The posts include details on a civil rights lawsuit filed against Dove's company and the use of illegal aliens, giving high-paying "consultant" jobs to friends for duties already performed by public employees, giving luxurious contracts to business partners, refusing to collect hundreds of thousands in taxes from family friends, and dumping radioactive waste in eastern Montana.
In securing the warrants, Sheriff Larpenter alleges that Anderson is violating Louisiana's "criminal defamation statute" in posts concerning Tony Alford, the parish insurance agent.
However, legal experts say that ExposeDat is protected speech under the First Amendment. The U.S. Supreme Court has previously found Louisiana's statute unconstitutional when it is used "…to punish public expression and publication concerning public officials, public figures and private individuals who are engaged in public affairs."
"When we're talking about speech directed at matters of public interest questioning the activities of a public official, that is constitutionally protected speech of the highest order, and prosecutions for that sort of public comment are extraordinary," said Loyola Law Professor Dane Ciolino.
Anderson's boss is not waiting to see if the sheriff's actions are lawful, as he has already suspended Anderson from the police force indefinitely, alleging Anderson "didn't uphold the law and committed conduct unbecoming an officer."
What's more, the warrant used to search Anderson's home was signed by Judge Randall Bethancourt – who was off-duty that day – which calls into question whether Bethancourt is the "go to" guy for Sheriff Larpenter and his cohorts.
Fortunately, it appears that attorney Jerry Smitko, whom Anderson called when the raid was carried out, was able to call the judge and prevent deputies from searching the computers and phones until the legitimacy of the warrant could be established.
Sheriff Larpenter doesn't seem concerned about any legitimacy issues, telling 4WWL, "If you're gonna lie about me and make it under a fictitious name, I'm gonna come after you."
Larpenter shrugged off questions about a possible conflict of interest and said he would turn over the case to Joseph Waltz, the District Attorney who is also a target of ExposeDat.
The Free Thought Project attempted multiple times to call the Terrebonne Parish Sheriff's Office with questions about the case. On Thursday, Sheriff Larpenter returned our calls, but would not comment. He stated that he would be sending over a statement, however, we've yet to receive it. We will update the story if the office offers more details.
As legal experts have noted, it is very unlikely that the case against Anderson will be successful, as simply posting legally gained information on a public forum easily falls into the category of free speech protected under the First Amendment.
If this turns out to be the case, then we can characterize the sheriff's search and seizure as a blatant example of police state suppression of free speech, in violation of constitutional rights. If Anderson is the author of ExposeDat, he should have justification for opening his own civil rights case against the parish.
Instead of intimidating citizens who want to end corruption, Larpenter, Dove and the gang should take an honest look at their own shenanigans which are detailed in ExposeDat, and right the apparent wrongs being carried out on taxpayers.