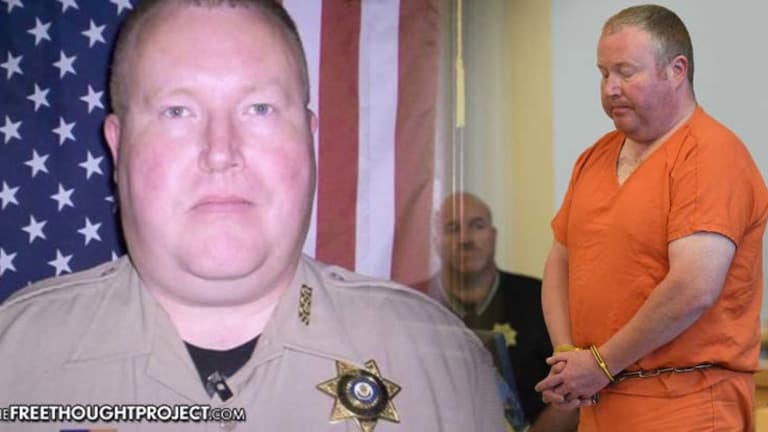 Sheriff Arrested for Taking Mentally Impaired Inmate with a 'Kid's Brain' to His House to Rape Her
A Colorado sheriff has been arrested for raping a developmentally delayed female inmate at his home when he was supposed to be transporting her to jail.
Sedgwick County, CO -- An egregious case of alleged rape under the color of authority comes from rural Colorado, where a sheriff has been arrested for taking a developmentally delayed inmate to his home, sexually assaulted her, and threatened life imprisonment if she told anyone what he did to her.
"I just want sex," Sedgwick County Sheriff Tom Hanna told the inmate, as quoted in court documents.
Hanna, 43, was taken into custody from his office on Tuesday with bail set at $250,000 — though, according to the Associated Press, he has not yet been formally charged.
According to the affidavit written by the district attorney's office investigator, Jeff Huston, the unnamed inmate told him that on August 10, Hanna brought her to his home in a personal vehicle, offered her $60, forced her to strip, and then proceeded to sexually assault her — when he was supposed to be transporting her to jail.
"He told me if I say anything, he was going to try to put me in prison," the inmate said, as quoted in the affidavit. "I felt like I was raped, to be honest and this has bothered me a lot, and it feels good to get it out because I'm telling the truth."
According to the documents, after digitally penetrating the woman, Hanna told her, "This has to stay between us. If it don't, I'm gonna take you to prison for the rest of your life."
Described by Huston in the document as timid and having difficulty organizing her thoughts, the inmate said she had been malnourished as a child, and told Huston her "brain is like a kids."
If the allegations prove true, such descriptions would show a law enforcement officer taking advantage not only of his professional position, but of an inmate who might not have fully understood the situation — and who was likely more prone to feel as if she had no choice by to comply.
In denying the allegations, Hanna explained he had interviewed the inmate after she told him there might be information pertaining to a crime on her cell phone. Huston said the sheriff did acknowledge making a mistake in bringing the inmate to his home, the affidavit states. Hanna claimed he brought the inmate to his home to avoid anyone in the small town seeing her interact with him about sensitive information.
As the APwrites:
"The sheriff later dropped off the inmate at a jail in neighboring Logan County and put $20 on her commissary tab because he said he has a big heart and wanted to make sure she could call her brother, according to the affidavit."
According to Huston, the inmate had not grasped what was done to her amounted to rape, and when he explained that was the case, she said, "Oh, my God, I didn't know that," and began throwing up.
State prosecutors and investigators were alerted to the incident by a sheriff's deputy who noted the transportation of an inmate in Hanna's personal vehicle was against departmental policy. That deputy also said he observed the sheriff's vehicle outside his home for "at least 20 to 30 minutes."
Formal charges against the sheriff are expected in the next ten days.
As the Denver Postreported, Hanna is being held on suspicion of felony sexual assault on an at-risk adult and felony sexual assault on a correctional inmate, as well as soliciting prostitution and first-degree official misconduct, both misdemeanor offenses.