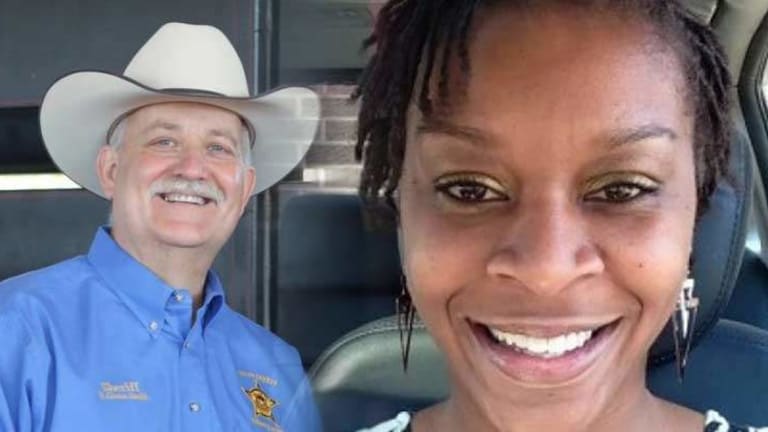 Sheriff in Sandra Bland Case Previously Fired for "Humiliating and Mistreating" Black People
Could Sandra Bland, an outspoken proponent of #BlackLivesMatter, be the victim of a modern day lynching?
Waller County, TX -- As more details emerge in the tragic in-custody death of Sandra Bland, this story gets even more suspicious.
Sandra Bland, 28, died in police custody Monday, after being assaulted by cops just a few days before, during a routine traffic stop. Authorities are claiming she committed suicide.
According to Waller County Sheriff's Department officials, Bland was pulled over last Friday for "improperly signaling a lane change" and charged with "assault on a public servant."
Sheriff Glenn Smith claimed that Bland failed to use her turn signal then became combative during the traffic stop. Video of the arrest was posted online and Bland could be heard saying: "You just slammed my head into the ground. Do you not even care about that? I can't even hear!"
Bland's friend, Malcolm Jackson, witnessed the arrest and documented the excessive force. "After he pulled her out of the car, he forced her and tossed her to the ground, knee to the neck, and arrested her," Jackson told ABC 7.
On Monday, Bland was found hanged in her jail cell.
Bland's family maintains that there is no way she would have killed herself, especially since she was set to begin her dream job in student outreach at her alma mater, Texas Prairie View A & M, starting in August.
In a press conference on Thursday, Bland's older sister, Sharon Cooper stated, "Based on the Sandy that I knew, that's unfathomable to me."
Bland's friend, Cheryl Nanton toldThe Independent that she feared foul play was involved. "I don't think she killed herself. It is very sad...We look out for our young men because there are so many incidents, but we don't expect this to happen to our daughters. People want to know what happened."
Thursday night, a prominent Texas state senator has asked the director of the Texas Department of Public Safety to release any video it has of the arrest of a woman later found dead in a jail cell.
Sen. Royce West is one of two African American members of the 31-member Texas Senate.
In a letter, the Democrat from Dallas says the circumstances surrounding Sandra Bland's arrest and detainment "have raised a number of questions for numerous persons, none more than myself."
Aside from the testimony from friends and family and a state senator questioning the official narrative, it was also discovered that Sheriff Smith was fired from his former job at the Hempstead Police Department over racist allegations.
The Dailykos dug up several old news stories that chronicled the suspension and subsequent firing of Smith from his former job.
We have now learned that Waller County Sheriff Glenn Smith, who made the first public comments about Bland's in-custody death, was suspended for documented cases of racism when he was chief of police in Hempstead, Texas, in 2007. After serving his suspension, more complaints of racism came in, and Smith was actually fired as chief of police in Hempstead.
After being fired for racism, the town of Waller then elected Smith as sheriff!
Smith has been the key media correspondent since this case has erupted. According to Smith's statement, Bland was last seen by jail employees at 7 a.m. when she was given breakfast, and last heard at 8 a.m. over the intercom. One hour later she was found dead, supposedly by "self-inflicted asphyxiation," according to deputies.
But can the public trust what Sheriff Glenn Smith says after he's been fired for the "humiliation and mistreatment" of multiple "young, African-American males."
Getting oneself fired when your line of work is law enforcement is one of the hardest things to do.
As we've documented here at the Free Thought Project, police officers can kill, rape, and steal and keep their jobs. While the details are unclear as to why exactly Smith was fired, the simple fact that he was fired speaks volumes as to the level of misdeeds this sheriff has committed.
Sandra Bland was an outspoken police accountability activist. This was well known from her videos posted on her Facebook profile. In one of these videos, she said, "In the news that we've seen as of late, you could stand there, surrender to the cops, and still be killed."
Could her outspokenness have led to a Texas police department killing her and then covering it up?
One thing is certain, there are far too many holes in this case for it to be so easily presented as 'case closed' by the Waller County Sheriff's Department.