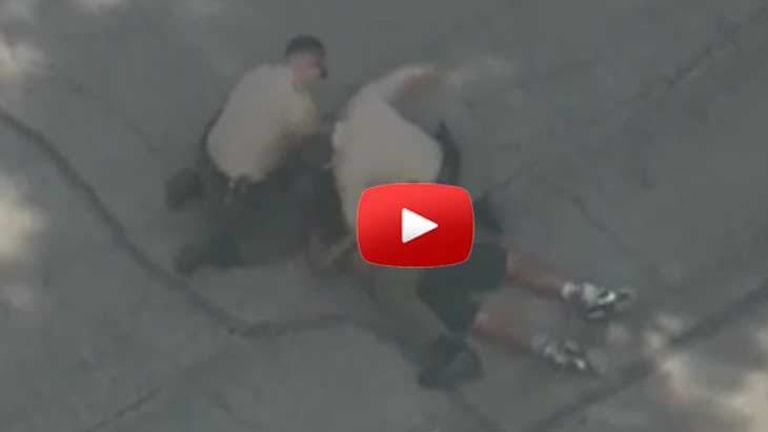 Department Says Cops Followed Procedure as they Brutally Beat Unarmed Man on Video
The same department who became notorious for beating a surrendering man was caught yet again beating an unarmed man face down on the ground.
Pasadena, CA — Notorious for savagely beating Francis Pusok in April, San Bernardino sheriff's deputies were caught on video again this week assaulting another unarmed man after a police chase. Instead of taking disciplinary action against the deputies for use of excessive force, the sheriff's department is defending their actions this time.
A high-speed pursuit from Rancho Cucamonga to Pasadena ended on Thursday in a PIT maneuver that sent the suspects' car crashing into a parked car and a Rancho Cucamonga deputy's patrol car into a tree. The driver, James Smith, and a passenger, Donovan Gardner, exited the vehicle and fled on foot. A second passenger, Simone King, was found sitting in the backseat and was subsequently arrested.
Both Smith and Gardner were captured and arrested, but a news helicopter once again captured footage of San Bernardino deputies physically assaulting an unarmed man lying on his stomach. In the video, deputies are punching and kneeing Gardner, who remains prone on the ground.
In a statement, the sheriff's department said, "Once on the ground, a struggle occurred between Gardner and two deputies who were trying to gain control of him. Gardner turned over onto his back and refused to give the deputies his hands. A use of force occurred wherein deputies struck Gardner multiple times."
But according to the video, the deputies began striking Gardner before he turned onto his back. As Gardner lay on his stomach with at least one hand behind his back, a deputy repeatedly punched Gardner in the head instead of placing him in handcuffs. In an attempt to defend himself, Gardner turned onto his back but the deputies continued throwing punches and dropping knees until a third officer arrived.
One of the deputies was seen throwing over a dozen punches at Gardner. According to the sheriff's department, all three suspects were taken to local hospitals after complaining of pain. No officers were injured.
On Friday, the San Bernardino Sheriff's Department defended the deputies' use of force while labeling Gardner and Smith as gang members on parole for robbery and burglary. After ten San Bernardino deputies were caught on video beating Francis Pusok on April 9, they were suspended for use of excessive force against a suspect lying on his stomach and surrendering. Last month, deputies Nicholas Downey, Michael Phelps, and Charles Foster were each charged with one count of felonious assault by a public officer. They pleaded not guilty.
In January, the family of Dante Parker filed a civil rights lawsuit accusing San Bernardino deputies of tasing Parker 27 times before hog-tying him and placing Parker in the back of a patrol car face down while he struggled to breathe. Although the coroner determined that Parker died from a drug overdose and cardiovascular disease, his family is suing the deputies for violating department policies, including prohibiting the frequency of Taser shocks, deploying only one Taser at a time, and a rule against hog-tying people.