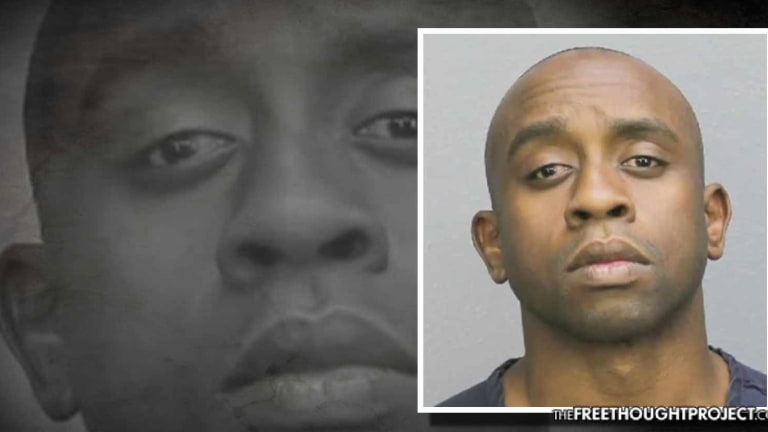 Cop Arrested for Pretending to be Child's Mentor So He Could Violently Sexually Assault Her
A Broward County sheriff's deputy faces felony charges after he was caught having an abusive sexual relationship with a teen girl.
Broward County, FL — Sheriff's deputies in Broward County are distancing themselves from fellow police officer Leon Campbell following his arrest for pedophilia. Campbell was arrested and charged with second degree felony lewd or lascivious battery and sexual activity with a minor.
Broward police arrested Campbell after a 17-year-old teenager confessed to her high school counselor and her aunt that she'd been having a sexual relationship with the career police officer—for years. She claimed their relationship was the reason she was truant and not doing well in school.
Family members became suspicious after the teen moved in with her grandmother and began to spend hours upon hours on the phone with Campbell, who the family believed was serving as a "mentor" to their child.
The 37-year-old officer reportedly began having sex with the teen shortly after she turned 15. The sex continued up until May of this year when he was outed by the girl's aunt who said she watched Campbell inappropriately touch the girl's breast at a family gathering and then lie about it, saying he was checking the girl's temperature.
Campbell was jailed on Oct. 19, and released on Oct. 20, after he posted a $15,000 bond. But staying out of jail will likely be his main goal as prosecutors are seeking to put him behind bars for up to 15 years. The age of consensual sex in Florida is 18. While there are some provisions to allow for teens to have sex without criminal prosecution when both consenting individuals are near the same age, Campbell was no teenager.
Not only is Campbell 20 years older than the girl, he is an officer of the law, tasked with jailing the type of individual he became. Instead of protecting the child from sexual predators, he allegedly victimized the troubled teen, all the while pretending to be her mentor.
The girl was the niece of one of Campbell's friends. The girl's aunt and her grandmother took their concerns to the Lauderhill police and filed a report. Later, the aunt and the girl were able to record Campbell confessing to having sex with the girl. He apologized, saying he also had to break off the sexual relationship because of his employment as a cop.
The sexual relationship also reportedly included bondage. According to various news agencies that reviewed the criminal complaint, the cop used to whip the child with a black leather whip and then would put her in a dog collar with a leash. When investigators went to the home of one of their fellow boys in blue, they found adult sex toys, along with a black whip containing the girl's DNA. They also discovered the officer had numerous long phone calls with the girl, over 150 in 3-three week period in 2017.
According to Brian Silber's Courthouse Insider, the trouble began in 2015 when the girl moved in with her grandmother:
"In her statement to the police, the aunt said Campbell and the victim began to spend time together after the girl moved in. They purportedly had long phone conversations which made her suspect they were having some kind of relationship. The grandmother said she became concerned when the deputy inappropriately touched the girl's chest at a family gathering under the guise of checking her temperature."
Campbell's superiors distanced themselves from their deputy's alleged criminal actions. Broward Sheriff Scott Israel said in a statement:
"Deputy Leon Campbell's actions are a reflection of himself and not the hard-working, dedicated men and women of the Broward Sheriff's Office."
While it's possible Campbell's pedophilia activities were limited to just this one isolated case of sex with a teenager, statistics reveal pedophiles often have dozens, if not hundreds, of victims. We at TFTP encourage anyone who has ever been sexually victimized by Officer Campbell, who served on patrol at Pampano Beach, to tell police detectives your story. Now is the time to come forward.
Campbell has been suspended without pay as the criminal case against him continues. Meanwhile, he is a free man, out on bond.