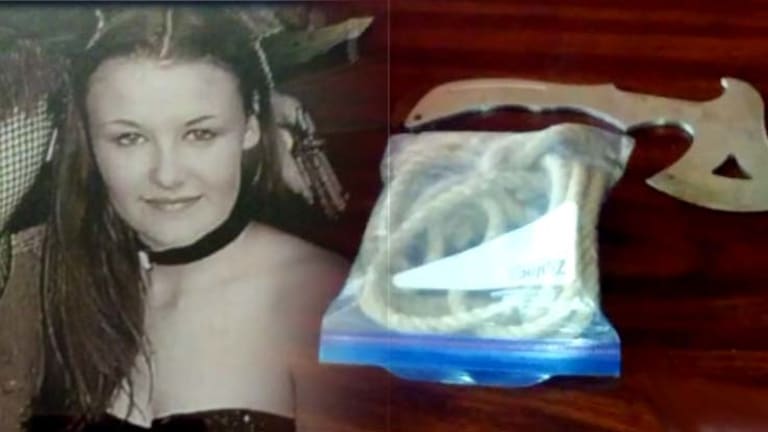 Cop's Unpaid Storage Unit Auctioned Off -- Full of Evidence from Unsolved Child Murder
When a man bought a storage unit at an auction, he never imagined that it would belong to a cop who's been hiding murder evidence in it for a decade.
When child prodigy Candace Hiltz was found murdered in her home on August 15th, 2006, her family immediately called the Fremont County Sherriff's Office. When investigators arrived, they conducted what the family believed was a shoddy investigation, leaving key pieces of evidence behind. Police, however, believed they'd identified their prime suspect, Candace's brother James. James was mentally ill, lived in the woods by himself, and often came to the house for food.
But Delores Hiltz says the police failed to do their jobs and remove key pieces of evidence from the home which indicated there was more than one person involved. The family, who had no real training in crime scene investigative work, decided to gather the evidence on their own and submit it to the police. One of the things they found, while going through the home, was an empty shotgun shell, found in Candace's daughter's crib. They also located rope and an ax that they said someone had used to kill their dog, just days before Candace was killed.
They family also found, away from the home, bloody towels they believed the attackers used to wipe off Candace's blood. The DNA on the towels didn't match any of the family members according to Delores. Also, a bloody blanket which was used to wrap Candace was also gathered. After she had gathered all the evidence they could find, she called the FCSO and asked that they come get it. They did. And that was the last Delores saw of the evidence she says proves more than one person was involved in her daughter's killing.
But it wouldn't be the last time the evidence was ever seen. That's because it all turned up in a storage locker that Lieutenant Robert Dodd had rented but failed to keep up the payments on. The contents of the storage unit were sold at auction to Mr. Rick Ratzlaff. After the purchase, he began to look through the storage locker he'd just purchased and realized it belonged to Dodd when he found a lot of Dodd's old uniforms inside the unit. But after digging a bit deeper into his unit, he then realized the deputy had kept evidence from Candace's Hiltz' unsolved murder case inside his storage unit. Ratzlaff did the only thing he felt like he should and that was to contact the FCSO to let them know he'd found something he believed should be locked away in an evidence room somewhere.
Ratzlaff described what he found to reporters, "When I opened it, I knew it was a sheriff's officer's because there were uniforms and sirens and lights off of cop cars." Then he described the moment he knew he'd gotten more than he bargained for. "There were manila envelopes that had evidence across them in big black letters and a stamp for a case number, but there was no case number. The big one had a bloody rope; the smaller manila envelope had two female blood-soaked socks; and the medium one had a weapon fall out the bottom of it. It was a chrome ax that also had blood on it," Ratzlaff said. Ratzlaff said he also found a brown paper bag containing a single bullet casing inside, and a blanket with blood on it. These were the precisely the items Delores Hiltz says she delivered into police custody. "I knew it was Robbie Dodd's unit because his uniforms had name badges on them and there were pictures of him in the unit," Ratzlaff said.
Ratzlaff told reporters someone in Dodd's family sent him a message through Facebook offering to buy back all of the contents inside the locker because it contained "childhood memories" but since Ratzlaff said he doesn't check FB that often he didn't get the message until much later. In the meantime, he asked Sherriff Beicker to come over and look at what he had in his possession. "He says, 'I hear you have a storage unit that used to be an officer's.' I said, 'Yes.' He said, 'Can I get it?' and I said, 'I don't know.' He said, 'Well, your life could be in danger here.' "It was like a threat," Ratzlaff told reporters but agreed to meet the sheriff to discuss a possible handover.
When Beicker arrived at the storage unit with FCSO Cmdr. Jeff Worley Ratzlaff's wife, Arin Reed, recorded the entire conversation on her cell phone. In the encounter, Beicker appeared amazed one of his deputies had so much evidence in his possession. He told Ratzlaff he would contact the CBI, but then as the pair of deputies were leaving, they asked Ratzlaff for his help in getting out of the gate at the storage facility. When Ratzlaff went to help them leave, he said he came back to his storage locker to find that all the evidence had been removed in the time it took for him to drive down to the gate and let out Beicker and Worley.
Later, in a statement, Beicker admitted to taking the items. He said he and Worley, "briefly look(ed) at the evidence in the storage locker and immediately contacted CBI regarding the matter. With their consultation, we cataloged, photographed, collected and secured the items, moving them into the Fremont County evidence storage…On Jan. 3, the CBI sent two agents to meet me and they took over all the evidence. Because it's an active investigation, until it is complete I will be unable to give any further information."
Since the news broke, a detective had maintained a storage locker with evidence from an 10-year-old unsolved murder case inside, the Colorado State Bureau of Investigations has opened its own investigation of Dodd's use of the storage locker and the reasons behind why he kept the evidence hidden away. Dodd has since been relieved of his duties (supposedly still receiving his salary) pending the outcome of the investigation.
Delores Hiltz maintains her belief that sheriff's deputies may have killed her daughter. She said the fact that they did such a botched job of investigating the crime was proof enough for her that they knew more than what they were telling. Also, the fact that she and her relative had to gather up more of the crime scene evidence to take to police lets her know they were not doing their jobs.
Now, after all these years, it seems a mother's cries for help will finally be heard. But it took the discovery that one of the detectives had been hoarding evidence of her daughter's death in his possession to allow the case to come back to life.
Candace was a child prodigy. Her mother said she was doing Calculus by age 11, had enrolled in Brigham Young University and by age 17 was enrolled in her third year of college. She had wanted to become a lawyer with the dream of becoming a Supreme Court justice. She was looking to get into Stanford Law School and by her past achievements would most certainly have gotten accepted. But she was cut down in her prime when she became pregnant. Candace's daughter Paige was less than a year old when Candace was murdered. It is unclear who the father of the baby was. Paige, who was born with hydrocephaly, only lived until the age of 7 before she, too, passed away.
Whether or not Dodd had anything to do with Hiltz' murder is anyone's guess but serious questions are being raised as to why he had the evidence in his possession in the first place. He now is the suspect of a CBI investigation, and the right thing to do would be to reopen Hiltz' murder investigation at the state level. As a result of her death, her brother James has been locked away in a mental hospital since her death.
The simple discovery of towels with unknown DNA being located away from the property is reason enough to keep the investigation open and get to the bottom of the unsolved murder. One way to start the investigation is to determine if the DNA belongs to anyone on the FCSO police force, especially now that one of the lead investigators on the case chose to keep the murder evidence locked away like a trophy in his own storage unit. How disgusting! "These deputies (need to be) held accountable for what they did. The family's been wronged and it's been a long time for her death to be unsolved," Ratzlaff said.