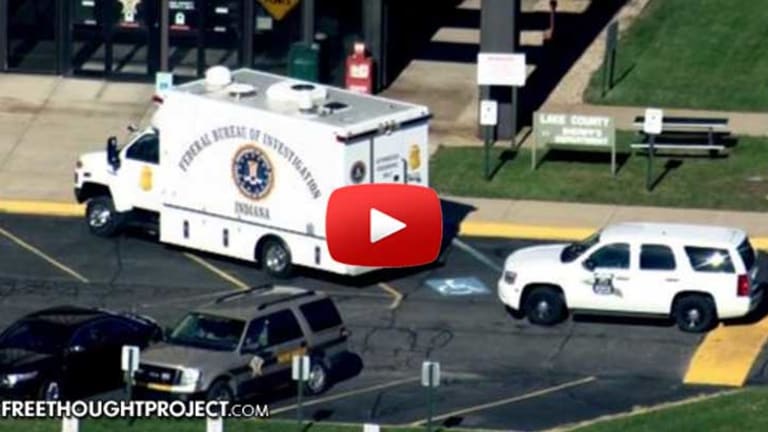 Sheriff's Office So Corrupt, The Entire Dept Was Just Raided by Dozens of Federal and State Police
Dozens of federal and local agents raided an Indiana sheriff's office this week as evidence of massive corruption begins bubbling to the surface.
Crown Point, IN -- The FBI and the Indiana State Police have descended upon Lake County Sherriff's Department (IN) and the home of Sherriff John Buncich, subpoenas in hand, and dollies in tow. While the FBI would not comment on the purpose of their raid, one source indicated the federal and state authorities were investigating a large-scale bribery scheme.
A reported 38 federal and state investigators were inside the department, ordered everyone out, and then began to peruse through campaign finance records which seemed to indicate Sherriff Bunich had received nearly $9,000 in campaign donations from local towing companies.
One of those companies was also raided. Sampson Towing was said to have been the target of the FBI's investigation, and FBI agents swooped into the towing company's place of business which reportedly has a back lot used for stowing towed vehicles.
Typically, when an accident happens, towing companies are usually contacted by the police to arrive on scene and effect the removal of inoperable vehicles, vehicles involved in accidents, and vehicles which have been impounded by police. Often, the towing company collects a per diem storage fee while legal matters are resolved. While, at the moment, the federal and state officials have not publicly commented on their investigation, one might be tempted to put two and two together and arrive at a conclusion the three separate raids are related to each other.
Dean Delisle told a local newspaper he was inside the Sheriff's Bureau of Identification at the time the raid occurred and said the feds were searching for information related to a specific automobile accident, as well as police reports related to said accident. Delisle said, "They were taking pictures of everything," and added the sheriff's deputies were very upset by the presence of the FBI in their department.
According to The Times, "Buncich's campaign finance reports indicate he received more than $9,000 in contributions in 2014 and 2015 from several towing and auto firms in Crown Point, Gary, Highland, Hobart, Merrillville, St. John and Whiting."
Mark Back, spokesman for the sherriff, said in a statement, "The Lake County Sheriff's Department is cooperating with our federal law enforcement partners and fully assisting the FBI with their inquiry. Regular Sheriff's Department operations are continuing. We assure the citizens of Lake County that their safety remains our top priority. There was no interruption of police duties."
Back also said, "Employees were asked to at least step away from their desks while the FBI were completing their inquiry and look for whatever they were looking for," adding that further questions would need to be directed to the FBI.
According to the Times, "The county sheriff's department has had agreements with as many as eight towing firms who police use to remove abandoned cars from accident and arrest scenes."
Just days after the presidential election of 2016, rumors abound as evidenced by Facebook posts about the Sherriff from locals living in the area.
One Jeff Crook (true identity unknown) said on Facebook, "This just in: The FBI and Indiana State Police just raided the Lake County Government Center, specifically the Sheriff's office and the the voter registration office. They are hauling out boxes of stuff. For those of you that don't already know, Sheriff John Buncich, in addition to being a corrupt/dirty cop, is also the chairman of the Lake County Democratic party. He took over after the Corrupt Thomas McDermott Jr. appointed his equally corrupt "friend" (GF?), Michelle Fajman, to be the head of elections. If I recall correctly, Fajman had been nailed for taking multiple tax exemptions on her real estate that she was not entitled to take. Looks like we may have a new sheriff in town soon."
According to the Northwest Indiana Gazette, the raid may have also included at least two other towing companies, "Sources said at least three towing contractors were also visited by agents. CSA Towing in Lake Station, Samson Towing in Merrillville and Gary, and Kustom Towing in Portage were all reportedly visited by FBI Agents today. At least one of the homes of the owners of the above businesses was also visited. When asked if the FBI visited, an employee of Samson Towing replied 'no comment.' It is important to remember that a criminal investigation does not imply wrongdoing. FBI Agents have seized records many times and those seizures of records do not always result in criminal charges being brought."
With power comes corruption, and this case is a prime example of John Acton's most prophetic and oft-proven sentiment:
Power tends to corrupt, and absolute power corrupts absolutely. Great men are almost always bad men