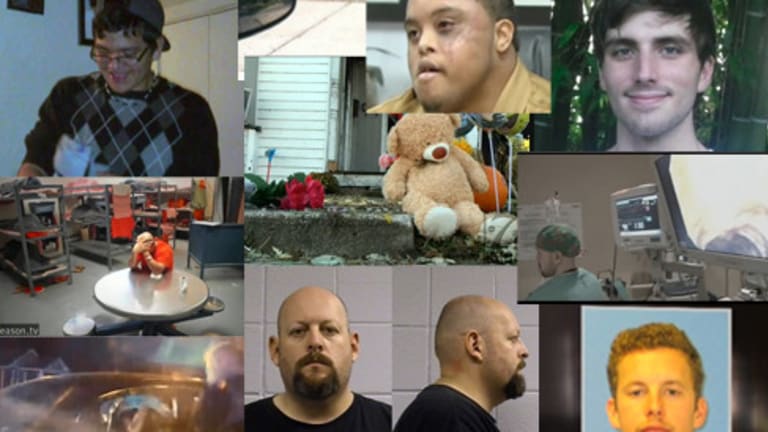 The Most Outrageous Police Misconduct Stories of 2013
2013 has been a dark year as far as police brutality and corruption is concerned. No longer does the phrase "isolated incident" or "bad apple" apply. Americans have been privy to gruesome and debauched acts of cruelty from California to New York and they are anything but "isolated."
It seems that every time we get over one horrific act, a new and even more disgusting atrocity rises up to the surface. One need only click on "Badge Abuse" in the menu above to confirm this.
Many of these repugnant scenarios would have never gotten a second look had it not been for the brave folks who pull out their cameras to record the injustice.
One thing is for sure, cops do not like cameras pointed at them; we can rest assured that there will be more legislation in the pipeline that will try to quash this 'check' that we have to this 'unbalanced' system.
We must not be afraid and never give in to the attempts of tyrants to silence those of us who strive for peace and justice.
So let this list serve as a voice of the people, through a megaphone, aimed at those who would condone the use of unprovoked violence against their fellow man.
"Injustice anywhere is a threat to justice everywhere." -Martin Luther King Jr.
Shooting kittens right in front of children is totally fine as long as you are in the North Ridgeville Police Department. According to the NRPD in Ohio, the police did nothing wrong when they discharged their weapons a few feet away from children in order to euthanize 5 kittens.
Durham Police Chief Jose Lopez said Jesus Huerta, 17, a student at Riverside High School, shot himself in the head while handcuffed behind his back after being searched.
Cop Shoves Police Dog Into Car of Surrendering Man Who is Then Mauled, No Charges Filed

Police Arrest Multiple Special Needs High School Students in Highly Unethical Drug Sting
Men Thought to Be Impersonating Cops Robbing People, Turned Out to Just Be Cops Robbing People
Cops Tase Father Trying To Save His 3-Year-Old Son From House Fire

A grand jury declined to indict a North Carolina police officer this week despite viewing dashboard camera video that clearly shows him shoving a police dog inside a suspect's vehicle as he holds his hands up in surrender.
The police dog then attacks the suspect, Johnnie Williams, as he's trapped inside his car.
Williams, who suffered facial lacerations, said he never had a chance to surrender after leading Wilmington police on a pursuit Oct. 31 after driving through a drunken driving checkpoint.
The war on drugs has reached a new low. 22 students at one high school alone, most of which were special needs students, were targeted in a highly disreputable 'sting' operation.
Children that have a hard time making friends because of their special needs, are easy prey for cops trying to persuade them into procuring drugs. These poor kids are unwilling victims of this failed system of prohibition that does more to ruin the lives of teens than keep them 'safe.'
Another tragic police shooting happened in San Antonio. A 23 year old college student and prior valedictorian, Cameron Redus, was killed by a University of the Incarnate police officer. Redus was pulled over for allegedly speeding when the situation escalated into the officer firing multiple shots at Redus, killing him on site.
"I heard (a man) say, 'Oh, you're gonna shoot me?' like sarcastic almost," said Mohammad Haidarasl, 22, who was on his couch in his ground-floor unit at the Treehouse Apartments in Alamo Heights at about 2 a.m.
Less than a minute later, Haidarasl heard four to six gunshots.
A good Samaritan with a camera helped in catching an off-duty Detroit Police Officer and his former DPD accomplice, who were involved in a pistol-whipping and robbery outside a Citgo gas station. It was originally thought that the men conducting the robbery were impersonating police officers. Then, according to DPD Chief James Craig,  "Several unidentified police officers were working this particular robbery case, recognized one of the suspects in the photographs as being a member of the Detroit Police Department."
This monster, Jeremey Yachik, brought his police brutality home. According to police records and the witness's video, because his daughter "Ate Carrots," he punched her, kicked her, and threw her around as a punishment.
This monster even confessed to routinely physically force feeding his daughter to eat ghost peppers whenever she was accused of lying.
The Missouri State Fire Marshal continues its investigation into an early morning Thursday fire that took the life of a 3-year-old Louisiana, Mo. boy.
The fire killed Riley Miller who was pronounced dead at Pike County Memorial Hospital.
The original 911 call came in at 12:58 a.m. at 405 S. Main St. Firefighters arrived at the scene at 1:03 a.m.
A city police officer stunned Riley's stepfather Ryan Miller with a Taser gun three times as he tried to enter the burning house.
In what the ACLU is calling "tantamount to torture" another horrifying case of police brutality has emerged in New Mexico. Cops repeatedly sprayed a woman directly on to her vagina, to allegedly "punish" her.
Michael Saffioti suffered from an extreme dairy allergy and he ate something in prison that set this allergy off.
He tried to tell the guards about his negative reaction but they refused to take action. He pleaded with guards to see the nurse, but instead was told to go to his cell. Saffioti, knowing that this reaction could kill him was jumping up and down in his cell pleading with the guards to bring him to the nurse. He was ignored. Thirty minutes later he was found unconscious in his cell, and pronounced dead shortly after.
Michael was in jail for possession of a plant.
Absolutely despicable case of police brutality in which cops beat a down syndrome man for a bulge in his pants!

David Eckert was shopping at Wal-mart and upon leaving he rolled through a stop sign. He could have never imagined the living nightmare that he was about to experience.
When Eckert got out of his vehicle the police thought that he appeared to be "clenching his buttocks." What followed was nothing short of torture and rape.
This poor man was driven to the first hospital which refused to do the bidding of the police on grounds of ethics. But the second hospital did not.
According to the report Eckert was x-rayed and nothing was found. Then, doctors anally penetrated Mr. Eckert, nothing was found. For a second time, Mr. Eckert's anus was penetrated, all the while he is refusing to consent, again nothing was found. After the x-ray and the two penetrations, doctors proceeded to insert an enema into Mr. Eckert's anus, and he watched in horror and disbelief as doctors searched through his stool.
However, for these sickos, it was still not enough, Eckert was given a second enema, and then a third!! Still, nothing was found. He was then given a second X-ray, nothing was found. He was then prepped for surgery, yes surgery! Mr. Eckert was given a colonoscopy and his intestines were searched. Still, no drugs were found.
Mr. Eckert refused to give consent throughout this entire ordeal, yet the hospital and the police in their sadistic manner, cried for more and more. The Gila Regional Medical Center has even threatened Mr. Eckert for refusing to pay for his own rape!
We could go on and on and this list could be a mile long, but let these horrible stories serve as a reminder of what "protecting and serving" has become. We, as a society, are forced to pay for this "service" for our ostensible protection. However the protection received is trivial when compared to the extortion, racketeering, brutality, and revenue collection that actually occurs.