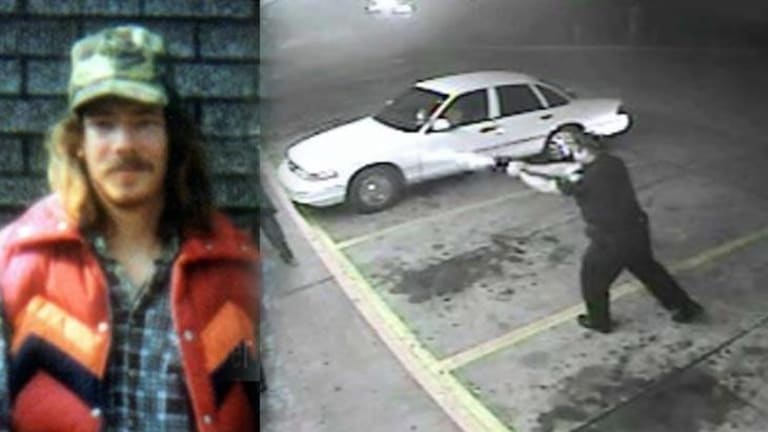 Cop Pleads Not Guilty After Shocking Video Shows Him Kill an Unarmed Veteran in Cold Blood
A man whose only crime was trying to drown his memories of war with alcohol was killed in cold blood by an officer who thinks this murder was justified.
Monroe, LA-- West Monroe Police Officer Jody LeDoux plead not guilty at his arraignment on Thursday, for negligent homicide after shooting and killing homeless veteran, Raymond Keith Martinez, 51, in December.
On the evening of December 5, Martinez was attempting to go into a convenience store that he frequented. The store employees would often call the police to have him removed when he would ask people for spare change outside. The owner of the store alleges that on this evening, he told the victim that he could not come inside the store because he was intoxicated.
"He (the store owner) stated that officer got out of the car and told him to get his hands up," the police report reads. "He stated that he did not hear the suspect say anything and the suspect turned to reach inside the paper machine, at which time the officer shot him. He stated that he did not hear the suspect say anything to the police. He stated that while the suspect was on the ground he observed a black cellphone by his hand."
Those who knew him described Martinez as harmless. He was someone who wouldn't hurt a fly- but with a drinking problem stemming from his past.
"He said when he wasn't drinking he had to remember and he didn't want to remember. He never bothered anybody," someone from the neighborhood he stayed in told KTVE.
So far, the officers excuse for why he murdered an unarmed man who posed no threat to him has not been released. However security footage of the shooting was moved into the public record on Thursday in response to a motion by LeDoux's attorney, Mickey DuBos, for the prosecution to disclose evidence.
The video, which is a composite from two security cameras, shows it was only seconds from when the officer approached Martinez with his weapon drawn until the victim was fatally shot. The man was posing no threat to anyone. The entire clip is only one minute and thirty seconds long.
In December, Martinez was remembered by friends and relatives at his grave site. He was once again described as peaceful and harmless, as mourners expressed their confusion as to why his life was taken.
"He didn't provoke nobody out of anger, or steal or anything like that. He was loved by everything and everybody. We also know there is a problem with the West Monroe Police Department. Major problem. Whether they like it or not, they've got a cold blooded killer in their force," one mourner told KNOE.
It is truly heartbreaking how many of our veterans survive war only to come home and be killed by our troops in blue.
Only a couple short weeks after Martinez was killed, Nicholas McGehee, 28, a celebrated purple heart recipient was killed after his wife called 9-1-1 for a medical emergency.
On Mother's Day last year, Tommy Yancy, 32, a veteran who suffered from PTSD, served in Afghanistan and Iraq in the 259th Field Service Unit following the 9/11 attacks, was savagely beaten to death, in horrific brutality caught on camera.
Last week, we reported on new documents which show that the Palm Springs Police Department admits they were at fault in the death of Allan 'AJ' DeVillena II, a High Desert Marine who was shot to death on Veteran's Day weekend.
If you want to support our troops, these are some with which you can start. None of these men have received any justice.
Despite his indictment, Officer Jody LeDoux has been on paid leave since the incident. If somehow he's convicted, LeDoux could face up to five years in prison.