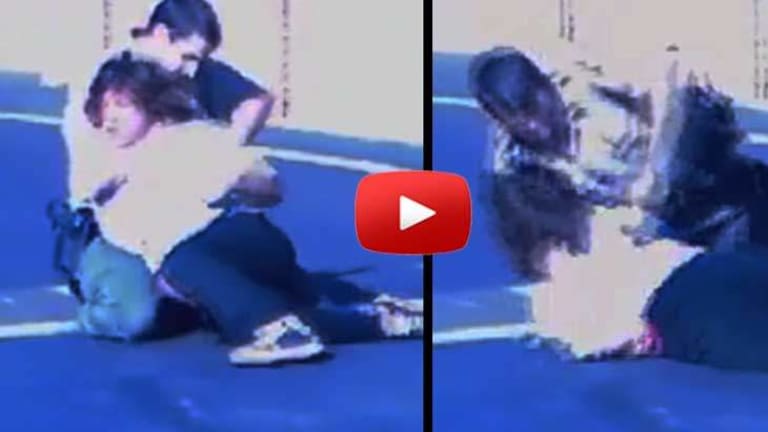 Horrifying Video Shows Cop Choking 13-Year-old Boy as He Tasers Him in the Spine
A disturbing video has surfaced showing a San Diego Cop attacking a 13-year-old boy.
Fallbrook, CA -- A disturbing video has been given to the Free Thought Project that shows a Fallbrook Police officer allegedly assaulting a 13-year-old boy.
The footage was given to us from our friends at FilmingCops.com.
According to the person who took the video, the 13-year-old was simply skateboarding when the officer approached.
The witness explained the details to FilmingCops:
The child was 13-yrs-old (on the video other witnesses assume he's "15 or 16″ but according to the source he is in fact 13). He was riding on his skateboard with other young boys behind a shopping center, and there happened to be a patrol car parked nearby.

At some point an officer inside of the patrol car told the 13-yr-old child to "get in the car."

The child replied, "Why?"

The officer then warned, "You don't want to get dropped."
According to witnesses, the officer then attacked the boy, hitting him from behind as the boy was skateboarding. He then got on the boys back and began choking him, according to witnesses. The video shows the choking and the subsequent tasering to the child's spine.
The boy can be heard in the video writhing in pain as the officer attempts to subdue him.
"Put your fucking hands behind your back!" shouts the officer. To which the child replies, "I can't."
The witnesses can be heard telling the officer, "He's just a kid."
The officer then loads the beaten and tasered child into his patrol car and begins walking towards the people filming. The video then ends.
According to the witnesses, the officer then proceeded to confiscate everyone's cellphones and deleted their video. This one video below managed to make it out.
The Free Thought Project reached out to the San Diego Sheriff's Department Fallbrook location, but they were unable to provide any details.