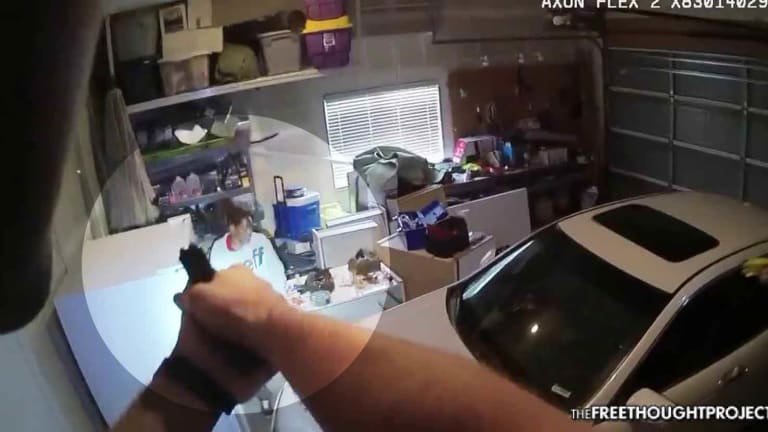 Shock Video Shows Cops Kill Unarmed Man for Complying with Order to 'Get Hands Out of Pockets'
Body camera footage has been released that shows police officers shooting and killing an unarmed man 10 seconds after contacting him when he appears to be complying with their orders.
West Valley City, Utah – Disturbing body camera footage has been released that gives insight into the moments before an unarmed man was shot and killed by police officers who opened fire as he appeared to comply with their orders to put his hands in the air.
Elijah James Smith, 20, was shot and killed by police just 10 seconds after two officers confronted him in a garage and started screaming, "Put your hands up now!Let me see your hands!"
The footage shows one officer approaching Smith in the garage with a Taser pointed towards him while the officer wearing the body camera keeps his distance with his handgun raised. Smith immediately raised his left hand, and when he started to raise his right hand, the officer who was wearing the body cam fired three consecutive shots.
According to a report from the Salt Lake City Tribune, after Smith's body collapsed on the ground, the officers found that he was unarmed and the only object that was found near his body was a screwdriver. At no point during the encounter did Smith appear to be threatening the officers and as the video shows, he was complying with their commands.
The shooting occurred around 3:30 p.m. on April 8, and police said they initially started following Smith because he matched the profile of a suspect who was reported for stealing cell phones from a nearby store. The description they were searching for was "a black male, wearing a gray hoodie and black pants."
Police claimed they watched Smith jump over a fence and into a backyard where a homeowner told him to leave and he left two cell phones behind. They apparently could not confirm whether those phones were stolen, but the situation escalated when they knocked on the door of a neighboring home and a 13-year-old boy answered and told the officers, "There's some, some guy here."
The boy appeared confused as to why Smith had entered the home, but the report claimed he told police that he did not threaten them and instead said he needed to come inside for a drink and went straight to the garage. If Smith was on the run from police and he was responsible for the robbery, then it is not surprising that he would try to seek refuge in a random house.
However, the question is over whether he really posed a deadly threat to the officers who approached him at the time that they decided to take his life. West Valley Police Chief Colleen Jacobs told KSL News that she believes the officers gave Smith more than enough time to comply with their orders.
"From the time the officers opened the garage door until the shots were fired was approximately 24 seconds. They told him 15 times in those 24 seconds to show them his hands and to come out from hiding. And he had his hands out at one point. He chose to conceal both his hands and his person as he moved behind the car," Jacobs said.
While it may be true that 24 seconds elapsed from the time the officers opened the garage door until the time they shot and killed Smith, the body camera footage shows that they waited until the last 10 seconds to enter the garage, screaming a flurry of commands before opening fire when Smith attempted to comply with their orders.
"As Mr. Smith continued to fail to comply with orders and he made that draw-stroke, both officers perceived that threat at the same time and they both fired," Jacobs said, noting that one officer fired his gun three times and another officer deployed his Taster.
Dave Newlin, a member of Utahns Against Police Brutality, told the Tribune that he sees the shooting as a case where "it's clear that police will see whatever they want to see in order to justify violence against people of color."
"The West Valley City Police Department sees what it wants to see: they see black men as inherently threatening. I see this as a clearly unjustified killing. This was murder," Newlin said. "I see a terrified young man with his hand in the air, desperately and clearly trying to put up his other hand exactly as police have demanded. I see someone who is trapped after running for his life, who knows that at any moment, the violent racism of Utah's police could take his life, as indeed it does."
This case rings eerily similar to a recent shooting in Sacramento, California, where police targeted a 23-year-old man they believed was a robbery suspect. They followed Stephon Clark into his own backyard and waited less than 10 seconds between the time they saw him on a porch and the time they opened fire and shot 20 rounds in his direction. Clark was killed by the barrage of bullets, and when officers searched his body, the only object they found was his cellphone, which had been in his hand.
A GoFundMe account for Elijah Smith's family has raised more than $6,200 for funeral expenses in the last week. The West Valley City Police Department confirmed that the officer who shot and killed him has been placed on a taxpayer-funded vacation, or administrative leave, until an internal investigation into his conduct is complete.
Smith's childhood friend, Selena Montoya, told the Tribune that he dreamed of going to college at the University of Utah, and in the last text message she received from him, he asked how to apply. "I was excited to guide him and be his mentor to follow his dreams. But that was cut short by [the] West Valley Police Department. They cut his dreams. I don't get to see Elijah graduate from college. I don't get to see Elijah create that family that he always wanted," she said.
Watch the body camera footage of the shooting: