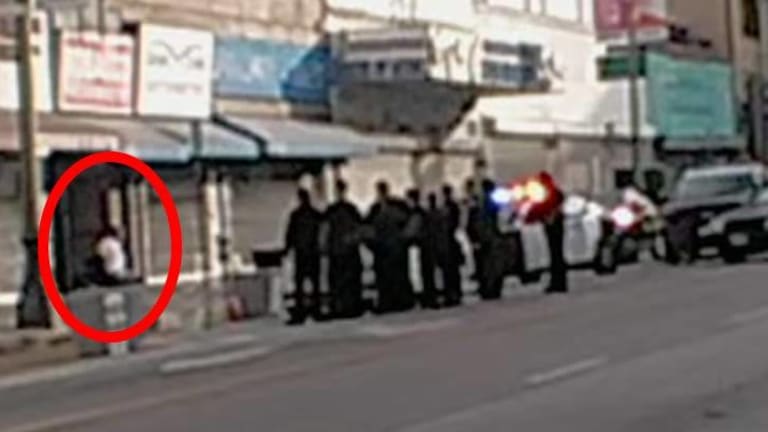 Shocking Video Shows LAPD Cops Shoot Man in Wheelchair with 3 Bean Bag Rounds and a Taser
The LAPD said their lives were threatened by a man in a wheelchair holding a short stick, so they had to shoot him with multiple bean bag rounds and a taser.
Los Angeles, CA -- Three rounds with a bean bag gun and a taser -- deployed against a man in a wheelchair.
The LAPD is facing criticism after a video surfaced that shows them firing beanbag rounds at a man in a wheelchair and then hitting him with a taser.
According to LAPD Cmdr. Andrew Smith, the man in the wheelchair, Christopher Adam Zareck, 43, swung a pole at police when they tried to take him into custody.
Police were called to the scene around 7:00 pm last Friday after a man reported that he'd been in an altercation with Zareck. Ironically enough, the man claiming he'd been in an altercation with Zareck said he successfully defended himself against the wheelchair-bound man. However, nearly a dozen officers were deployed to stop this one man.
The video, taken by homeless skid row resident Hubert Jackson, shows 10 officers on the scene for this one man in a wheelchair.
Boom! Boom! Then a short pause. Boom! Three shots are heard as Zareck screams in agony and flails about in his wheelchair. The officers then swarm him, and a taser is then deployed.
"I hear a shot, then a second shot, and I hear the victim yelling in pain as if gargling over something. Then there's a second pause and a third shot," Jackson said.
While the pole is not visible from the first video, in a second video, taken from above, an officer can be seen dropping a short stick to the ground after Zareck was swarmed by cops.
Zareck was arrested and charged with assault with a deadly weapon and brought to a nearby hospital to be treated for his injuries.
"It didn't appear that they were seriously worried about their safety," said Pete White of the Los Angeles Community Action Network. "It was easy enough to approach and have a conversation with a man in a wheelchair."
Imagine for a moment, a man threatening to hit you with a pole, who is in a wheelchair. He cannot move toward you as long as he holds the pole. There is little, if any threat here. Now imagine that you have a dozen of your friends with you. The man, who is in a wheelchair, regardless of the stick in his hand, becomes almost no threat whatsoever.
If talking to the man nicely, which most likely did not happen, was unsuccessful, simply walking behind him to grab the pole would have been simple. A couple of children could have taken the pole away from Zareck, yet it took 10 cops, 3 beanbag rounds, and a taser.
The notion of "making it home to my family" holds little water in situations like this one. These officers could have shot and killed Zareck and the same rationalization would have been used. At what point does the unnecessary violent escalation become police brutality?
The angle from above.