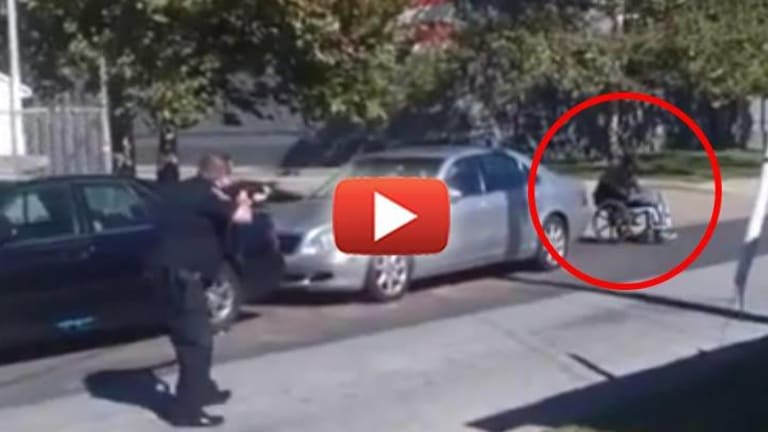 Shocking Video Shows Multiple Police Officers Open Fire and Kill a Man in a Wheelchair
"It was an execution," recalls the man's uncle. In front of multiple witnesses, Delaware police opened fire on a man in a wheelchair.
Wilmington, DE -- On Wednesday police responded to a 9-1-1 call about a man in a wheelchair who was allegedly suffering from a self-inflicted gunshot wound. Upon arriving on the scene, police officers immediately escalated the situation and within seconds the man was killed, according to witnesses.
The victim, 28-year-old Jeremy McDole was repeatedly told by police to "show your hands," but he did not immediately respond. The first officer fired a single shot at him with a shotgun and appeared to strike McDole in the chest.
From what we can see in the video, it does not appear that McDole was pointing a weapon at officers. He was merely moving his hands back and forth when police let loose on him a second time, unleashing a frenzy of gunfire.
According to eye-witnesses and family members on the scene, McDole did not have a weapon. However, in a statement from police, they claimed to have found a .38 caliber pistol by his side after he was killed.
"The office will take these steps as quickly as possible in order to provide an account of the incident to the public," the department wrote in a statement. "Making a determination about whether a person—including a police officer—should be criminally prosecuted under Delaware law is the responsibility of the Delaware Department of Justice and the department will make that determination following investigation in this case."
Family members and friends gathered on Thursday to mourn the loss McDole, with his uncle, Eugene Smith calling the shooting "an execution."
"That's what it was. I don't care if he was black, white, whatever," Smith added. "I didn't see no gun. He had a book bag, but I never seen a gun."
On Thursday, a graphic video was released of the killing.
According to officials, the officers involved have all been placed on administrative leave. However, they have not released the number of officers who fired at this man in a wheelchair.