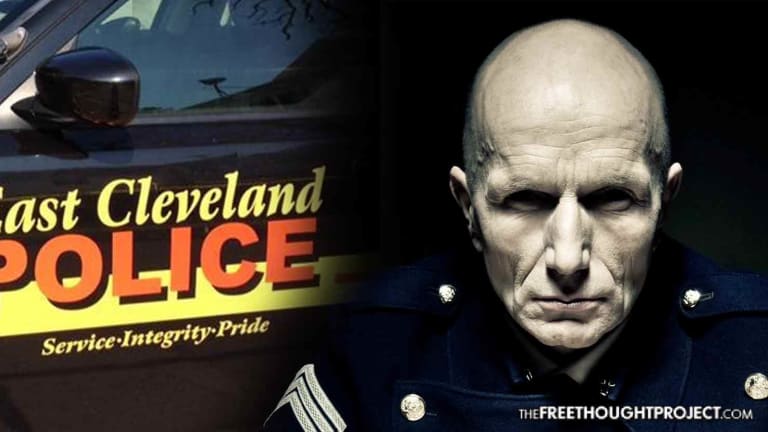 Sicko Cop Indicted for Pulling Over Young Women, Assaulting them with Sex Toys
A Cleveland cop has been indicted by a Grand Jury on kidnapping and sexual assault charges for groping two young women and assaulting them with a sex toy.
Cleveland, OH -- In the latest blight on the already tarnished reputation of the East Cleveland Police Department, a 16-year-veteran of the force has been arrested and charged with multiple misdemeanor and felony offenses.
Kenneth Bolton Jr. was fired from the PD after he admitted to crimes against two young women he pulled over for a traffic stop in February. A subsequent investigation led to his firing on March 3rd.
And late breaking news this week revealed a grand jury has indicted Bolton for crimes against the two young women he pulled over. Cleveland.com reported Bolton has been charged with "gross sexual imposition, abduction and interfering with civil rights charges tied to the Feb. 23 traffic stop."
Bolton allegedly pulled over the two women ages (22) and (23) after learning from a fellow officer they'd recently been ticketed. (Although the news reports do not reveal the practice, officers often share information about traffic stops between each other, such as how beautiful they believe the women to be, which sports cars are going where, etc.).
After making the traffic stop without probable cause, Bolton allegedly began to grope the two women's genitalia. After noticing a sex toy in the back seat, Bolton also allegedly assaulted the two women with it. "Bolton used the toy to sexually assault the women as they sat in their car," the report says.
The former East Cleveland police officer will be arraigned on Monday and faces 10 years in prison if convicted. Sexual assault victims' identities are protected in light of the emotional damage which may have occurred as a result of the assault.
Bolton's arrest is the latest in which Cleveland police officers have been implicated. As The Free Thought Project reported, Tamir Rice was killed in 2014, by a cop who probably should have known the young boy had an air soft pistol and not a real one. Some have called the killing a murder.
Other reports indicate the department is rife with distrust from within. The Free Thought Project published the details of a court case whereby White and Hispanic police officers sued the department for reverse racism, charging PD leadership punished them more harshly than Black officers who'd committed similar infractions related to police misconduct.
The offenses don't stop with sex toy assault, death by cop, and internal racism within the department. As Cleveland.com reported, "Former officer Denayne Davidson-Dixon is set to face trial later this month after a grand jury charged him driving a prisoner to a park and beating him. He was hit with additional charges last month after prosecutors say he tried to convince the victim not to testify."
And detectives, which are supposedly the finest examples a police department has of law enforcement officers, have also been caught acting as criminally as the ones they're trying to arrest. "Three drug detectives are currently serving federal prison sentences after investigators uncovered a long-running racket where they lied to get search warrants and stole money seized from suspects during drug investigations," the report states.
But possibly the most disturbing crime occurred in 2012. "In June, a jury awarded a Maple Heights man $22 million for a 2012 traffic stop during which he was punched by an East Cleveland police officer," Cleveland.com writes. But the crimes against the man didn't stop with simple assault. The report states he was then "locked in a storage closet for four days" and was denied "food, water or access to a toilet".
The Free Thought Project is committed to exposing police misconduct of all types and we will continue to follow this story closely.