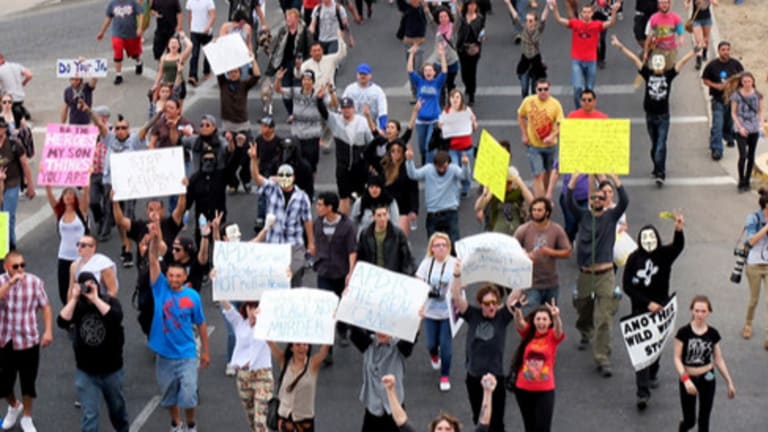 Slideshow: Hundreds Clash with Riot Police as they Protest the Recent Police Shootings in Albuquerque
Hundreds if not thousands of peaceful protesters took to the streets Saturday in Albuquerque, to decry the recent murders by APD.
According to the AP, the Albuquerque mayor said late Sunday that a more than 10-hour protest over recent police shootings has turned from peaceful into "mayhem," as officers in riot gear clashed with protesters who blocked traffic, tried to get on freeways and shouted anti-police slogans.
The protesters repeatedly marched the 2 miles from downtown Albuquerque to the University of New Mexico, holding signs protesting recent police shootings and often snarling traffic. Motorists honked, and supporters took photos with smartphones. Activists called on various city officials to resign, yelling late Sunday for the police chief to resign.
Justin Elder, 24, followed the protest as a passenger in a car and held a sign that read, "APD: Dressed To Kill."
"That's what this police force is about," Elder said.
Albuquerque police in riot gear and New Mexico State Police followed the marchers, and protesters were seen shouting epithets at officers.
According to Mayor Berry, the protest was peaceful until people "not connected with the original protest" showed up and began wreaking havoc. At this point police declared the protest illegal and began dispersing the the crowd with more force and tear gas.
Why exactly were there riot police dispatched in the first place for a peaceful assembly? Who exactly are they protecting? Who are they serving by flexing their force in storm trooper costumes and batons?
Alexander Siderits, 23, said he was participating because he was "fed up" with how police treat citizens. "It has reached a boiling point," he said, "and people just can't take it anymore."
The U.S. Justice Department has been investigating the department for more than a year, looking into complaints of civil rights violations and allegations of excessive use of force.
The gathering came days after a YouTube video emerged threatening retaliation for a recent deadly police shooting.
Resistance is NEVER futile and the amount of people showing up to show their resistance Saturday is heartening indeed.