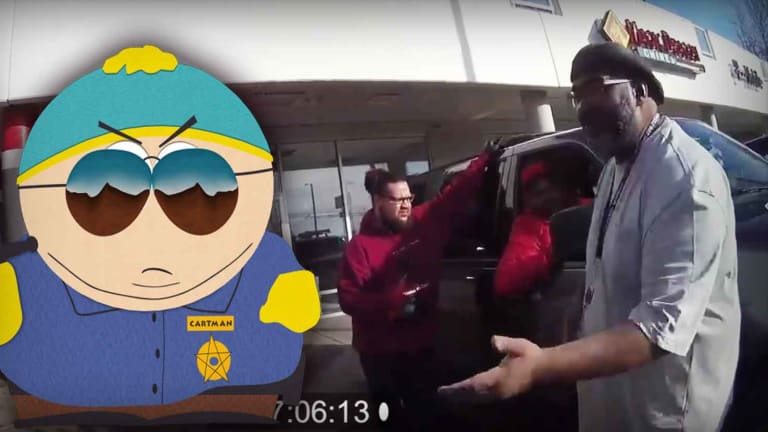 WATCH: Citizens Call Out Cop as He Stalks a Man at Work, Demanding an Apology for "Disrespect"
"Some guy called me a ho and a bitch," the Seattle cop said, "and I think I deserve an apology."
Seattle, WA — A Seattle police officer has been demoted from his rank of sergeant after he stalked an innocent man at his place of work — for over 40 minutes — to demand an apology. Former police Sgt. Frank Poblocki is now a mere officer after his temper tantrum caught on body camera.
This week, the Seattle police department released the footage from Poblocki's body camera which recorded the officer throwing a 40 minute temper tantrum in front of an Autozone as he waited for the man who "disrespected him" to apologize.
When citizens and even other police officers asked why he was stalking the Autozone, Poblocki explains that he "got a little disrespected earlier today and I think I deserve an apology."
As the Seattle Times reports:
Police Chief Carmen Best demoted Poblocki to the rank of officer and suspended him for 10 days without pay Oct. 12 after an internal investigation found that, while on duty and in full uniform, he sat in the chair outside an AutoZone in Seattle's Central District waiting for a man who worked there to apologize to him for hurling insults at him during an earlier confrontation over towing a car.

The Seattle Times previously reported on Poblocki's actions based on a leaked disciplinary-action report and an Aug. 2 internal police memoobtained under a public-disclosure request. The Times subsequently requested the newly released video.
This incident was sparked over a dispute about towing a car back in February of 2018. Poblocki is seen on video exchanging fierce words with the man and his girlfriend.
As the video shows, the man called Poblocki a "ho" and as he drove away, his girlfriend called him a "bitch" and a "punk." After the couple practiced their first amendment right to voice their opinion of the officer, Poblocki rolled down his window and issued a seeming threat. "I'll see you guys, good night," the officer said.
Several hours later, Poblocki made good on his threat and showed up at the man's place of work at Autozone. He pulled a rolling chair from the back of his patrol car and sat down in front of the store to intimidate and stalk the man inside.
When a fellow cop questioned what Poblocki was doing outside the store, Poblocki responded by saying he was "cold kicking it" and doing some "community-oriented policing stuff."
"Some guy called me a ho and a bitch," Poblocki says to a random stranger, noting that he was going to stay in front of that store until he got his apology.
A concerned citizen then approached Poblocki and noted that what he was doing is considered "harassment" to which the officer responded by giving his name and badge number.
It was this witness who filed the complaint with the department, not the man Poblocki was stalking. As the Times notes, the witness emailed the department's Office of Police Accountability (OPA) the same day, describing Poblocki's actions as "a complete waste of taxpayer money" that "promotes poor relations with the community."
After the officer was caught behaving in such an unethical manner, he denied ever going to the store to seek an apology—despite clearly stating it on the video. He has since appealed the demotion, claiming that he was actually doing community policing. As of the writing of this article, the status of the appeal has not yet been determined.
As TFTP has reported, being an asshole is not illegal and a person's right to nonviolent speech should never be removed or threatened.
Aside from Poblocki's temper tantrum being clearly asinine, it's well-established by the Supreme Court to be unconstitutional.
The U.S. Supreme Court ruled, in City of Houston v. Hill, that police must tolerate even more abusive speech than an average citizen. The court concluded that "in the face of verbal challenges to police action, officers and municipalities must respond with restraint," and added that, "the First Amendment protects a significant amount of verbal criticism and challenge directed at police officers."
As the video below shows, Poblocki clearly did not get the memo on free speech, otherwise known as the Constitution.