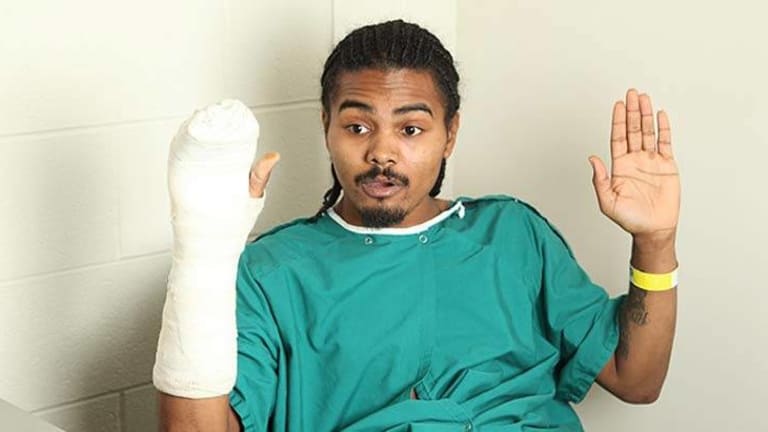 Innocent Man Pulled Over More than 40 Times Was Inevitably Shot, Now He's Being Tortured in Jail
After shooting him multiple times, no ambulance was called. Instead, he was cuffed and thrown in the back of a cruiser as blood gushed from his wounds. Now he's being held in prison and denied proper medical treatment.
Denver, CO-- Officer Jeffrey DiManna of the Denver Police Department has been involved in three out of the four instances where police have shot at suspects in vehicles in the last six months.
DiManna was reportedly a senior at Columbine High School during the deadly Columbine Massacre, and his father was one of the first officers on the scene. The teenage Jeffrey DiManna was forced to crouch under a counter to hide as his father searched the school and dragged victims to safety as the gunmen ran through the building spraying bullets at his peers. Jeff's girlfriend was shot at least three times in the arm, the Orlando Sentinel reported in 1999.
Unlike his heroic father, who took shrapnel to the face as he went to retrieve the body of 17-year-old Rachel Scott, this officer's legacy is one of blood and pain.
Most recently, this officer shot 23-year-old father of two, Sharod Kindell, who was on his way home January 9, after delivering baby formula to a relative only a few blocks away from his home.
Kindall had made it a block from his relative's house when he received a phone call. He pulled off into a nearby parking lot to answer the call. After finishing up and putting the car in reverse to continue home and join his family for dinner, Kindell noticed a police vehicle behind him and two officers were approaching.
Being harassed by the police was nothing new for Kindell, and Westword reports that Kindell believes he has been pulled over 40-50 times over the years. He has reportedly been harassed, assaulted, and suffered unconstitutional searches, so many times that it leads him to request a supervisor be present for the interaction. At this point, however, DiManna and Officer Andrew Landon reportedly fixed their weapons on him.
Sharod immediately put his hands up as DiManna reached through the window and unlocked and opened Kindell's door. Simultaneously Officer Landon was opening the door to the back seat of the vehicle. At this point, Sharod says that he tried to pull his door closed, but DiManna yanked it open again.
"Please, officer, don't shoot, don't shoot!" Kindell reportedly pleads with the officer as DiManna began to yank him from his vehicle. As he was pulled out, his foot slipped off of the brake, and his car was still in reverse. The car started to move backward, and the open doors reportedly hit the officers. DiManna, instead of telling Kindell to put the vehicle in park, opened fire on the man, shooting him three times. He was hit once in the right hand, in the right bicep, and in the left thigh, damaging his femoral artery.
Feeling the burning pain and seeing the blood, Kindell instinctively began to run from the officers who were shooting him. DiManna kept shooting, and Kindell felt what he described to Westword as the worst pain he has ever felt, he was shot in the groin.
"He kept going, running to a nearby house to find help, before collapsing near a parked car. Blood was squirting from his leg, and it became harder and harder to breathe. He could hear the cops calling out for him, trying to find him, but then reality began to slip away. It was like he was watching a movie: He could see white and golden gates and a crowd of people screaming his name. "Sharod, come on, run!" they yelled. But then he turned his head, looking back, and he could see his siblings and his little brother playing at the park. He looked at the gates and then glanced back again, and there was his three-year-old daughter, close to his face. "Daddy, come play," she told him." Westword wrote of Kindell's description.
Once the police had him in custody, instead of calling an ambulance to come and provide appropriate care while transporting him, they just put him in their police cruiser and took him to the hospital, a representative from the family told The Free Thought Project.
Back at his home, Kindell's family began to grow worried about his disappearance. Nobody bothered to immediately contact the family. They saw the news of a police shooting and horror slipped over. His mother went to the crime scene, but officers would not give her any information. Finally, at the hospital, she confirmed her son had been shot the evening before.
"At this point, I'm yelling, 'Somebody tell me what happened to my son! What did they do to my baby?'" his mother told Westword.
The hospital would not allow the family to see him, and would not give them any information on his condition, per orders of the Denver Police Department.
Kindell reportedly still had open wounds when he was transferred from intensive care to the Denver Sheriff's Infirmary, which the family says was against the hospital's recommendation. The infirmary is reportedly run by staff employed by the Denver Sheriff's office and not by the hospital. He was only there for two days before being moved to the jail.
Kindell, who is currently confined to a wheelchair, is attempting to push himself to walk, but has not received adequate care for his wounds according to relatives. They say he was kept in his bloody hospital gown and not given new clothes for ten days. He spent 23 hours a day alone in an infirmary cell with no one to interact with for over a month, and claims he is left alone to change his dressings. His bond was originally set at $10,000, then moved up to $50,000, and now stands at $75,000. The family cannot afford to bail him out to ensure he is receiving proper medical care. You can donate to help them, here.
We spoke to a representative of the family who told us that Sharod is in a great deal of pain and that the hand that was shot is tremendously swollen. They say the wound is not healing properly as he is being denied the care he needs. The wounds in his hand are swollen, and his groin is still bleeding, a month later, and after two surgeries.
"Since being at this facility Sharod has suffered numerous human and civil rights violations including being forced to wear bloody garments until they reeked and became discolored and blood soaked. For example he wore the same bloody gown he was released in for what is estimated to be 10 days. He has a groin wound that is still bleeding a month later. His hand is swollen and almost completely nonfunctional. The healing process has been stagnated by the lack of adequate medical care." a representative for the family tells The Free Thought Project.
They also reported that Kindall no longer has a pillow or blanket, as he is being punished for people showing up at the courthouse to support him on Tuesday. He has told them that he is constantly cold and cannot get comfortable.
On July 2, DiManna was also involved in the fatal shooting of Ryan Ronquillo. The officer was cleared of any wrongdoing, claiming a vehicle was being used as a weapon against him in this case as well. The 20-year-old had been sitting outside a funeral service he was attending, "taking a breather" in a car, when two police vehicles stormed in to serve him with arrest warrants.
They claim Ronquillo had put his car in reverse striking an officer, and then pulled forward, when at least 12 shots were fired at him by DiManna and one other officer. Dozens of funeral attendee's witnessed the killing, including children.
"You know, 'Shut off the car! Shut off the car!' And he's still revving the engine, revving the engine. And he slams it into drive, uh, Detective Trujillo was right next to me and we were both poten-- we were both, coulda been in the line of the vehicle... From where we were standing we were both put in, uh, the line of the vehicle. So, in fear for my safety -- in fear for Detective Trujillo's life, uh, I heard one of her roun -- I heard her fire one round and I shortly fired right after her." DiManna told the investigator.
DiManna is also listed as one of the officers who responded to an incident in November where two brothers were both shot by police, and thankfully survived. Joel Jurado, 26, plead not guilty on Tuesday to two counts of first-degree attempted assault with extreme indifference and one count of driving with a revoked license.
Police claim Joel Jurado struck a Denver police vehicle as two officers approached his pickup truck because they suspected he was driving under the influence and eluding them. Joel Jurado has not been charged with driving under the influence or eluding, The Denver Post reports.
A protest organized by the families of four recent Denver PD victims will be taking place on Saturday at 2pm in Lincoln Park. More information on the event can be found here.