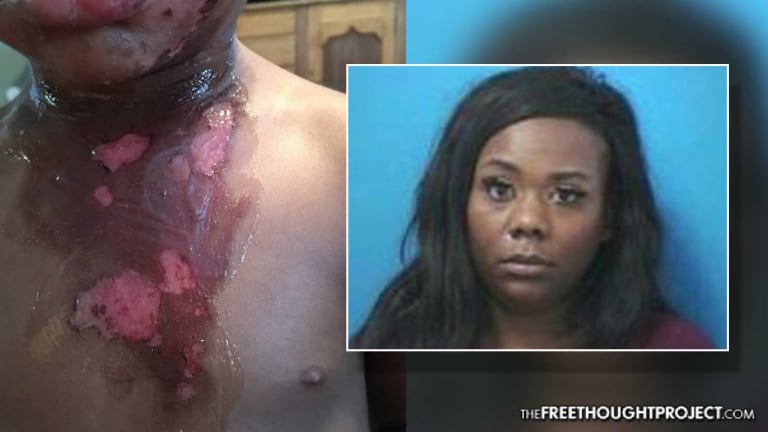 Toddler Suffers Disfiguring Burns at Police Station After Mom Jailed for Traffic Violations
A mother's vacation with her children quickly turned into a nightmare after a traffic stop that led to her son being severely burned.
Decatur, AL -- It must have felt like a nightmare when Tracy Marie Garth, 34, a bank employee from Decatur, AL, was arrested April 25, 2016. The trip was supposed to be a shopping vacation for the family. However, they were brought to the police station instead where Garth's eldest would be severely burned.
Garth and her two young children -- 8 months and 2 years -- were going to Nashville, TN, when Franklin police officer Sgt. James Phillips pulled her over.
Garth claims Phillips "accused her of passing a dump truck, striking an orange traffic cone, and failing to stop for law enforcement and speeding" according to the Tennesseean.
But according to the affidavit signed by Phillips, Garth's children were improperly restrained in the vehicle. The mother had driven the nearly four-hour trip and was within 20 miles of her final destination.
Nevertheless, Phillips arrested Garth for, "three counts of felony reckless endangerment with a deadly weapon (her vehicle), two counts of evading arrest with a motor vehicle, driving on closed roads, speeding, improper passing, failing to stop at a red light and two counts of violating the child restraint system."
The mother of two, who had never been arrested before and has no criminal record, was booked into the Williamson County Jail, and was separated from her children. At around the same time Garth was imprisoned, child protective services were called to take custody of her children. That's when the horrific accident took place.
While Garth was jailed, her two children were being held in a break room at the precinct. There, the two-year-old pressed a button on the hot water dispenser and was severely burned by the hot water pouring from the machine.
While 'protecting' the children from their mother, police allowed this 2-year-old to play with a tap of near boiling water.
Adding insult to injury, according to her recently filed civil rights lawsuit, Garth says she was forced to strip nude while a male guard was filming.
Little did she know the ordeal was only just beginning. Garth and her attorneys allege she was not allowed to make a phone call while in jail. Neither did she know her son had been severely burned. In fact, Garth spent two weeks in jail, still unaware the accident had taken place.
She would have been able to bond out of jail had she been given a phone call, which is standard jail procedure. Instead, the young banker was forced to spend the next 14 days in jail with no one to help her and no knowledge of her child's burns.
After leaving the jail, Garth's children were not returned to her. She's still fighting to regain custody, and she's now lost her banking job, a position she'd held for over a decade.
Garth is now suing the City of Franklin, The Franklin Police Department, the officers involved and others for violating her civil rights. And she's wanting answers. According to the Tennesseean:
Franklin police transported the two-year-old child to Vanderbilt Children's Hospital for treatment, while Kirby took the other child to the Franklin DCS office. No one from DCS accompanied or met the burned child at the hospital, and the agency never investigated how the injuries occurred, according to the lawsuit.
Worse still, Garth was not notified of her son's injuries until 16 days later on May 11.
City of Franklin spokeswoman Milissa Reierson responded to the lawsuit by saying Garth's is only one side to the story. She explained what happened from the perspective of the police department. In a classic case of blaming the victim, Reierson said:
Following Garth's arrest, officers called DCS to assist with caring for Garth's young children after she was unable to provide contact information for other family or next of kin
In other words, because she could not think to provide any information about who the police should call to take custody of the kids, they were remanded into child protective services. She still has not regained custody of her small children.
Garth disputes the Franklin PD's claims and said she gave the police at least 10 names of individuals to whom they could release her children.
The young mother is suing for 2.5 million dollars for, in essence, kidnapping and allowing her child to be burned by hot water. She's also suing two Williamson County police agencies and the TennesseeDivision of Children's Services in federal court. It could be months or longer before she gets her children back.