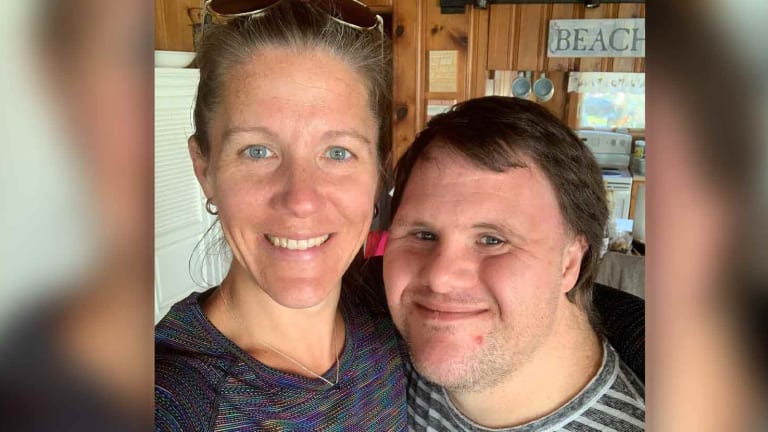 Family Outraged As Cops Swarm Home, Falsely Accuse Son With Down Syndrome, Berate Him
Police swarmed the home of an innocent family and began immediately berating their son with Down Syndrome, accusing him of being a criminal.
Old Saybrook, CT — Last weekend, Rebecca Roy and her mother were startled when a police officer came knocking at their door. The grey Honda CR-V belonging to Rebecca matched the description of a blurry photo police obtained of a similar vehicle used to commit crimes. What started with a question, quickly escalated, however, after police accused Rebecca's brother, CJ, — who has Down syndrome — of being the culprit.
Since the suspect in the crime was a male, police immediately assumed CJ was the one driving the vehicle and the family quickly found their home swarmed with police, making brash accusations. They accused CJ of driving the car and stealing signs from around the neighborhood. Clearly they missed the fact that CJ has Down syndrome and does not have a driver's license. Or, it was of no concern to them.
"He cannot read well," Rebecca wrote in a Facebook post describing the incident. "He is not capable of moving deftly enough to steal a street sign, nor does he have any motive to do so. My mother and I explained this to the officer (who by now had been joined by three additional officers and four total squad cars). Even so, they said they would need to ask my brother some questions.
"My mother expressed that CJ may be nervous when he saw them as he's never been questioned by the police. But, we respect the authority of the police and wanted to comply with their request, so we went to call him outside. "
Because they trusted police, and because they had committed no crime, the family let the swarm of cops question CJ but instead of questions, police hurled accusations.
"It became apparent that my brother was a suspect for no other reason than that my car matched a blurry photo a witness had taken, and that we had reported he was wearing a striped shirt like the alleged perpetrator," she said.
Rebecca explained that one of the cops "clearly thought he had apprehended a criminal. There was no civility in his tone when dealing with us, and the clear indication from his attitude was that we were guilty."
She explained that the officer "without any recourse or reason to do so, said to my mentally handicapped brother, 'Buddy, tell us what you did with the sign.'"
Eventually, after watching cops accuse her innocent brother for long enough, she "intervened and said he had absolutely no right to make a demand like that when we live in the United States of America where citizens are assumed innocent until proven guilty."
She said the officer "didn't ask, 'Did you take a street sign today?,' or 'Can you tell us if you made any additional stops on your way home from your errands?' No. 'Tell us what you did with the sign.'"
"At this point, four police vehicles are lined up in front of our house, neighbors are beginning to stare, and a line of cars is stalled behind the squadron trying to exit our road. I repeated that we had not stolen anything and offered for the officers to search my car and our house so we could get on with our day, and they could continue with their search to find the real culprit," Rebecca explained.
She said police did not "immediately take us up on our offer, and in fact, it took almost 45 minutes for them to leave. They were readying to search our cottage when a new picture came through that made it clear that the rims on my CR-V were different than those of the perpetrator's vehicle."
The officers then left the scene and left CJ traumatized on the way out.
"The police's duty is to serve and protect, not to harass innocent people because they're on a witch hunt to play cops and robbers on a beautiful day when the most pressing crime that's been committed is the theft of a street sign. As a white, upper middle class woman, I couldn't help but think standing there, 'What if I was black?' There was a moment when I thought we may be arrested, but I never feared for my life, and I know that I am lucky and privileged because of that."
Rebecca explained in the post that the "most heartbreaking part came as the officers were leaving."
She said that while the cops apologized as they walked off, the two "most domineering officers left immediately after realizing they had the wrong people."
As they walked off, her brother seemed contrite simply for being berated by cops and told them, "I'm a nice person," she said.
"After they had gone, he said to me, 'Those people had guns.' Way to make the most gentle and kind person on planet earth feel threatened and unsafe."
In response to the story, the Down Syndrome Association of Connecticut issued a statement calling for police and the town to issue an apology.
"There are far too many examples of police encounters that started like this one and went horribly wrong. It's a parent's worst nightmare," the statement read in part.
Indeed, TFTP has reported on multiple incident of police officers attacking and even killing those with Down Syndrome because their only tool is violent escalation.