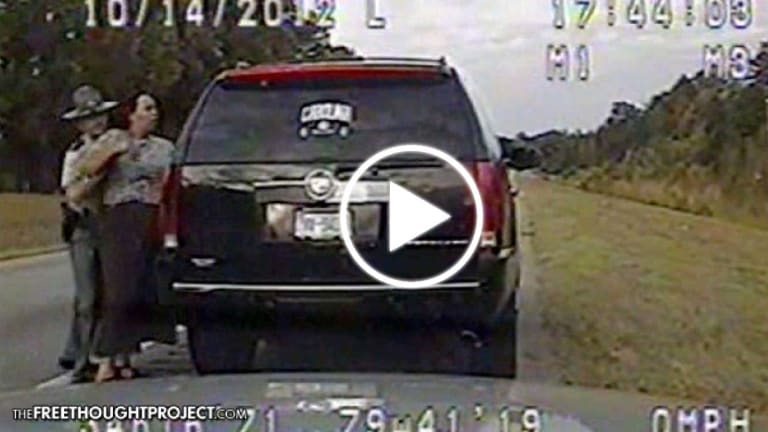 WATCH: Cop's Violent Power Trip Costs Taxpayers $1.3 Million
A state trooper was found in violation of a couple's civil rights following a traffic stop that transformed into an aggressive arrest — $1.3 million settlement.
A South Carolina state trooper's conduct has led to a $1.3 million judgment awarded to a couple who accused the officer of excessive force during what originated as a simple traffic stop nearly four years ago.
The incident, which occurred in October 2012, began when Trooper James Enzor pulled over Catherine and Jerome Newkirk while they were driving on Interstate 95 in South Carolina. According to CBS North Carolina, "the complaint says the two were driving through a construction zone as part of a line of cars all traveling the same speed when the couple noticed they were being followed by a South Carolina Highway Patrol car with its blue lights on."
During the stop, Enzo reportedly informed Catherine Newkirk that she was driving 77 mph in a 55 mph construction zone. While Enzorofferedto issue her a ticket for driving 64 mph, Newkirk disagreed with receiving a ticket at all and maintained she had not been exceeding the speed limit.
Court documents stated that Newkirk told Enzor that she believed "there is a bit of discrimination going on here." According to WIS-TV, once Newkirk suggested to Enzor that the traffic stop was based on discrimination, she said, "he snatched the ticket back and he told me to step out of the vehicle and I did."
Video of the altercation is below. While much of the audio is difficult to hear, Enzo is seen and heard on video directing Newkirk to exit her vehicle and proceeding to place her under arrest, becoming increasingly agitated in his physical handling of her. Newkirk is also seen visibly resisting the unlawful arrest at first before allowing herself to be transported.
The Newkirks were both ultimately arrested and spent a day in prison following the arrest. Catherine was imprisoned for resisting arrest and assault, and Jerome was also imprisoned for a charge of "hindering a police officer," as Enzo claimed that Jerome "did verbally and repeatedly instruct and coerce the driver of the vehicle to disregard any instructions" that he was giving to Catherine.
The Newkirks spent the next few years pursuing their case, first in state court and then in federal court. Enzo filed a request to dismiss the case based on qualified immunity. That request was denied and a jury was eventually able to see video of what transpired on the day of the Newkirk's arrest.
Joe McCulloch, an attorney representing the Newkirks, noted that this video was "invaluable for the jury to see."
The jury awarded $325,000 to Jerome Newkirk and $1 million to Catherine Newkirk. The couple is seeking an additional $500,000 in legal fees. They were previously awarded $100,000 in a settlement with the South Carolina Department of Public Safety. 
Enzor has since lost his job; he was fired in an unrelated incident in which he made unspecified comments about a superior.
Just like that, taxpayers are hit for more than a million because of this officer's inability to remain professional.