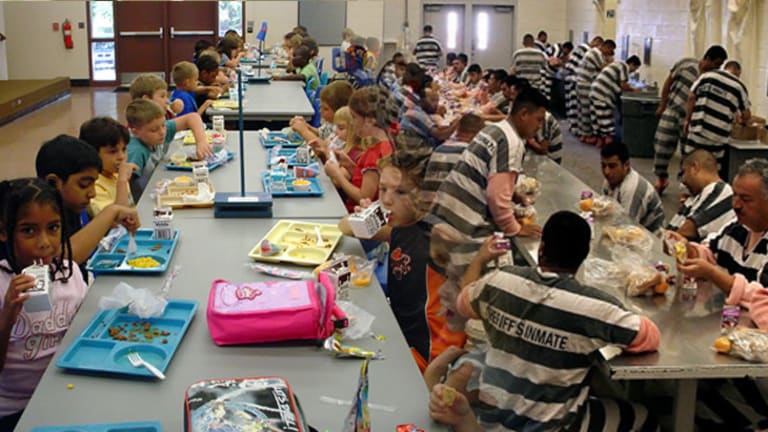 School Girl Getting Beaten by a Cop Exposes Alarming Trend of School to Prison Pipeline
Recent studies are showing just how dangerous it is to subject children to the heavy hand of law enforcement at a young age.
The disturbing video of a school girl being grabbed around the neck by a brawny cop, then tossed around and dragged like an animal, represents a complete lack of human decency. This display of brutality was so bad that Richland County Sheriff Leon Lott has asked the FBI to investigate his employee, Deputy Ben Fields.
The video also represents the epitome of a problem that plagues public schools across the nation, known as the "school to prison pipeline."
The Center for Public Integrity has a detailed analysis of just how many school kids are subject to the oppression of badges, guns, and judges.
"Nationwide, in incidents that rarely get publicly aired, thousands of students are also getting arrested, ticketed, interrogated and searched by police officers, often in connection with minor indiscretions or allegations they were disruptive.

Some police actions involve alarming physical altercations, with kids subdued and handcuffed. Others may be handled without much force. But law-enforcement involvement in school discipline has routinely resulted in kids—some as young as elementary school-age—summoned to court to answer charges that they committed crimes. Frequently, charges include battery or assault in connection with schoolyard fights or disorderly conduct or disturbing the peace at school —issues that some believe should be handled by school officials, not cops."
At a rate of 5 students per 1,000 being referred to law enforcement, South Carolina (where the above incident happened) ranks just below the national average of 6 per 1,000. The state showed a disproportionately high number of black students referred to cops.
The worst state is Virginia, with a rate of 16 students per 1,000. One school had a shocking 228 students, most between 11 and 14, that were referred to cops. A 12-year-old girl was charged with obstruction of justice for clenching her fist at a cop. 11-year-old Kayleb Moon-Robinson, who is autistic, was slammed to the floor for walking out of class too early, and then was charged with felony assault on a police officer and disorderly conduct.
It has gotten so bad in Virginia that officials have launched an effort to retrain educators and school cops to limit police intervention in behavior problems.
Other shocking examples include five- and six-year-olds being handcuffed, arrested and booked in jail for throwing temper tantrums. Dress code violations, tardiness, and even passing gas have all led to students being referred to law enforcement.
This early exposure to law enforcement and the "justice system" has a devastating impact on the mental health of children.
"…prosecuting kids in court for low-level accusations like disorderly conduct and battery is actually backfiring; kids become stigmatized, develop records and often disengage from school. The risk increases that they'll progress to more serious trouble, especially if core emotional or mental-health or learning problems go unresolved or inadequately treated."
Indeed, it becomes more likely that these kids will grow up to live part or all of their lives behind bars, thus completing the school to prison pipeline.
The Arizona State Law Journal found that over the last three decades, there has been a marked shift in public schools to using law enforcement instead of school administrators and teachers for students violating school rules.
Approximately 260,000 students were referred to law enforcement during the 2011-2012 school year, and about 92,000 students were arrested on school property. Unsurprisingly, these numbers affect disadvantaged minority students the most.
"No one should underestimate the negative consequences associated with incarcerating a juvenile, both to our society as a whole and to the youth themselves, which is the end result of the school-to-prison pipeline. Empirical research demonstrates that incarceration produces long-term detrimental effects on youth, including reinforcement of violent attitudes and behaviors; more limited educational, employment, military, and housing opportunities; an increased likelihood of not graduating from high school; mental health concerns; and increased future involvement in the criminal justice system."
A comprehensive analysis found that incarceration increases delinquency and future involvement in the justice system, and "the official processing of a juvenile law violation may be the least effective means of rehabilitating juvenile offenders."
The paper goes on to provide detailed explanations of causes and effects of the school to prison pipeline. It also discusses several school-based solutions to address this epidemic. This,of course, involves taking cops out of the equation, as well as improving academic achievement with evidence-based methods, so students remain in school and graduate. Identifying and providing for those with "acute needs" is critical.
"Our schools need more counselors, mental health services, mentoring programs, after-school services, and programs that build student character, school community, collective responsibility, and trust."
Using an approach called "restorative justice," instead of expulsion and police officers, has shown positive results in a number of cases.
"Thus, rather than excluding the student from the school community for misbehaving, which potentially can cause resentment, disrupt that student's educational progress, and lead to recidivism and dropping out of school, one of the primary goals of restorative justice is to integrate the offender back into the school community as a productive member.

In essence, restorative justice practices are conflict resolution tools that involve victims, offenders, and other members of the school community. Using formal and informal conferences, or "circle groups," victims share with offenders how they have been harmed by the offender's behavior, offenders have opportunities to apologize to the victims, and, with the help of the victims and the other members of the school community, conference participants devise remedies for the harmful behavior."