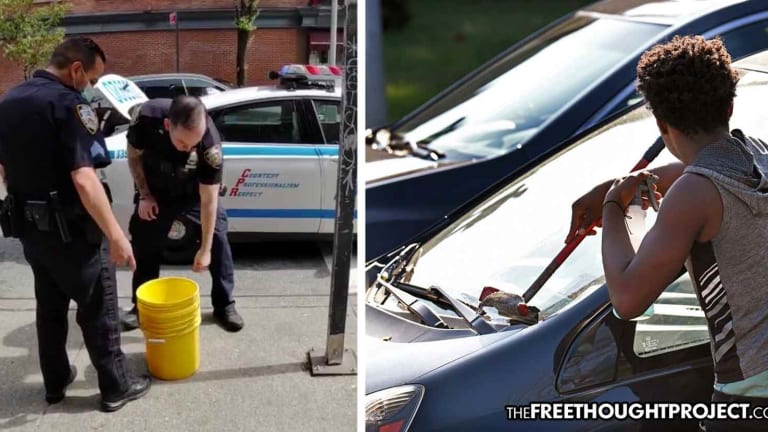 Hero Cops Protect City from Evil Criminals Attempting to Squeegee Windows
After the squeegee men returned to the streets of NY, the NYPD has set their sights on the window washers in an effort to stamp them out.
New York, NY — For decades, the downtrodden and homeless who refused to beg for a handout found an easy trade — though unwelcomed by many — by squeegeeing the windows of cars stopped at traffic lights in the Big Apple. And, for decades, these men, women, and children drew the ire of police and "tough on crime" politicians.
During the 90s, the proverbial "squeegee man" became the center of the mayoral race between incumbent Mayor David Dinkins and Rudy Giuliani. Both candidates took to fumbling over each other in their effort to espouse their hatred for a homeless man trying to earn a buck.
Dubbed the "scourge of the '90s," the squeegee man encapsulated Giuliani's false theory of broken windows policing.
If these criminal thugs, attempting to earn an honest living by cleaning windows, could get away with such horrific crimes on New York streets, then serious criminal acts like murder and rape would flourish. Luckily, this theory of broken windows policing has been largely discredited but thanks to zero tolerance policies and the encroaching police, the New York squeegee man is still the target of the NYPD.
To anyone who has driven down a New York street and encountered the squeegee men, it can definitely be a bit aggravating but does it equate to criminal activity? Would cops rather see these same folks begging for money or lined up for handouts?
Apparently the answers to those questions, according to the NYPD, are yes and yes.
This week, the NYPD has renewed their crackdown on New York's "scourge" and have taken to confiscating their buckets and squeegees. The NY Post, ran a piece on the resurgence of the squeegee man this week, and noted how the NYPD is giving them new attention.
Five squeegee men worked Ninth Avenue between 39th and 40th streets starting at 8:30 a.m. Tuesday, taking a break only about two hours later when cops from the NYPD Business District Recovery Initiative showed up.
"We're going to voucher their buckets," a sergeant in charge of the cops said, according to the Post. "We gave them a warninng. Yeah, that's it for now."
"Don't worry," he said. "We're going to take care of this."
After they took their buckets, the squeegee men cam right back out and got back to work.
According to the Post, the men fill up their buckets with water from a hose in the compacting room at the nearby Port Authority bus terminal.
"Yes, he's been doing that for a real long time," the attendant in the compacting room told The Post. "He don't hurt nobody. He's all right."
Obviously, if these folks keep coming out to wash windows then they are making some money while doing so. No one in their right mind would stand in traffic and clean windows for free just to piss people off. So, the fact that they make money means they are providing a service. Police should not go after folks who provide a service to willing customers.
What's more, instead of wasting police resources on men with squeegees—in a city who is seeing a massive spike in violent crime—officials could think outside the box and help these folks instead of persecute them.
As we reported, instead of squandering police resources on the homeless, some cities have taken to incentivizing them to clean the town. One such example is the Bridge to Work program in Little Rock, Arkansas which pays homeless individuals $9.25 an hour to tidy up the metropolis and capitol city of the state. It was such a success, that the program was extended past the original dates.