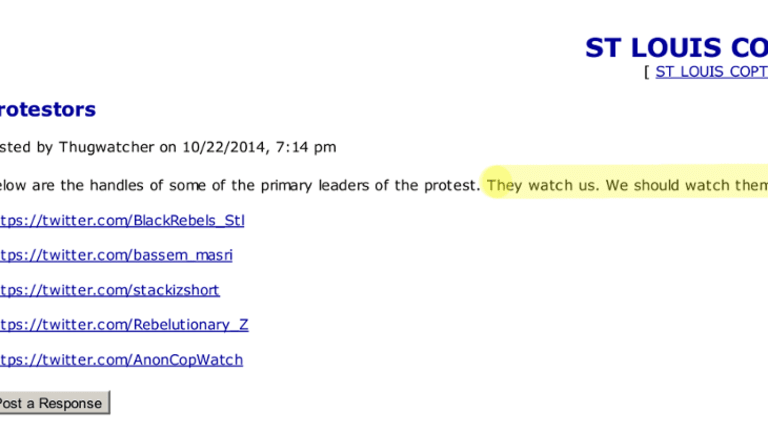 St. Louis Cops Target Independent Journalists on "Cop Talk" Forum
A number of independent journalists have been targeted by St. Louis cops on a forum where law enforcement officers communicate. One user named "Thugwatcher" is an alleged officer in St. Louis who made a post titled "Protestors" (since removed) that linked to 5 live-streamers that he claimed were "protest leaders" in Ferguson.
Along with the links was a message that read:
"Below are the handles of some of the primary leaders of the protest. They watch us. We should watch them..."
Among the journalists listed in his post was Jon Ziegler AKA Rebelutionary Z, a live correspondent for The Free Thought Project.
Most of the comments on the board associated these journalists with rioters and terrorists, and the word "thug" was thrown around commonly to describe anyone who disagreed with the police.
One poster by the name of Jimmy Olsen attempted to correct the other officers, saying that "These livestreamers are by no means "leaders" -- they are far from that! Some of them do not reside in St. Louis and have traveled here from as far as California to participate in "the movement." Their intention is to record their activity and document the protesters' interactions with law enforcement."
His comments were largely ignored by the majority of the posters, some of whom were asking for the names, addresses and license numbers of both livestreamers and protesters.
Some of the people posting on the board claiming to be police had an intricate knowledge of the personal lives of journalists and protesters, including personal details about their lives, homes, families and children.
It seems that many police in the Ferguson area are paying close attention to independent journalists, and this is likely true to a lesser degree across the country.
At one point during his live-streaming coverage in Ferguson, our correspondent Rebelutionary Z was followed and detained by police. It would not be surprising if he was actually targeted for his journalism.
He was also pepper sprayed while filming a violent arrest of a peaceful protester by police.
Jon Ziegler has made the following statement in response to being labeled as an organizer:
"The police have targeted livestreamers both on their blog and in the streets. They label me a "leader" and "instigator" but all I do is point the camera and give recaps of events. I don't plan-I don't chant-I don't hold a sign. I DO show cops reactions live, and I believe that's what they are afraid of. Livestreamers have gotten 3 cops suspended since Ferguson began, and for that I get maced, followed by cops and threatened online. However, what this has exposed about the underlying mindset of the American cop is priceless. We're not dealing with a few bad apples here, but rather a systemic power issue."
The post on the Cop Talk forum has since been removed however, thanks to Dylan over at Revolution-new.com we've obtained screen capped images of all of these comments. Below are some of these exchanges.
One of the comments on the forum refers to the people exposing this police brutality as a bunch of "nut jobs" with "Shit......leaking out of their pants." This is how some of the police feel about the protesters and the ones covering the protests. With this mindset is it any wonder that they act the way they do?
John Vibes is an author, researcher and investigative journalist who takes a special interest in the counter culture and the drug war. In addition to his writing and activist work he is also the owner of a successful music promotion company. In 2013, he became one of the organizers of the Free Your Mind Conference, which features top caliber speakers and whistle-blowers from all over the world. You can contact him and stay connected to his work at his Facebook page. You can find his 65 chapter Book entitled "Alchemy of the Timeless Renaissance" at bookpatch.com.