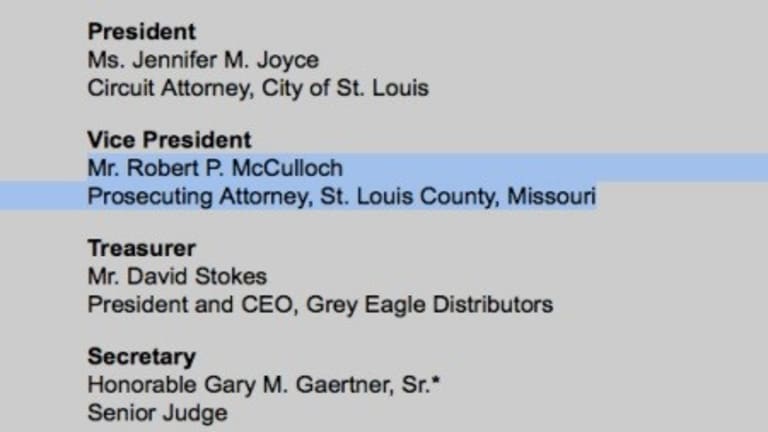 Is the Man Tasked with Prosecuting Darren Wilson Actually Raising Money for Him?
Prosecutor McCulloch, who has already been under fire to remove himself from the Michael Brown case, may be involved in raising funds for Brown's murderer, Officer Darren Wilson.
https://twitter.com/danteb4u/status/511011227410001920
Backstoppers, an organization that McCulloch is the listed as vice president of, has a board that includes a circuit attorney and a city judge.
However, according to stltoday.com, McCulloch is now currently the President.
McCulloch joined former St. Louis County Police Chief Ron Battelle in accepting a $292,000 check from the 27th annual Budweiser Guns 'N Hoses event earlier today at city hall in St. Louis. McCulloch also will be serving as president of the board for Backstoppers in the 50th anniversary year of his father's death.
An "I Support Darren Wilson" t-shirt being sold on tee-spring has surfaced on social media, with half of the proceeds going to Darren Wilson's GoFundMe, and the other half going to Backstoppers.
It is unclear who created the teespring, but if it is associated with Backstoppers, a recusal may be in order immediately. At the very minimum this is an obvious conflict of interest.
Before the t-shirt controversy, community clergy members and activists had already been marching to his office demanding his recusal. A state senator wrote him a letter asking him to step aside, and Governor Jay Nixon, hinted that Mr. McCulloch should recuse himself, the New York Times reported.
Many believe that McCulloch has a history of siding with police and against the African American community.
The MoveOn petition, which currently has 116,014 signatures states:
McCulloch's decision not to charge officers who murdered two unarmed African-American men in 2000 by shooting into their car 20 times, especially in the face of the U.S. Attorney's independent investigation finding that those officers lied about their actions, gives us no confidence that his office can provide a fair and impartial investigation into this current matter.

That failure, coupled with McCulloch's recent participation in one of the most racially polarizing elections in the history of St. Louis County, means that his office's continued oversight of this tragedy will only sow further distrust and discord in our community.

For the good of the entire St. Louis region and the nation as a whole, we call on Robert P. McCulloch to recuse himself and his office from this matter and to appoint a special prosector to investigate the murder of Michael Brown.
Backstoppers has yet to comment, but McCulloch has been very clear in that he has no intentions of leaving the case.
UPDATE:
After an outpouring of concern voiced through social media over this alleged conflict of interest, leaders of The Backstoppers Inc, issued a statement Monday claiming that they do not know who is selling T-shirts that read: "I support Officer Darren Wilson," and will not be accepting any money from the sales if it is offered.