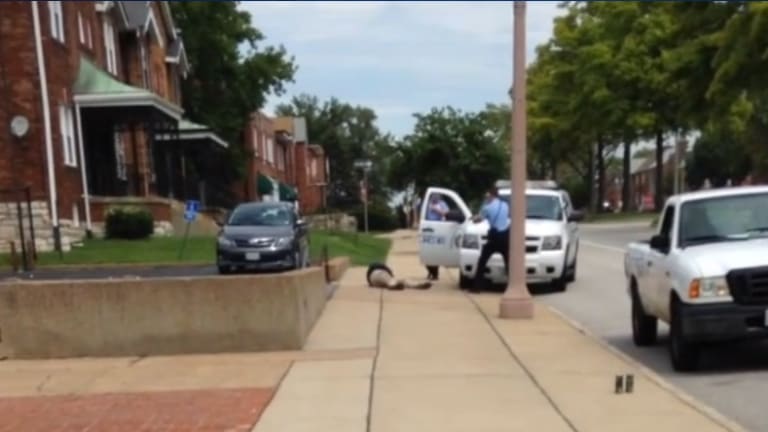 Anonymous Claims to have Released the Officers' Names Who Killed Kajieme Powell
St. Louis, MO-- In yet another bold move from Anonymous,
SLMPD won't release the name of the cop that killed #KajiemePowell, so I will. It's rookie officer Ellis Brown #8815 pic.twitter.com/9W2mhceHtA
— Anon Cop Watch (@AnonCopWatch) December 9, 2014
" target="_blank">Anon Cop Watch has revealed who they believe to be the killers of 25 year old Kajieme Powell, the young man tragically executed on August 19, by St. Louis Police- only 10 days after the killing of Michael Brown. St. Louis Police Chief Dotson called the shooting justified, as Powell was in fact armed with a small knife. He defended the officers actions on the grounds that they used deadly force due to the suspect with a knife coming within three of four feet of the officers, which would be considered within lethal range. Unfortunately for Dotson a good Samaritan filmed the encounter, and when video surfaced, it was clear to everyone that Dotson and/or the killer cops had fabricated many of the facts in this case. At no time during the encounter does Powell appear to be less than 10 feet from the officers, and his hands were by his sides when the officers began firing. The horrifying video of his death also left many questioning why the police made no attempts to deescalate the situation or talk down the clearly upset and troubled Powell, instead obliging his requests to shoot him, and then callously handcuffing his corpse. Perhaps this is why Dotson did not want to release the killer cops names. For 112 days community members and concerned citizens nationwide demanded to know the names of the cops who killed Powell without response from the department. On Tuesday morning Anon Cop Watch announced the first name, Officer Ellis Brown, a 26 year old rookie on the force.

Four hours later they released the second name, 27 year old Randy L. Hays- along with a deeply disturbing image of animal torture that they say came from his social media.
Cruelty to animals is part of The MacDonald Triad, traits that often are demonstrated in sociopaths from a young age. It says an individual who is able to engage in cruelty to animals may have no conscience and no remorse for their behavior. What better profession for someone with these traits than one that allows you to kill and maim with impunity?
As Anons scoured the internet for information on the two they claim are the killers, the two men began scrubbing all of their information offline. They were not fast enough, and by early afternoon the addresses and phone numbers of both men were available on twitter in screenshots posted by @AnonKafir.

They also found some unsavory content on a woman reporting to be Hays' mother's social media, noting that the apple doesn't fall far from the tree. When this woman isn't cheering for bloody photos of a pepper sprayed and tortured squirrel, she is apparently boasting about how she "shoots to kill, not wound" in regards to Ferguson protests.
We spoke with the Anon's involved, who are confident in their information, which was leaked to them and then allegedly verified through an eye witness to the shooting.
We also asked if they had any comments, to which the Anonymous activist who goes by "West Florissant Ave." (@thatsracistaf) responded-
"We demand transparency and justice. If the police will not give it, we will take it. No apologies."
As of Tuesday evening the St. Louis Metropolitan Police Department had not responded to the allegations.