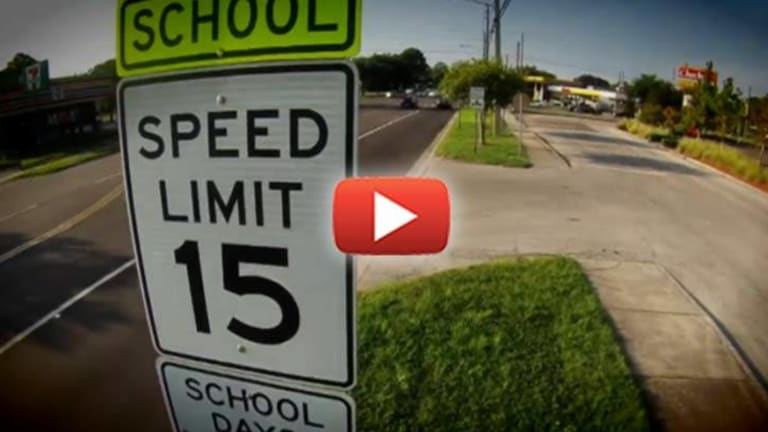 City Intentionally Endangers School Kids with Illegal Traffic Signs so Cops could Write More Tickets
To Keep You Safe? An investigative team made a jaw-dropping discovery showing that city officials intentionally put children in danger so cops could better collect revenue.
St. Petersburg, FL -- An investigation by 10 News found that city officials in St. Petersburg intentionally used non-compliant road signage in school zones, putting children's safety at risk, so they could write more tickets and collect revenue.
No bureaucrats will get in trouble for this affront, and no citizen will be refunded their tickets issued through unlawfulness and deception.
"Despite years of warnings and official requests, it took questions from 10 Investigates to get St. Petersburg city employees to correct dangerous lapses in street signage designed to warn drivers they are approaching school crossings. Meanwhile, the city's police department has aggressively enforced the reduced-speed zones like no other city in Tampa Bay, likely writing thousands of improper tickets.

10 Investigates found evidence the city knew its school zones were not in compliance with FDOT regulations as far back as 2006."
The unscrupulous officials are now busy replacing signs as quickly as they can, bringing them to Florida Dept. of Transportation standards.
It took public embarrassment for St. Petersburg officials to act. They ignored repeated recommendations by the School Transportation Safety Committee to improve signage, as well as questioning from policemen and residents.
When a citizen brought the matter to court, the city's school zone traffic manager suggested that signs had "sunken in," among other deceptions.
Carrying out their scheme to fill city coffers, by way of endangering children, proved quite profitable.
"The St. Pete Police Department (SPPD) issued more tickets in school zones last year -- 1,864 -- than the rest of Pinellas, Hillsborough, and Polk counties combined. And from 2011 to 2013, the agency wrote no fewer than 1,710 school zone tickets per year."
They issued the pricey school zone tickets nearly a mile from the nearest school in many cases. A prime tactic was to pull people over for going 25 mph in a 40 mph zone, when the 15 mph school zone sign was hardly visible.
"I have a daughter; I know the importance of a school zone; if I saw it, I would have slowed down," said Michael Francis, a driver ticketed last year going south on Martin Luther King Jr. St. at 62nd Avenue North. "The police were stacked up on the side of the road, just waiting to pull people over."

Francis was driving 25 mph in a 40 mph zone. Yet he shelled out $306 for a fine he never should have received. MLK St. at 62nd Avenue North had no pavement markings and a sign that was both too close to the intersection and too low to the ground."
The St. Pete public works director claimed that they were already in the process of fixing the school crossings months before the investigation, but could not provide a single supporting document.
"Our kids' safety (is) very important and we're going to go through and refresh those markings and refresh those signs," said Tom Gibson to 10 News.
The actions of his department over the past years render this moral display meaningless. The ugly truth shows how public officials and their foot soldiers in blue can go to extraordinary levels in the quest for revenue collection.