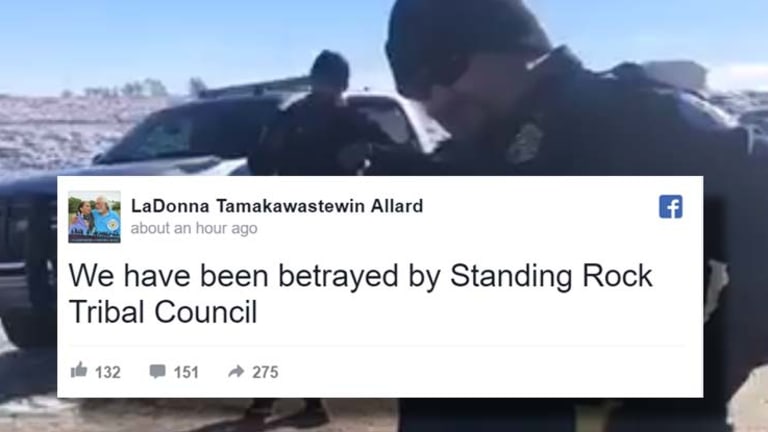 BREAKING: Standing Rock Tribal Council Betrays Water Protectors, Sends In Cops
In an act deemed a complete betrayal, members of the Standing Rock Sioux Tribe council showed up WITH law enforcement on the private property housing Sacred Stone, in order to perform a warrantless assessment.
Law enforcement showed up at LaDonna Tamakawastewin Allard's front door on Thursday, claiming the need to perform an "assessment" of the Camp of the Sacred Stones — the original Dakota Access Pipeline opposition camp erected in early April — but refused to offer a warrant or explanation for the sudden appearance.
Worse, as livestream video revealed, authorities came to Allard's private property at the behest of the Standing Rock Sioux Tribe council's request — meaning the invasion of property without explanation marks a complete betrayal of trust between tribal officials and water protectors still determined to halt the pipeline.
Johnny Dangers, a livestreamer who has resided in the camps to document the ongoing battle against Big Oil, captured what he termed a "raid" on live video, with officials from the ATF, Bureau of Indian Affairs, the Standing Rock division of Fish and Wildlife, tribal police, and U.S. Army Corps of Engineers surveying Allard's property while refusing to answer questions regarding legality of their visit.
Considering the raid performed Wednesday night on a newly erected camp meant to keep pipeline opposition going while avoiding the dangers of the spring snow melt, the only possible purpose of assessing private property would be reconnaissance for a future attempt by law enforcement to shut down Sacred Stone.
"Frank White Bull and Ben Harrison were said to be with law enforcement during the raid, which is the latest in a series of betrayals from the Standing Rock Sioux tribal council against water protectors,"reportsThe Daily Haze. "Allard has been very outspoken in regards to the deceit by the tribal council in the previous weeks."
Indeed, shortly after law enforcement bullied its way onto her property — threatening to arrest people who stood inside Allard's front gate — the outspoken critic of Dakota Access and head of Sacred Stone wrote in a post to Facebook,
"We have been betrayed by Standing Rock Tribal Council."
As Dangers livestreamed, BIA officials surveyed Allard's property without proffering a warrant or offering explanation beyond the aforementioned murky "assessment."
Authorities could be seen walking through Sacred Stone — until Dangers' feed conveniently dropped. Although proof has yet to surface, water protectors and independent journalists who lack satellite equipment surmise law enforcement regularly employs Stingray and even jammers to prevent live video of contentious incidents from being seen in real time.
Dangers questioned an official from the Bureau of Indian Affairs on scene, who refused to offer any impetus for the assessment and heavy presence of government and tribal authorities on Allard's land.
Members of the Standing Rock Tribe council, the North Dakota governor's office, the U.S. Army Corps of Engineers, and a coalition of police led by the Morton County Sheriff's Department have attempted for months to persuade remaining water protectors to evacuate camps which lie in a floodplain — and will thus be submerged by water in early spring.
That effort recently ramped up with the inauguration of Donald Trump, a vocal advocate of Big Oil and proponent of both the Dakota Access Keystone XL Pipelines. Energy Transfer Partners — whose CEO, Kelcy Warren, contributed over $100,000 to Trump's campaign — is slated to be granted an easement by the Army Corps to proceed with drilling under the Missouri River.
It has long been rumored in Standing Rock that law enforcement and National Guard would find a way to raid camps and arrest water protectors, and though a fledgling camp was raided in autumn, Wednesday's action to clear nascent Last Child Camp, in which dozens were arrested — and the calm but warrantless 'assessment' of Allard's private Sacred Stone Camp — portend likely future raids of all remaining camps.
Trump's recent executive order greenlighting the remaining and most controversial portion of Dakota Access intimates an unstated goal of complete evacuation of Dakota Access Pipeline opposition at Standing Rock.
Unfortunately, as Dangers captured on video, the biggest betrayal of all hasn't come from the U.S. government, despite its lengthy history of genocide and violence against Native Americans.
No, the most painful betrayal came in tribe members standing in lockstep with government officials — at the front door of another respected and dedicated member of the Standing Rock Sioux Tribe.