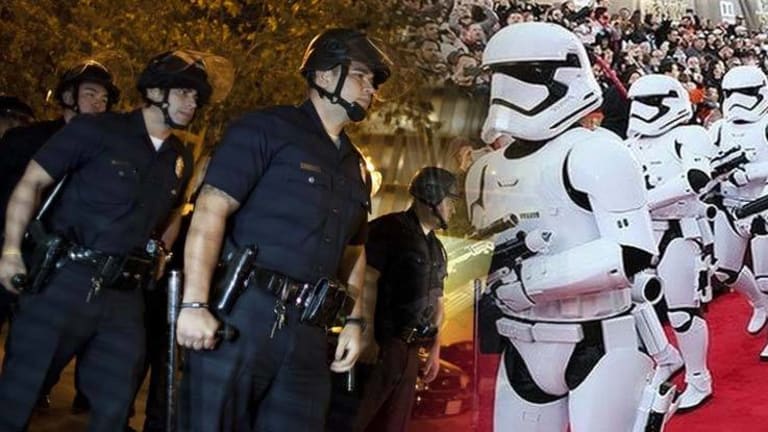 Star Wars Force Met with Police State Force as Movie Goers Stripped of 4th Amendment Rights
Movie-goers and even non-movie-goers felt the full presence of the police state force Monday night during the Star Wars Premier.
Los Angeles, CA - The force was most certainly awakened yesterday in Hollywood during the premiere of the new Star Wars movie, but this force was not of the fictional variety. In a stunning display of police overreach, the LAPD turned a portion of downtown Los Angeles into a pseudo martial law zone.
According to reports, police cordoned off several blocks around the famed TLC Chinese theater in Hollywood. On Thursday, LAPD officers had already barricaded a stretch of Hollywood boulevard from from Highland Ave. to La Brea Ave. and installed metal detectors around the screening venues over the weekend.
In addition to shutting down a portion of the city, officers also conducted random warrantless "Stop & Frisk" searches as reported by TMZ. Disney is also said to have spent $20,000 hiring both uniformed and plain clothes security officers for the event. According to The Hollywood reporter, bomb-sniffing dogs were seen checking the perimeter of a large white tent where celebrities walked the red carpet, while security personnel were seen inspecting the surroundings of each screening venue. Even though law enforcement acknowledged that there was no specific threat, they claimed they were simply using an "Abundance of Caution" for the high profile event. This latest encroachment on individual liberty is just another in a long string of events in which Americans have routinely demonstrated that they're more than willing to sacrifice freedom for the perception of security. As Benjamin Franklin famously said:

Those who surrender freedom for security will not have, nor do they deserve, either one.
Below is a trailer for the film.

Johnny Liberty is a researcher and investigative journalist. You can follow him on twitter 
Security will be tight 4 the latest #StarWars premiere tonight. Metal detectors have been set-up. @KNX1070@CBSLApic.twitter.com/uGY8oLWbXX
— Jon Baird (@KNXBaird) December 14, 2015
">@LibertyUnltd