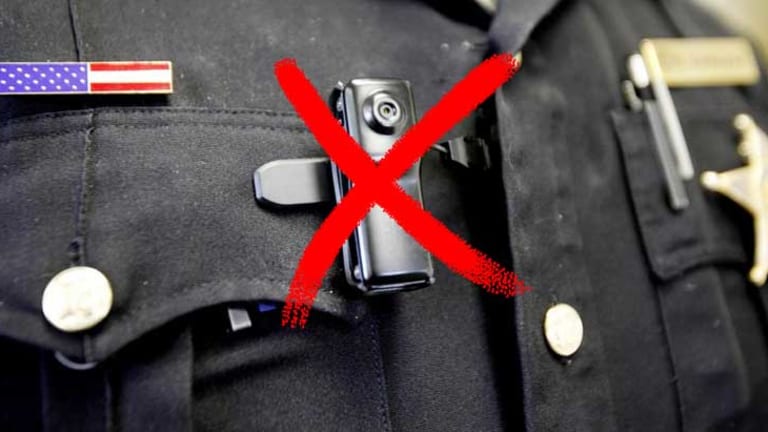 Death Blow to Accountabilty: State Bans Public from Seeing Police Body Cam or Dashcam Video
This state's new law just set an ominous precedent. Cops can record themselves killing people and the public has no right to see the police video.
As if holding police accountable for acts of brutality, killings, and other wrongdoing weren't difficult enough already, one state just made the effort significantly more cumbersome — by banning public accessibility to footage recorded by police.
North Carolina Gov. Pat McCrory signed the law, which says all footage — dash camera video, body cam recordings, both audio and video — will no longer be a matter of public record, making it unavailable even to those appearing in it who may need it to prove police misconduct.
Even worse, the law effectively solidifies the notorious Blue Wall between possible victims of police misconduct and the cops who misbehave.
"The law allows people who are recorded, or their representatives, to see footage if law enforcement agencies agree," reported the News & Observer, emphasis added."The police chief or sheriff would decide whether to grant access. The law enforcement agency can consider a number of factors in making the decision, including whether disclosure may harm someone's reputation or jeopardize someone's safety, or if confidentiality is 'necessary to protect either an active or inactive internal or criminal investigation or potential internal or criminal investigation.'"
Susanna Birdsong of the ACLU in North Carolina summarized ominously:
"A police chief can deny them access for any reason."
Meaning, McCrory's putative effort to 'protect' law enforcement just permanently cemented in place the already-formidable Thin Blue Line favoring law enforcement protections over the rights of the people — even in cases where the cops might have acted criminally.
"Body cameras should be a tool to make law enforcement more transparent and accountable to the communities they serve," Birdsong continued, "but this shameful law will make it nearly impossible to achieve those goals."
Should people or their representatives be denied access to footage — which, history would prove an altogether likely occurrence — their sole recourse will be to seek a court order. Even then, questions concerning police possession of footage possibly showing them in unfavorable light must be raised — no guarantees are provided by the law against manipulation of recordings, or what would happen in the event footage goes missing or sections are deleted. And without ready access, there would be no way to determine if recordings have been altered — making cases effectively a matter of public citizen said versus public servant said.
Worse still, if you can believe it, a "court order will be required for the general release of police camera footage. Even law enforcement agencies that want to release the footage must obtain a Superior Court judge's order," the Observer explained.
Though McCrory declined to answer questions after signing what amounts to a police protection and secrecy act into law, the Observer said he stated in a ceremony that legislators debated how technology "can help us and how we can work with it, so it doesn't also work against our police officers and public safety officials."
"Technology like dashboard and body cameras can be very helpful," he added, "but when used by itself, technology can also mislead and misinform, which also causes other issues and problems within our community. What we need to do is walk that fine line."
McCrory, apparently, missed the entire point and jumped that line — the whole purpose of recording police activity is to provide transparency for the public, particularly in cases where officers' actions need to be questioned and scrutinized. By legally removing footage from both public and personnel records, the law allows officers to act under a cloak of quasi-impunity — even more so than what many would say they already do.
Also intimated in McCrory's comments and the law is an understanding that officers' actions might put them in jeopardy — as if the public knowledge of wrongdoing is somehow more of a threat than actual police wrongdoing.
It's a thin veil of an excuse for law enforcement to continue bad behavior without being forced into reform, much less accountability or responsibility for violent, excessive force or any other mistakes on the job.
In effect, the law says police lives matter — but anyone else's lives, ruined or lost to misconduct or worse, don't.
Known as the "Law Enforcement Recordings/No Public Record" law, introduced as HB 972, the contentious legislation goes into effect on October 1 this year.