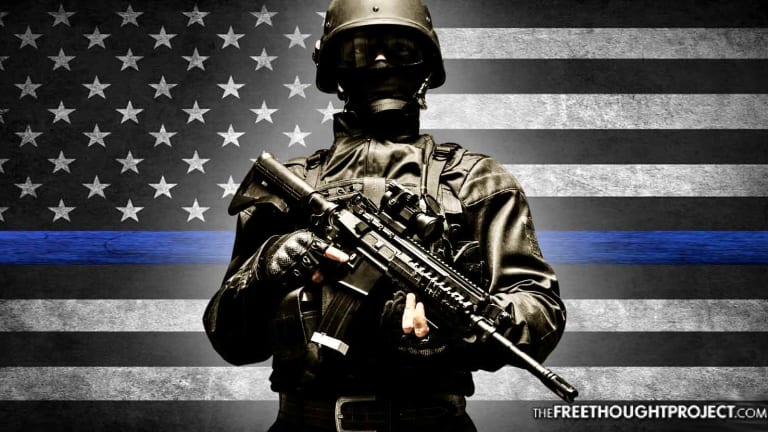 State Notorious for Killer Cops to Give Police Full Immunity For Brutality Committed on Duty
In a state that has become infamous for the number of citizens killed by police, the governor is ramming through a bill that will grant all cops immunity.
Santa Fe, NM — In a move that would be a near death blow to the police accountability movement, New Mexico's governor, Susana Martinez is pushing legislation through the house that would grant legal immunity to cops for their actions while on duty. Clearly ignoring the fact that New Mexico is notorious for killer cops, the legislation has many supporters.
"I don't believe that police officers should be under this constant threat of lawsuits that will often cause them to pause," Martinez recently told the Albuquerque Journal. "If they're following their training, there should be something that protects them."
However, their training has been used to justify the outright murder of citizens throughout the state—many of which have been captured on video. And, as TFTP previously reported, New Mexico cops have been caught editing and deleting these videos too.
On March 16, 2014, Albuquerque police officers executed James Boyd for illegal camping. The entire incident was captured on the officer's body cam which led to the now-retired Officer Keith Sandy and Officer Dominique Perez being charged with the murder of the 38-year-old homeless man suffering schizophrenia in August 2015.
However, because of the already corrupt and broken 'justice' system in New Mexico, Perez went from facing second-degree murder charges, to returning to the Albuquerque Police Department with an extra $143,159 in back wages and benefits.
Perez is not alone. Even when grand juries find killer cops unjustified, often times, the DA will simply refuse to prosecute.
On Aug. 8, 2013, officers John DeBaca and Stephen Fonte pulled over 26-year-old Roberto Mendez. Inside the vehicle were four other passengers- including a four-year-old boy. DeBaca and Fonte executed Mendez and then lied claiming he shot at them first. Mendez was unarmed.
All of this evidence came out in an investigation, yet the cops weren't charged.
Now, the government wants to increase the already horrid problem of police accountability in this state?
James Boyd and Roberto Mendez were just two of many people to be put in an early grave thanks to New Mexico police. In fact, if we compare just the city of Albuquerque to the entire country of England, this deadly problem can be brought into perspective.
From 2010 through 2014, there were four fatal police shootings in England, which has a population of about 52 million. By contrast, Albuquerque, N.M., with a population 1 percent the size of England's, had 26 fatal police shootings during that same period.
The problem of cops killing citizens in New Mexico became such an epidemic in 2014 that the Department of Justice actually had to step in.
The Justice Department investigation found:
APD officers too frequently use deadly force against people who pose a minimal threat and in situations where the conduct of the officers heightens the danger and contributes to the need to use force;

APD officers use less lethal force, including electronic controlled weapons, on people who are passively resisting, non-threatening, observably unable to comply with orders or pose only a minimal threat to the officers; and

Encounters between APD officers and persons with mental illness and in crisis too frequently result in a use of force or a higher level of force than necessary.
The DOJ also cited "systemic deficiencies" which contribute to these patterns which include deficient policies, failed accountability, inadequate training and supervision, ineffective systems of investigation and adjudication, the absence of a culture of community policing and a lack of sufficient civilian oversight.
Illustrating how corrupt and inept the system of holding police accountable in New Mexico actually is, three of the members of the Police Oversight Commission quit, publicly declaring the futile nature of their office.
"The city attorney's office addressed the POC on April 10, 2014, and stated that we have no power to decide against the APD Chief or against the independent review officer's findings regarding citizens' complaints," reads the resignation letter. "I cannot continue to pretend or deceive the members of our community into believing that our city has any real civilian oversight."
So the governor's solution to the brutal nature of cops in her state—and the utter failure they've been at stopping it—is to grant them all immunity? Seems legit.
If cops shooting citizens doesn't make you outraged enough, police in New Mexico also shoot their own cops.
As we previously reported, Officer Jacob Grant was critically wounded after being shot approximately eight times by Lieutenant Greg Brachle during an undercover drug bust.
According to Grant's tort claim filed after the shooting, there are multiple reasons Brachle should not have fired the shots into the vehicle. Grant points out in the notice that Brachle knew him well, knew what clothes he was wearing, and even knew exactly where he would be sitting in the car. The court document states that there was no threat, and "rather than cease fire, Lt. Brachle instead re-positioned himself…and continued to fire," shooting until his gun was empty.
Sadly, only the taxpayers were held accountable and Brachle remains a cop and was never held liable.
Luckily, there are still a few people who think this legislation is a bad idea and are speaking out against it.
"Standing up for officers who are using excessive force and violating the Constitution is exactly the wrong way to move," said Steven Robert Allen, the public policy director for the American Civil Liberties Union in New Mexico. "I don't know what problem the governor thinks she's addressing, but she seems to be going in the wrong direction."
We agree.