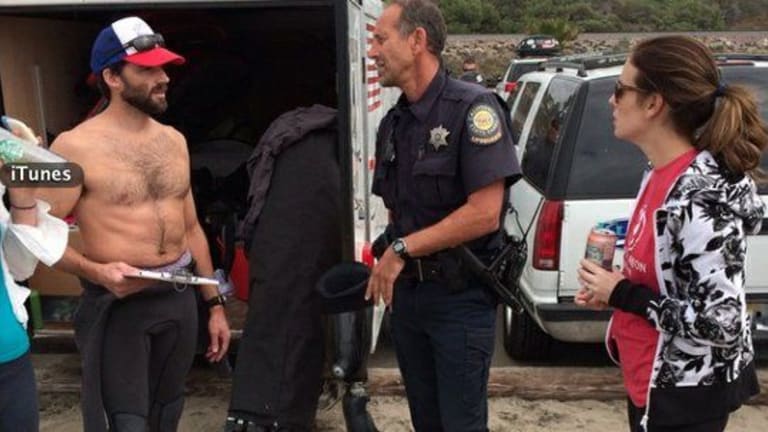 Officials Attempt to Stop Wounded Warriors from Surfing on Veteran's Day- Over Facebook Post
San Diego, CA-- As America celebrated its veterans this past Tuesday, officials in Solana Beach were busy harassing Wounded Warriors, reportedly because they had posted the event on Facebook and had not obtained a permit.
The 25 volunteers and the veterans were told to pack up their American flags and leave the beach, Joel Tudor told Fox5.
The Veteran's Day event was organized by Operation Amped, a non-profit that aims to "share the 'stoke' of the surfing community and the healing potential of surfing with seriously ill, injured, or disabled U.S. military veterans and their families."
The group had posted the details on Facebook, as well as the schedule which included a beach clean up (sounds oh-so criminal!).
We want to invite you to join the Travis Manion Foundation on Tuesday, November 11th (Veterans Day) as we honor our nation's veterans and fallen service members by serving the San Diego Community in their honor. The TMF Southern California Veterans Day "Day of Service" will include a beach cleanup and memorial paddle-out in conjunction with Operation Amped and San Diego Coast Keepers. Following the memorial paddle-out, TMF staff and volunteers will serve lunch to all veterans and participants in attendance.

Event Details:
Date: Veterans Day - Tuesday, November 11th
Schedule of Events:
8:30-10am - Beach clean up
10-10:30am - Memorial Paddle Out
10:30-12pm - Surfing / beach fun
12-1:30pm - BBQ
Location: Cardiff State Beach - Seaside Reef Parking Lot, S. Coast Highway 101, Solana Beach, CA 92075
During the event Joel Tudor, a respected professional surfer, took to Instagram to vent about a state park official who had arrived to shut down the gathering due to these wounded warriors not having a permit. Note the prosthetic leg standing between the official and the event organizer.
"In all my years of being a surfer and being hassled by the state parks, I've never seen such a asshole as this officer here! Today on Veterans Day of all days--- this piece of shit had the audacity to tell the wounded warriors ( a none profit for wounded veterans who want to surf as a form of medication to their souls!) that they would need a permit to be at Cardiff due to a public post on Facebook--- the post was made so that people could volunteer time and take a vet for a slide! Mind you that every vet there today had already payed the 15$ parking fee--- at one point as the wanna be cop was hassling the organizer.... A woman with no leg crawled through the dirt behind this guy to the waves.... Talk about zero sympathy or respect for his country and it's vets! Please repost this pic in hopes of this getting to this jerks boss! What a douche!" the caption read.
The post spread like wild fire on Instagram, being shared by surf legend Kelly Slater and many others- all voicing their disgust at this blatant disrespect for veterans on the holiday designated to honor their sacrifices.
"Amazing what people will pull when they have a little authority and a bad attitude. I hope you guys just ignored him and pretended you all just happened to be there going for a surf! #HumansSuck but I hope the #WoundedWarriors still got a few waves. Please repost!
Nathan Fletcher, former state assemblyman and Marine, also reposted the photo and tagged Assemblywoman Lorena Gonzalez, saying:
"Having previously sat on the legislative committee that overseas State Parks, I would hope there is a legislator out there willing to ask about the treatment of our wounded warriors who find peace through surfing at our state parks. They gave their body and soul for our country. Can't the state at least let them surf?"
Ultimately the event was allowed to continue after the group agreed to pack up their barbeque and tent- clearly menacing and dangerous items. Thank goodness the government is protecting us from people grilling and creating some shade on a beach.
California State Park officials have issued a statement regarding the incident:
"For any planned, organized and coordinated events, State Parks requires a Special Event Permit both for the safety of all park/beach visitors, and to prepare with proper staffing. We regret any miscommunication in this case, however, the issue was very quickly resolved between State Parks and event organizers, and the event was allowed to continue without further incident. We see a lot of value in events like this, because they bring the community together, and we look forward to working with the organizers next year."