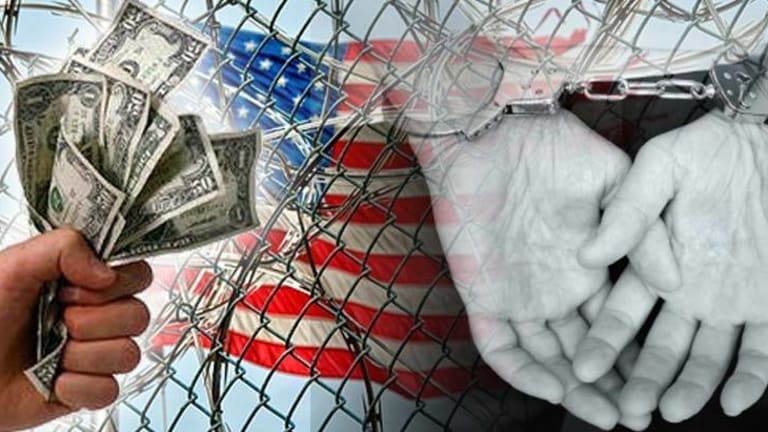 Prison Officials Spying on Inmates to Find Net Worth, Suing Anyone Worth Over $10K for Stay in Jail
Prisons for profit just took a rather ominous turn as prisons now wage punitive lawsuits against those who've won settlements, or have a net worth of $10,000.
With the ability to read their mail and record their phone conversations, state prisons have increasingly been filing lawsuits against inmates with over $10,000 in assets. In cases of blatant retaliation, prison officials have also been targeting inmates who won civil suits against the departments for prison beatings and denying medication.
In 1846, Michigan introduced the first correctional fee law authorizing counties to charge prisoners for the cost of medical care. According to a report released earlier this year from the Brennan Center for Justice, at least 35 states are currently authorized to charge inmates for medical treatment. And at least 43 states allow officials to charge prisoners for the cost of their own imprisonment.
While incarcerated on a drug conviction, Johnny Melton received a $31,690 settlement over the wrongful death of his mother. After learning of the settlement, the Illinois Department of Corrections sued Melton and won nearly $20,000 to cover the cost of his "care, custody, treatment or rehabilitation" during his 14 months served at the state's Logan Correctional Center.
Paroled earlier this year, Melton entered a homeless shelter and went on food stamps before a cousin offered to help him. According to his family, Melton was destitute when he died in June.
"He didn't have a dime," one of Melton's sisters, Denise Melton, told the Chicago Tribune. "We had to scuffle up money to cremate him."
According to a corrections department spokeswoman, inmates are often targeted after filling out their financial disclosure forms, having their mail read, or when snitches rat them out to prison officials. Although Ann Spillane, chief of staff for Illinois Attorney General Lisa Madigan, stated that it was not office policy to target inmates who have sued the department, state prisons have repeatedly filed lawsuits against prisoners who have won against them in court.
In May 2014, Joecephus Mitts settled a federal civil rights lawsuit against the Illinois prison department for failing to adequately treat his cancer. After agreeing to pay Mitts $50,000 and give him better treatment, prison officials sued him for $175,000 six months later to cover the cost of his incarceration. The lawsuit against Mitts was eventually dismissed due to the fact that prison officials had signed a prior agreement to not attempt to reclaim his settlement money.
Convicted for killing seven people in a restaurant, James Degorski won $451,000 in a federal lawsuit against a Cook County Jail guard who broke bones in his face during a severe beating. The Illinois Department of Corrections filed a lawsuit against Degorski in retaliation and to send a message discouraging other inmates from suing the department.
After reading Melvin Moore's mail, prison officials discovered that the convicted murderer had inherited nearly $14,000 from his grandmother. Initially reluctant to include a convicted felon in her will, Moore's grandmother ultimately acquiesced to his sisters' appeals to give him a second chance after his release. Instead of seeking Moore's rehabilitation, the Illinois prison department filed a lawsuit against him earlier this year charging Moore $338,650 to cover the cost of over two decades in prison.
"Melvin Moore needs the $13,705.21 that the state is attempting to take away and so much more if Melvin Moore is to have a safe transition to society after serving 20 years in prison," Moore wrote to a judge in a handwritten motion. Unable to afford an attorney, Moore ended up representing himself in court.
"They got a prosecutor and a judge and me. I can't win like that," Moore said. "If you ain't got no lawyer, you can't win."
Ruling in the prison department's favor, the judge ordered Moore to pay his entire inheritance except for the $4,000 protected under the law. Living with his sister in the South Side of Chicago, Moore has decided to file for welfare.
In 1982, Illinois authorized state and prison officials to sue inmates for the cost of their incarceration. Although only two of these lawsuits were filed in 2012 and 2013, so far 11 have been filed in the first 10 months of this year. In Kentucky, the Fayette County Jail has recently raised booking fees from $20 to $35 per inmate. According to the Corrections Center of Northwest Ohio, prisoners are charged $68.76 per day, which adds up to roughly $25,000 per year.
With 2.2 million Americans behind bars, the country's criminal justice costs have risen from $35 billion in 1982 to over $265 billion in 2012 — an increase of more than 650%. Instead of encouraging rehabilitation or reducing recidivism, many prison officials have decided to continue punishing these prisoners even after they have paid for their crimes. By filing lawsuits against any inmates with over $10,000 in assets, these predatory prison departments are willing to sacrifice people's futures in order to fuel their failing, bloated budgets.
Some counties, including Fairfield County, Ohio, discontinued their jail's pay-to-stay program because the cost of employing collection agencies turned out to be more expensive than the fees they were collecting. Since an estimated 80% of prisoners are indigent, they simply could not afford to pay their fees without reverting back to crime.