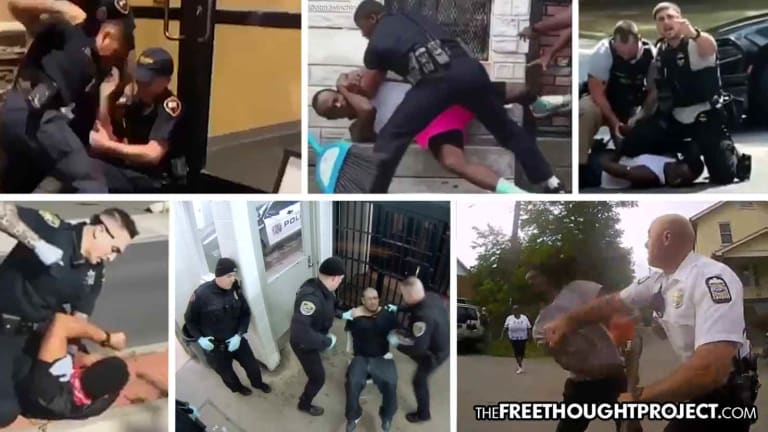 High Court Rules You Can Use Force, Damage Govt Property to Resist Unlawful Arrest
Georgia's Supreme Court ruled this month that citizens have the right to resist unlawful arrest and damage government property while doing so.
A landmark ruling this month from Georgia's highest court is sure to make waves in the policing community. The court ruled that it is entirely lawful to resist an unlawful arrest as well as damage government property while doing so.
The ruling stems from the case of Christopher Glenn who battled his case through multiple appeals insisting he had the right to flail, kick, punch, and damage police property when he was arrested outside of a Georgia school in May of 2018.
According to court records, someone called 911 to report a suspicious person as Glenn walked by the school around 2:30 p.m. that day. When Officer Lee Morgan responded, he saw Glenn and called out, "Let me talk to you real quick," according to a transcription from the officer's body camera video.
When Glenn asked if he was being detained, Morgan said he was. Glenn then asked why and said, "I'll tell you my name. It's Christopher Glenn. I'm walking home."
Instead of allowing Glenn to walk home, Morgan escalated force by handcuffing Glenn, that's when the melee ensued. Glenn fought back against the arrest so hard that he damaged the hinges on the police cruiser.
Glenn was originally charged with loitering and prowling, as well as interference with government property for damaging the squad car. However, thanks to the way Glenn's lawyer, public defender Ben Pearlman presented the case, Glenn is now a free man, and a historical precedent has been established once more.
"We would expect if someone was being kidnapped or falsely imprisoned, I don't think that that person is going to be charged with a crime for kicking down a door or kicking a car door to try to get away from that situation," Pearlman said during a court hearing — and the court agreed.
"The opinion breathed new and strong life into what has been on the books for ages," said Gerry Weber, a lawyer with the Southern Center for Human Rights. "But someone shouldn't read these opinions and think it's safe to run away from police every time you think the officer is acting outside the law. You could put your life on the line."
Indeed, as readers of the Free Thought Project know, many officers seem to like it when people resist as it gives them free reign to dole out violence. So, just because the court ruled it is your right to resist an unlawful arrest, this is no defense against being beaten or killed.
"The right to resist an unlawful arrest is easy to understand in an academic sense," Weber said. "But in the moment of the interaction with the police officer, it's a very precarious situation for citizens who exercise their constitutional right."
"A lot of people, even during the course of a lawful arrest, will resist because they don't believe it's lawful," said GBI Director Vic Reynolds, a former police officer and criminal defense lawyer, according to a report in the Atlanta Journal-Constitution. "That can turn into a bad situation."
"I'm also a firm believer that the time not to argue with an officer is at 2 a.m. on the side of the road," Reynolds said. "It's best to cooperate and then, if warranted, file a complaint with internal affairs. To me, that's the safest way to get that handled."
But some folks don't have the opportunity to file a complaint later. Take Elijah McClain for instance, who was killed on the road side after being unlawfully detained by police. Had he been physically stronger, and able to fight back against his aggressors that night, he may be alive today. Sadly, he was not.
As Bill Rankin with the AJC explains, the state high court's ruling, in Glenn's favor, noted that Georgia adopted the common law of England in 1776. Embedded in that common law was the right to physically resist an unlawful arrest or escape from an unlawful detention, Justice John Ellington wrote for the unanimous court.
Ellington cited The Queen v. Tooley, a seminal ruling on the right to resist an unlawful arrest that was issued in 1710. In Tooley, constable Samuel Bray had arrested Anne Dekins in Westminster on the charge she was disorderly.

When three men armed with swords intervened and tried to liberate Dekins, one of the men killed a man who was helping Bray keep Dekins in custody. Because a jury later found that Bray had no right to arrest the woman in the first place, the court found the constable was acting as "a common oppressor."

For this reason, the false imprisonment of Dekins was "a sufficient provocation to all people out of compassion" to use force to rescue someone "unlawfully restrained of her liberty," the court said. It also reduced the charge of murder to manslaughter.
"It's hard to disagree with the opinion," said Richard Hyde, a member of the state Board of Public Safety who served as an Atlanta police officer from 1979 to 1989, according to AJC.
"They taught us about that the first week of the police academy," he said. "If you make an arrest that is unreasonable and illegal, you are subject to have that person use force to resist it."
While some people may fear-monger over rulings and laws like this one, they are missing the point entirely. The point is not to create an environment in which people fight back against police. The point is to create an environment in which police don't act in ways that make innocent citizens have to fight back.
Self-defense is a natural right; when laws are in place that protect incompetent police by removing one's ability to protect one's self, simply because the aggressor has a badge and a uniform, this is a human rights violation.
This ruling is also supported by an Indiana law which allows for citizens to shoot at police officers who unlawfully enter their homes.
In that case, Indiana took action to "recognize the unique character of a citizen's home and to ensure that a citizen feels secure in his or her own home against unlawful intrusion by another individual or a public servant."