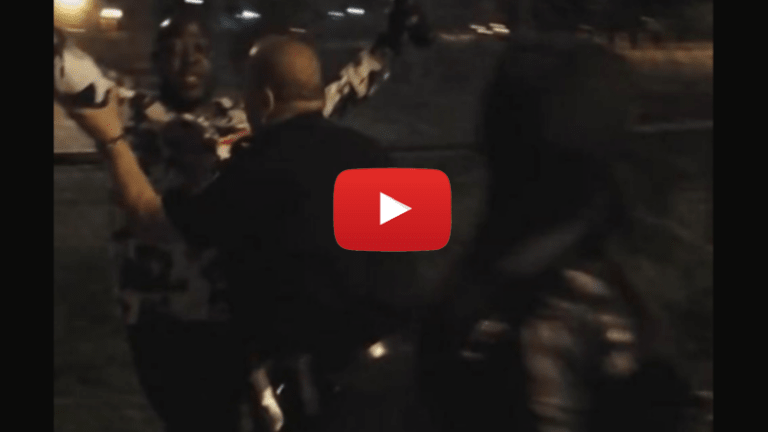 "Stop & Frisk" Turns in to "Stop & Rob" Cop Caught on Camera Stealing $1,300 From Man
"Gimme my money!" Joye shouts just before the cop squirts him in the face with pepper spray after robbing him.
Brooklyn, NY -- The District Attorney's office of Brooklyn is investigating allegations that an NYPD officer stole more than $1,000 from an innocent man and then pepper sprayed him and his sister after they voiced their concern about being robbed.
You can rest assured that if a video of this incident didn't exist, neither would the investigation. Luckily this theft was caught on camera.
The encounter started as Lamard Joye, the victim, and his sister Lateefah Joye, were asking cops, who were roughing up a young man named Terrell Haskins, "Is that necessary?"
That is when the cop approaches Joye and when the video begins. However, just prior to the video starting, Richard Marinelli, attorney for Joye, states that Joye remarked to the cop, "Are you going to do to me what you did to the guy in Staten Island?" referencing the recent murder of Eric Garner by police in July.
As cops come up to Joye, one of them allegedly reaches into his pocket, taking out a wad of cash. "Gimme my money!" shouts Joye who is then immediately met with pepper spray to the face.
As Joye steps back, an onlooker shouts, "How ya gonna take his money?" "That's robbery" and "Get his badge number."
"I went to get his badge number and name," Lateefah Joye told The New York Daily News. "I leaned over to see his badge. He pushed me away. I saw a two and a one and that's when he pepper-sprayed me in my mouth and my whole face."
Marinelli said that, "One of the most disturbing things about the video is the other cops standing around watching and doing nothing to stop the wrongdoing." Indeed it is.
Police most likely thought that this money was obtained through a black market sale of a substance deemed illegal by the state and that the theft of it would go unreported. However, Joye stated that he withdrew the money from his bank earlier in the week to take his wife out for a night on the town.
Marinelli, Joye's attorney claims they have visual evidence of the withdrawl as well as corroborating bank records as proof that the money was in fact, recognized by the state as "legal."
According to NY Daily News, a police spokeswoman said, "The incident was precipitated by a call of a man with a gun. When officers arrived at the scene, they encountered numerous people at the location. As a result of the allegations, the matter is under investigation by the Internal Affairs Bureau and Civilian Complaint Review Board."