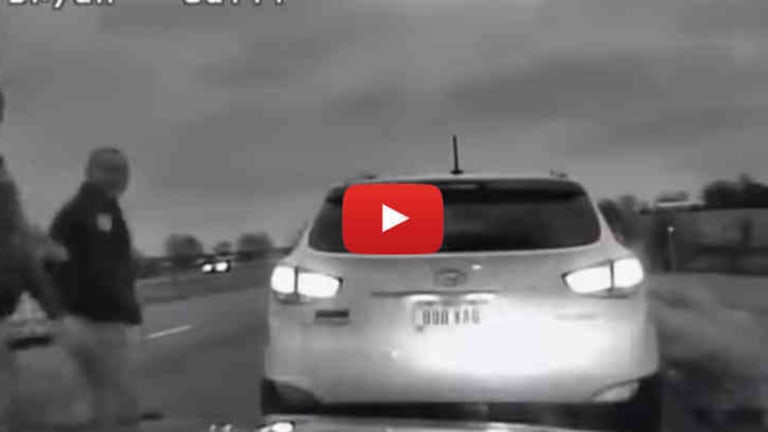 If You're Stopped for Driving 92 in a 70 MPH Zone, You Get a Ticket, Unless You're an Off-Duty Cop
Des Moines, IA -- Dashcam footage from an Iowa state trooper's cruiser was released to the public last week which illustrates the troublesome 'above the law' mentality of police.
In November, Iowa State Trooper, Bryan Guill, pulled over an off-duty trooper, Capt. Ken Clary, for doing 22 mph over the posted speed limit.
According to the Des Moines Register, it is unknown from the information released Friday if Clary was actually going faster than the speed noted on the ticket he was issued. Trooper Guill made no written report of the stop, said Sgt. Scott Bright, a spokesman for the department.
"I don't know what speed he was going because there was no initial report of it," Bright said, noting that officers have discretion about whether they want to lower a speed on a ticket.
Iowans lose their license when convicted of driving 25 mph or more over the limit and it could even land an individual in jail, depending on the region of the violation and the circumstances involved.
Another troubling aspect of this situation is the fact that in a matter of just a few seconds, Clary exited his vehicle and approached Guill. From the dashcam footage, we can see that Clary had an object in his left hand as he swiftly approached.
Exiting a vehicle, approaching an officer, and holding an object in one's hand is more than enough to have gotten any citizen off the street shot and killed.
However, when Guill catches his fellow trooper speeding, exiting his vehicle, and approaching him with an object in his hand, he's met with a handshake and allowed to go on his way.
Clary has not yet paid the ticket and has the right to challenge it in court. With court costs, the infraction will cost him $208.50 if he is convicted.
Not until a reader contacted the Des Moines Register did the public know about this stop. Had the public not seen this video, no one would have ever known about the above the law treatment which these officers get to enjoy.
This is most assuredly not the first time an incident like this has happened either. In fact law enforcement officers breaking the laws in Iowa has made headlines fairly recently.
The most highly scrutinized situation involved a trooper driving Gov. Terry Branstad in 2013 and doing "a hard 90." The trooper initially faced no consequences until after the incident was made public.
In that situation, Trooper Steve Lawrence was issued a $181 ticket three months after the incident.
It must be nice to escape accountability for one's own corruption after being caught in an act of corruption. In both of these incidents, the original crime is punished only after they were caught covering it up, and not the act of covering it up.
Of course an officer letting someone off for speeding is not the end of the world, nor would this writer object to being let go after being caught speeding. However, this special treatment within the ranks of law enforcement goes far beyond simple speeding ticket cover-ups.
Far too often innocent lives are ruined or even taken during police interactions where a much less significant infraction was observed or no crime committed whatsoever.