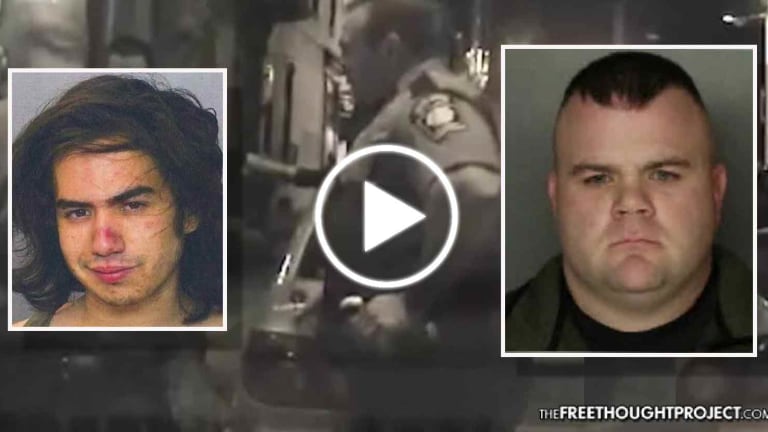 Justice! Cop Goes to Prison for Kicking Handcuffed Man Who Called Him 'Stormtrooper'
Suspended state trooper Ryan Luckenbaugh will serve 9 to 22 months in prison for kicking a handcuffed man in the face -- a win for accountability.
Mechanicsburg, PA -- We're just now learning the verdict in the case of ex-Pennsylvania state trooper Ryan Luckenbaugh (38) who kicked a man in the face who had already been beaten, teased, arrested, and handcuffed. Luckenbaugh kicked Christopher Siennick, who was handcuffed and seated on the sidewalk for flipping the bird to the pair of troopers.
As The Free Thought Project reported, Luckenbaugh was convicted in February of the brutal attack. This week, he learned his fate as the judge sentenced the former state trooper for his crimes. Luckenbaugh will serve between 9 and 22 months in county prison for kicking the helpless man. Fellow troopers turned in their colleague after they realized he'd crossed the line. Siennick had called the troopers a bunch of "Storm Troopers" and it was apparently enough to set off the law enforcement officer who snapped and kicked him.
At the sentencing, Luckenbaugh pleaded for leniency saying the whole ordeal and a related lawsuit had nearly bankrupted him. Pleading for leniency, he said not only did he lose his job as a state trooper but he said he's now forced to wash dishes for a living and going to prison would be an unnecessary hardship on his family. Judge Scott A. Evans responded to Luckenbaugh's pleas for leniency by saying, "I didn't put them here today," he said indicating the trooper's actions that day resulted in the loss of his job and his prison sentence.
According to Penn Live, "Luckenbaugh issued a 'very sincere, heartfelt' apology to Siennick "for failing to serve him in a respectful, dignified manner.'" Siennick passed when he was given an opportunity to speak his peace and address the former state trooper directly.
However, Senior Deputy District Attorney Stephen Zawisky had a lot to say about Luckenbaugh's actions. He said it wasn't the kick to the face which was the most damaging. He said it was the fact, proven in court, that Luckenbaugh lied about the incident on his police report, an action which has undermined the overall trust in the justice system. The lie led to Siennick being unjustly jailed for 14 days.
"This case is not about a kick. It's about a lie...(which)...results in distrust of law enforcement in general," he said. "That destroys the criminal justice system. Courts rely on honesty to work," he added. Defense attorneys will no doubt be looking at Luckenbaugh's prior cases to determine if proving he lied in those cases will help to free their clients.
Zawisky addressed the media and made the following statement. "It's bittersweet, the verdict," he said. "It certainly is going to make my job...and the police officer out on the street, a lot harder...but it was a just verdict," he concluded. Luckenbaugh seemed contrite when he made the following statement to the court. "I stand here as a much more humble, simple man," he said. "I acknowledge my faults and failures," he added accepting responsibility for his actions.
Judge Evans, not wanting to neglect an excellent opportunity to praise law enforcement apparently, addressed Luckenbaugh's fellow officers and extended his gratitude for coming forward to turn in one of their own. "Please take back to the Harrisburg Police Department not only my thanks, but my acknowledgment that the position they took in this case is commendable," the judge said. "That took a great deal of fortitude." Luckenbaugh begins serving his sentence on May 16.