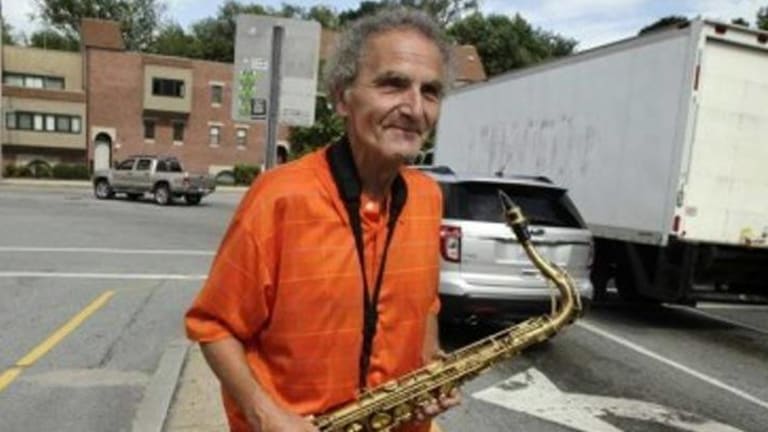 Playing the Sax in Public is a Crime in the Land of the Free, Man Sues After He's Arrested for Music
In the Land of the Free, you will be kidnapped and locked in a cage for playing music in public.
Providence, R.I. – The Rhode Island Chapter of the American Civil Liberties Union is suing the city of Providence on behalf of a saxophone-playing street musician. They claim that the city violated his civil rights when police threatened and arrested him for playing music in public.
The lawsuit charges that the city violated Manuel Pombo's First Amendment right to free speech, as music is a constitutionally protected form of speech, by unconstitutionally harassing and arresting the 62-year-old musician.
A spokesman for Mayor Jorge O. Elorza stated that the city's legal department was reviewing the case. They noted that procedures regulating street performances were currently under review, but that for now the mayor's office had no comment.
According to a report in the Providence Journal:
Though there is no city ordinance regulating public playing by musicians, the city's Board of Licenses issues letters granting permission, "within the discretion of the local police authority." The letters ban the soliciting of donations, though performers may accept money if offered.

Pombo obtained such a letter in 1991, the suit said. But since then, the suit said, city police have repeatedly ordered him to stop playing and on one occasion arrested him and held him in the city jail overnight.

The suit said the pace has picked up since last summer and into the past five months, when he has been shut down near the Dunkin' Donuts Center, on Orms Street and near the Providence Performing Arts Center.
The notion that anyone needs to be granted permission to exercise a constitutional right is repugnant and shows a serious lack of understanding of what constitutes a right.
Pombo's attorneys state correctly that playing music is a form of protected speech, and the city's attempt to claim that a musician needs the city's permission to perform, as stated in the letter, is a violation of his First Amendment rights.
Additionally, his lawyers argue that a ban on soliciting donations must be removed as well, as government has no business regulating one human asking another human for money.
"Asking for money is a form of speech," Pombo attorney Shannah Kurland said. "You can't restrict anyone from asking for money."
She makes note that city is allowed to set reasonable limits on time, place and manner of performing, such as banning a 3:00 a.m. performance in a residential neighborhood, according to the Providence Journal.
The extreme lack of consistency by allowing control of this policy's implementation to reside "within the discretion of the local police authority" has created a situation which violates Pombo's 14th Amendment right to due process, according to the lawsuit.
Since there are no protocols for enforcement of the required permit, police officers' actions have ranged from ordering him to stop playing, which he usually did out of fear of arrest, to having another officer actually arrest the street musician for playing.
On another occasion, rather than bullying Pombo, an officer put $5 in his saxophone case, highlighting the arbitrary and inconsistent application of the unconstitutional permission letters.
No human need ever ask for permission to exercise our natural born rights.
Jay Syrmopoulos is an investigative journalist, free thinker, researcher, and ardent opponent of authoritarianism. He is currently a graduate student at University of Denver pursuing a masters in Global Affairs. Jay's work has been published on BenSwann's Truth in Media, Chris Hedges' truth-out, AlterNet and many other sites. You can follow him on Twitter @sirmetropolis, on Facebook at Sir Metropolis and now on tsu.