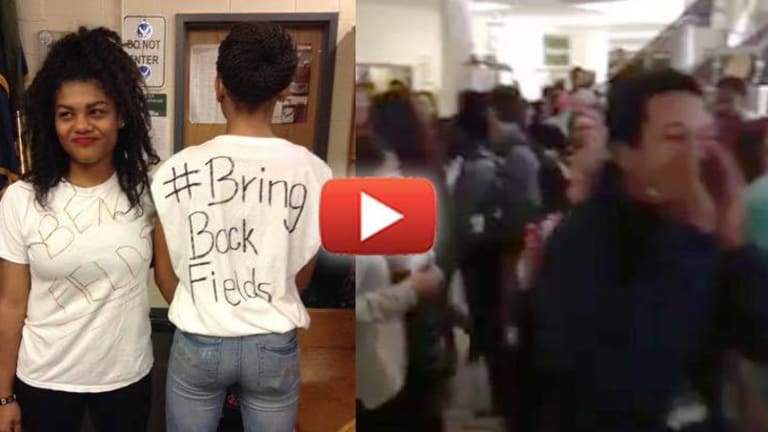 Students Break Rules, Walk Out of Class in Support of Cop Who Beat Student for Breaking Rules
Hundreds of students rallied Friday in support of a police officer who was caught on film violently assaulting one of their classmates.
Richland County, SC (RT) — Hundreds of students at Spring Valley High School, South Carolina walked out in protest over the firing of school resource officer Ben Fields. The sheriff deputy's lost his job for slamming and dragging a female student out of a desk earlier this week.
The students walked out of class 10 am Friday morning and into the school's atrium for a 15 minutes protest before administrators ordered them to class. Video and photos captured the event.
"He was a great guy," student London Harrell told local WISTV. "He protected us and everything. He was our school resource officer. We always could depend on him and everything. Every time I saw him, he was always joking around with people. It was never like 'Oh, I'm about to body slam you.'"
Principal Jeff Temoney said none of the students would be suspended if they returned to class.
"We've heard your voices, okay," Temoney said according to WISTV. "We appreciate you taking time to do this, but again, as you know, we always focus on teaching and learning, so let's head on back to class."
Principal Temoney released a statement several hours later about the walkout, which said students and staff were safe during the protest. Fields, who is white, was recorded on cell phone video using force on an African-American student during a school discipline incident. When shared on social media, the footage caused national outrage on the use of force in schools and by school resource officers. Fields was fired on Wednesday.

The incident led to multiple investigations by the Richland County Sheriff's Department, the South Carolina state police, the Justice Department and the high school.
The sheriff's department interviewed witnesses and reviewed several cell phone videos taken in the classroom, and concluded the moves Fields used in the confrontation were "not acceptable."
After talking to Fields, Sheriff Leon Lott said the deputy "tried to do his job," but that he should not have used force against the student. While the teen was non-compliant and disrespectful, Lott said, she was not a danger to the deputy.
"This has been a very difficult situation for all of us," Lott said, urging the community to use the incident as a teachable moment.
"Police officers make mistakes too, and they have to be held accountable. That's what we've done," said the sheriff, adding that the student should also be held responsible for disrupting the classroom.
Fields' attorney, Scott J. Hayes, issued a statement after the officer was let go.
"We believe that Mr. Fields' actions were justified and lawful throughout the circumstances of which he was confronted during this incident," the statement read. "To that extent, we believe that Mr. Fields' actions were carried out professionally and at that he was performing his job duties within the legal threshold."
Meanwhile, Todd Rutherford, the attorney for the girl, who has not been identified, revealed that the student suffered injuries to her face, neck and arm as a result of the incident.