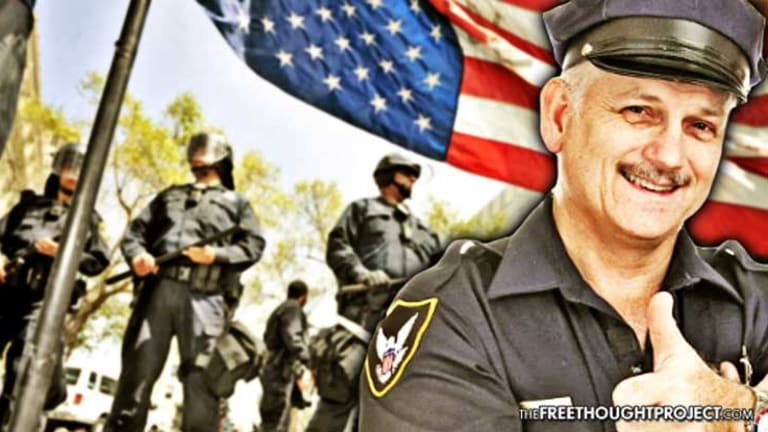 Shocking New Study Shows that Nearly 1/4th of Fired Cops Get Their Jobs Back
A recent study found that nearly 1/4 of the police officers who are fired, are later rehired, and only half of those cases have been disclosed to the public.
While individual reports have told the story of the ongoing trend of police officers returning to work after demonstrating gross misconduct, a new study gives insight into the number of police officers who are fired, and then later rehired—and it revealed that nearly one-fourth of fired officers in the United States end up getting their jobs back.
A report from the Washington Post looked at the cases of 1,881 officers who have been fired from major police departments across the country since 2006, and found that 451 of the officers had later been reinstated. They received their guns and badges and returned to the street once again—not because the reason they were fired was not legitimate, but because their offices made procedural mistakes when firing them.
"A San Antonio police officer caught on a dash cam challenging a handcuffed man to fight him for the chance to be released was reinstated in February. In the District, an officer convicted of sexually abusing a young woman in his patrol car was ordered returned to the force in 2015. And in Boston, an officer was returned to work in 2012 despite being accused of lying, drunkenness and driving a suspected gunman from the scene of a nightclub killing."
Police unions were created to protect officers' jobs, but as shown by the report, there are a number of cases in which the jobs are being protected, even when the officers should not be out on the streets.
Charles H. Ramsey, former police commissioner in Philadelphia and chief in the District, told the Post that in the last decade, the District has had to rehire 80 of the officers it fired, and three of them were rehired twice.
"It's demoralizing to the rank and file who really don't want to have those kinds of people in their ranks," Ramsey said. "It causes a tremendous amount of anxiety in the public. Our credibility is shot whenever these things happen."
The problem is one that is ongoing, and has been passed from one administration to the next, no matter which political party is in power. President Trump added his own thoughts on how police should relate to the public last week, when he encouraged officers to be "rough" on suspects, during a speech at the Suffolk County Police Department in New York.
"Like when you guys put somebody in the car and you're protecting their head, you know, the way you put their hand over? Like, don't hit their head and they've just killed somebody—don't hit their head. I said, you can take the hand away, okay?" Trump told a crowd of officers who clapped and cheered in response.
While Trump's comments were in reference to gang members, it should be noted that the same treatment he is advocating is the type of treatment that led to the death of Freddie Gray, a 25-year-old man who died in police custody in April 2015, after suffering from "high-energy" impact from his time riding in the back of a police transport van.
Out of the six officers charged in Gray's death, Lieutenant Brian Rice and Officers Edward Nero and Caesar Goodson were acquitted, and Sergeant Alicia White and Officers William Porter and Garrett Miller had their charges dropped by the state—no one was every punished for killing Freddie Gray.
While heinous cases such as the death of Freddie Gray may garner national attention, the report from the Post noted that just as not every report of police brutality receives media attention, not every account of an officer being fired for misconduct is released to the public.
"Nationwide, the reinstatement of fired officers has not been comprehensively studied or tracked. No national database logs terminations. Some firings receive local publicity, but many go unreported. Some states shield police personnel records—including firings—from public disclosure," the report stated, noting that out of 451 cases, only 219 gave the public access to the reason why the officer was fired in the first place.
Out of those 219 cases that were made public, 88 of the officers had originally been fired for dishonesty, 33 officers had been charged with crimes—17 were convicted, and eight officers were fired and rehired by their departments more than once.
The report studied 37 departments across the U.S., which employ around 91,000 officers. In the last decade, only 1,900 of those officers had been fired, and one-fourth of them had been rehired after appealing their termination, which showed "both how rare it is for departments to fire officers and how difficult it is to keep many of those from returning."
The Free Thought Project has documented a number of cases in which police officers have kept their jobs after demonstrating gross misconduct—often caught on video.
In one case from Cleveland, five officers were rehired after they executed an unarmed couple over a traffic violation in 2012. More than 100 officers were involved in a police chase that led to six officers firing 137 rounds in 19.3 seconds. Their target was the car occupied by Timothy Russell and Malissa Williams, two unarmed individuals who were hunted down and executed for the heinous crime of a suspected traffic violation.
In another case from Jacksonville, Florida, a police officer kept his job, even after he hit and killed a pedestrian with his squad car, punched a child, spat on a mentally ill man, and was the subject of disciplinary action by his department on at least 10 separate occasions.
In the same way that police departments are not required to report how many individuals their officers kill on the job, there is also a serious lack of accountability in the way departments handle officer misconduct—and change won't start to happen until police officers are truly held accountable for their actions, and the public is given access to how their tax dollars are being spent.