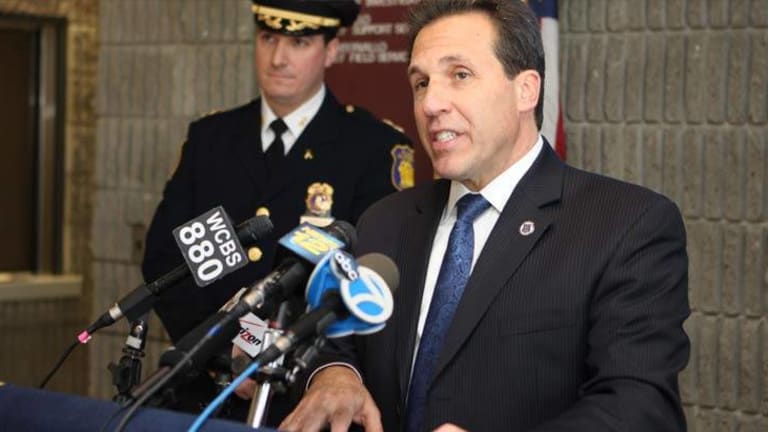 Cop Shot by Cop From Another Force Who "Feared For His Safety"
Yonkers, NY-- A Yonkers police officer is on medical leave after shooting and wounding an off duty officer from another precinct on Monday evening.
Pelham Manor Officer Ken Campion finished his day shift on Monday and was found by Yonkers officers as he was sitting on a baseball field with a handgun in his lap, five and a half hours later.
"He did not adhere to several commands...(and) made a movement that led them to believe they were in great danger," Police Commissioner Charles Gardner said at a press conference on Friday.
Yonkers Police Commissioner Charles Gardner said Campion "seemed suicidal" and "moved in a way that made the officers fear for their safety." That is when Officer Remy Susini fired at Campion, the bullet grazed Campion's chest and ultimately landed in his arm. No information has been released on how they knew he was suicidal during the brief encounter.
The entire incident took less than five minutes and it has not been disclosed whether or not Campion informed the officers that he himself is also an officer.
Campion is expected to recover, and charges for Susini seem unlikely as the commissioner is already calling the shooting justified despite it still being under investigation.
Will the police stand with their peer, the 25 year veteran of the force who was down and out, suicidal, and in need of help- only to catch a bullet that luckily only grazed his chest, or will they stand with the 7 year officer who shot him? Perhaps it will be avoided in discussion entirely, and chalked up to "another tragic accident" instead of lack of crisis intervention training.
This shooting comes exactly two weeks after an Albuquerque officer shot an undercover officer during a drug sting over $60 worth of meth.
As we previously reported, it is safe to assume the undercover officer was not a threat to their peers, yet they were shot anyway. Coverage of the shooting discussed the event being a "tragic accident" while ignoring the fact that this is a symptom of a much larger problem, and it seemed that an officer once again shot someone who posed no threat to them.
With the rate of officer involved shootings as high as they are, it is likely that more and more of their own will fall victims to the thin blue line that they hold so dearly. What would the police and their apologists say if the people took the streets to protest a case of cop on cop brutality? The way things are going, I'm sure we will find out.