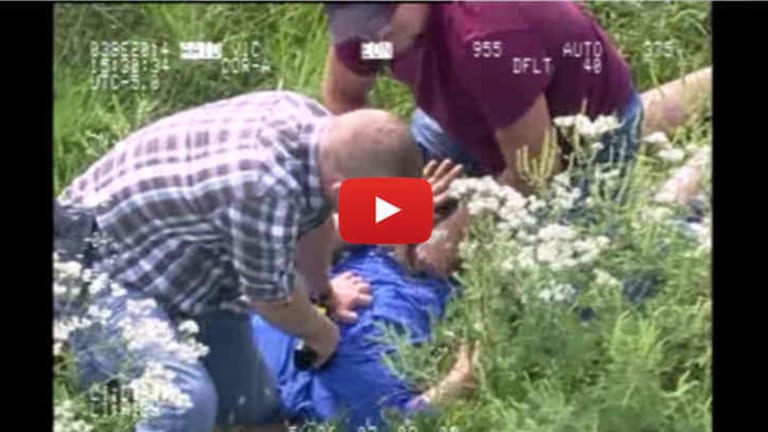 Surrendering and Subdued Man, Lying Face Down, Tasered and Kicked in the Head By a Cop
Maniteau County, MO -- A recently released video of a pursuit by a mid-Missouri drug task force is raising some serious concerns about police violence.
The incident happened on September 3, 2014 and was caught on film by a camera-equipped national guard helicopter.
The members of the task force intended to serve a search warrant to suspect, Timothy Whittle in regards to allegations over methamphetamine. When plainclothes officers arrived at his residence he fled in a black pickup truck, leading them on a long chase through a rural area.
The pursuit ends as Whittle exits his vehicle and then runs across a field. He is then seen turning and facing officers, with his hands up, and lies face down in surrender.
The first detective to reach him, sits on Whittle and waits for his partner. As the second detective runs up to the scene, he kicks Whittle's head jerking it around violently.
When Whittle looks up, a few moments later, blood is pouring down his face.
According to the Kansas City Star, who obtained copies of the reports and court records under an open-records request, the video does not match the official account.
The second officer to reach Whittle is detective Michael Chinn. As Chinn arrived he kicked Whittle in the head and with his knee on his neck, he pressed the taser against his back and fired.
"As I approached I observed the suspect Timothy Whittle continuing to turn his head and … attempting to resist by furtive movements," Chinn wrote in his report. "While running I swiftly arrived next to the suspect and gave him a dry stun, and an application of a five second burst from the Taser in the center of his back to gain compliance and control. … At this time the suspect, Timothy Whittle, stop (sic) resisting."
Detective Kip Bartlett was the other officer on the scene who originally sat on the surrendering man. His account also claimed Whittle was "resisting."
"I ordered him to the ground," Bartlett wrote. "Once on the ground I attempted to handcuff him. Whittle started stiffing his arms and kept pulling his right arm away. I was telling him to stop resisting."
Neither one of the officers mentioned the brutal kick to the face of a subdued man in their reports.
"Officers are only to use that amount of force that is necessary and called for under the circumstances," S. Rafe Foreman, a law professor at the University of Missouri-Kansas City who has filed several lawsuits against police departments after excessive-force incidents, told the Star.
"There was absolutely no circumstance in that video that would justify a violent kick to the suspect's head," Foreman said.
In October Whittle pleaded guilty to resisting arrest for running from the officers and to tampering with a motor vehicle for taking a friend's truck. He is currently serving a four year sentence.
However his family has hired an attorney, Rachel Russell, a St. Peters, Mo., lawyer, to look into Chinn's actions.
"We look forward to sharing the truth about the police brutality that goes beyond the video clip shown to the media and the lies used by law enforcement to cover it up," she said.
She declined to elaborate.
But the full chase and arrest video obtained by The Star shows other instances where the officer's written reports don't match the video.
For example, it seems perfectly clear that Whittle is not resisting once Bartlett is on top of him.
"The incident represents a highly visible example of unprofessional behavior by drug task force members who operate largely without oversight," said Aaron Malin, a Columbia member of Show-Me Cannabis, a pro-marijuana legalization group.
Neither of the six departments involved in the drug task force have issued a statement in regards to this situation. However, Capt. Don Isaac, the leader of the task force went on television in December claiming that the silent video doesn't give all the details of the incident.
"The conversation between the officers, which you don't get, is, he's hollering at him, 'Stop resisting, stop resisting,'" Isaac said.
However, does yelling "stop resisting" actually mean that a person is resisting?